Bill & Ted's Most Excellent Collection (Blu-Ray Review)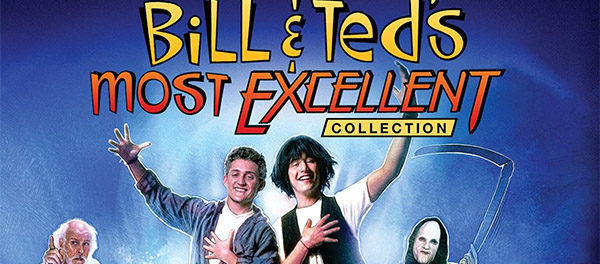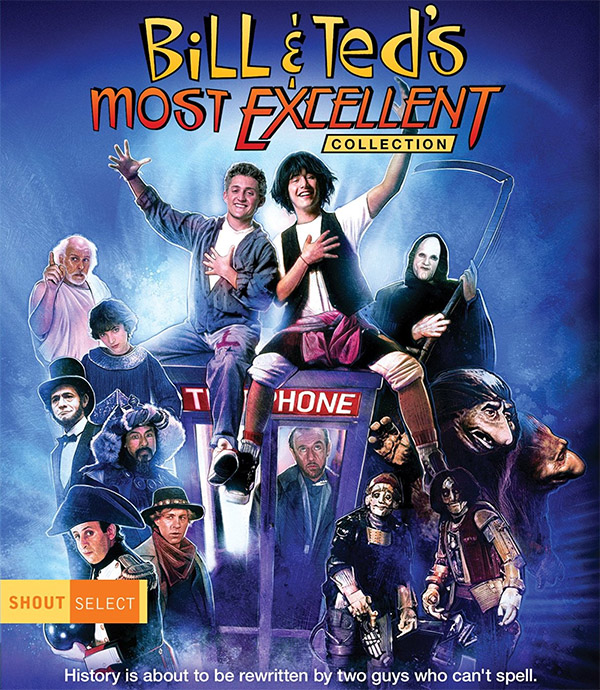 I am a massive "Bill and Ted" fan.  Both films are a huge deal to me.  So much so that a couple years ago, I hosted a 25th anniversary screening of "Bill and Ted's Excellent Adventure" here in Miami, that included a live Skype Q&A with Alex Winter and Diane Franklin.  That was a most excellent night.  Needless to say that when Shout! Factory announced the release of a Blu-ray Collection, I thought that was most triumphant.  So, does the release measure up to my expectations?  You bet your big Station but crack it does!
First thing, this collection marks the first Blu-ray release of "Bill and Ted's Bogus Journey". That alone is worth the pick-up for many "Bill and Ted" fans.  However, that isn't even the best part.  Normally I watch the feature films before I even get started on the bonus features, but I couldn't wait to jump into the new documentaries on both films. Yes, those documentaries include interviews with Bill and Ted themselves, Alex Winter and Keanu Reeves.  It is fantastic seeing them side by side again. Even though Alex does a bulk of the talking in the interview, that doesn't mean Keanu has nothing to say.  Seeing these guys makes me hope that "Bill and Ted 3" actually happens one day.
Both films look great on Blu-ray, but it's really the bonus features that are the key selling point with this release. Not to mention that nifty Wild Stallions guitar pick included in the set.  There are tons of bonuses (new and old) within this three-disk release.  If you are a fan of the series, this is a definite must-buy.
Bonus Features
NEW Audio Commentary for Bill & Ted's Excellent Adventure with Star Alex Winter and Producer Scott Kroopf
NEW Audio Commentary for Bill & Ted's Excellent Adventure with Writers Chris Matheson and Ed Solomon
NEW Audio Commentary for Bill & Ted's Bogus Journey with Star Alex Winter and Producer Scott Kroopf
NEW Audio Commentary for Bill & Ted's Bogus Journey with Writers Chris Matheson and Ed Solomon
NEW Time Flies When You Are Having Fun! – A Brand-New Extensive Documentary Looking Back at a Most "Excellent Adventure," featuring Stars Keanu Reeves, Alex Winter, and several other members of the cast and crew
NEW Bill & Ted Go To Hell – A Brand-New Extensive Documentary Revisiting a "Bogus Journey," featuring Stars Keanu Reeves, Alex Winter, and several other members of the cast and crew
The Most Triumphant Making-Of
The Original Bill & Ted: In Conversation with Chris & Ed
The Hysterical Personages of Bill & Ted
Score! An Interview with Guitarist Steve Vai
Air Guitar Tutorial With Bjorn Turoque & The Rockness Monster
Vintage EPK
The Linguistic Stylings of Bill and Ted
Theatrical Trailers
By: Marc Ferman