Creepshow Season 3: Blu-Ray Review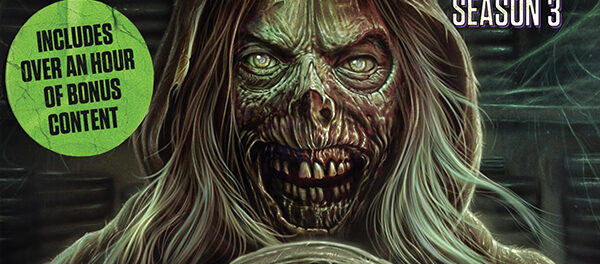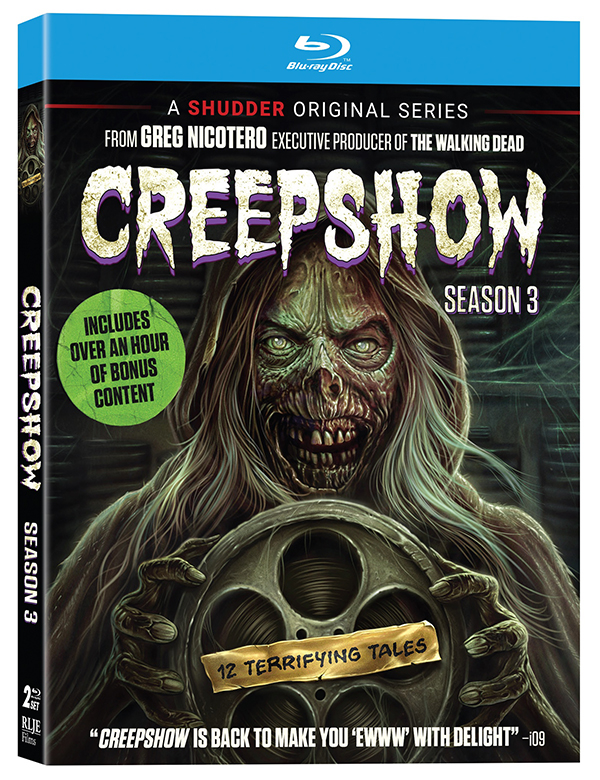 Originally airing on Shudder in the fall of 2021, Creepshow season 3 finally arrives on DVD and Blu-ray. While none of the seasons have been perfect with segments varying in quality, Season 3 comes off as one of the most polished. One of the elements that the most recent season excels at are the practical effects.
Creepshow season 2 consists of six episodes with two segments per episode. Rusty Cundieff directs Mums. The story centers on a young boy named Jack (Brayden Benson). After his mother is taken from him by his controlling father Hank (Ethan Embry), it isn't long before he discovers her body buried in the garden. However, her corpse has developed a supernatural connection with the earth and Jack assists his mother's plan to dish out some revenge on Hank and his friends. Greg Nicotero directs the following segment, Queen Bee. Three teens, Trenice, Debra and Carlos, sneak into a closed off section of the hospital, where they learned their favorite music superstar is about to give birth. They soon learn that the famous singer is not quite human, and they must fight to get out of the hospital alive. I enjoyed each of these segments. However, Queen Bee's mix of The Thing and Invaders from Mars works quite well for this 20+ minute slice of sci-fi terror. I loved the design of the main creature as well.
Horror fans are sure to get a kick out of Greg Nicotero's Skeletons in the Closet which centers on the lengths people will go to acquire a great prop collection. It also features some killer stop-motion callbacks. Director Joe Lynch also returns to the Creepshow series with Familiar, which centers on a man being haunted by a sinister force. We also get a segment about a cursed painting called The Last Tsuburaya, directed by Jeffrey F. January and a spider-filled creepfest titled Okay, I'll Bite, directed by John Harrison Beware the signing sirens in Axelle Carolyn's Stranger Sings and Joe Lynch's apocalyptic Meter Reader.
Episode five of season three, may be the one I enjoyed the least, but that doesn't mean it's bad. It just means, this season featured much stronger content. Director Jeffrey F. January's Time Out, which centers on a man cheating time to get ahead in his career just didn't really connect with me. I found his previous segment The Last Tsuburaya to be much more engrossing. While I normally into the animation segments, Dave Newberg & Enol Junquera's The Things in Oakwood's Past was simply Okay.
My favorite segment of season three has to be Greg Nicotero's Drug Traffic which stars Michael Rooker as border patrol officer who has a killer problem on his hands. I love the creature design here, which is essentially a floating head with some sort of hanging digestive system.  This is by far the creepiest part of Creepshow.  John Harrison's A Dead Girl Named Sue is also an interesting mix of a classic zombie film and a small-town seeking vengeance on a serial killer. While those two seem like a lot to cram into something under 30 minutes, Harrison pulls it off.
Shudder's Creepshow has improved with each season and I am hoping that continues when season 4 eventually arrives.
Bonus Features:
Amazon's Comic-Con@Home Panel Interview with Greg Nicotero, Mattie Do, Rusty Cundieff, Michael Rooker, and James Remar, moderated by Entertainment Weekly's Clark Collis
Behind-the-Scenes Raw Footage
Comic Art Booklet
Behind-the-Scenes Photo Gallery
By: Marc Ferman