Deep Impact: 4K UHD Review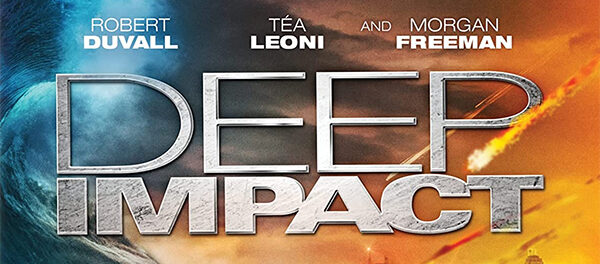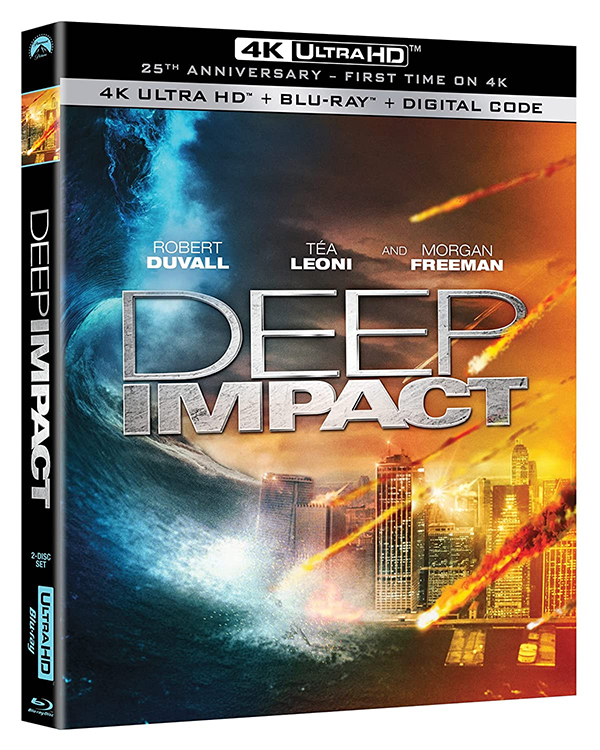 There was a time when major studios would race to get films on movie screens before one another with basically the same plot. In 1997 we got two volcano movies with Volcano and Dante's Peak. The following year we got two films about a massive asteroid that would crash onto earth, which would end most life. Those were Armageddon and Deep Impact. While Armageddon came out two months later, it grossed about $200 million more than Deep Impact. Still, both films were financial successes. Armageddon may be better remembered, I always felt Deep Impact was the better film. Just in time for the 25th anniversary, Paramount has given us our first 4K release for the Mimi Leder directed sci-fi epic.
When high school student Leo Biederman (Elijah Wood) notices an unidentified object in space with his telescope, his discovery is sent to astronomer Dr. Marcus Wolf (Charles Martin Smith).  It takes the doctor moments to confirm that the object is a massive comet and it's headed right towards Earth. Unfortunately, the doctor dies in a car crash on the way to informing the government.
Cut to several months later, journalist Jenny Lerner (Téa Leoni) is looking for her big break, but she keeps getting stuck with bottom of the barrel assignments. Jenny does get her big break when a story she is investigating about a scandal involving a government official (James Cromwell) turns out to be something else entirely. Her work lands her a private meeting with the U.S. President (Morgan Freeman) and she soon learns the terrifying secret the government has been hiding, the world is in great danger.
One of the big differences between Armageddon and Deep Impact is that the former focuses more on action, explosions, and effects (which is why the budget is much bigger). The latter is much more character driven. I feel that makes more a much more interesting story. There is no denying that both film feature an outstanding cast. However, writers Bruce Joel Rubin and Michael Tolkin help make us care about the characters played by Elijah Wood, Téa Leoni, and Robet Duvall. While not given a whole lot to do Vanessa Redgrave and Maximilian Schell ad some depth as Jenny's divorced parents. The teenage love between Wood's Leo and Leelee Sobieski's Sarah is also sweet and I wish these characters were given a little more time on screen.
Many of the visual effects hold up quite nicely after 25 years and this new 4K restoration which features Dolby Vision and HDR-10 helps the film look all that much better. The sequences that take place with the astronauts on the comets surface stand out a great deal, but also the Messiah ship floating through space. The final act disaster moments have probably haven't aged as well as other CGI elements, but there is no denying how crystal clear they look.  While an Atmos upgrade would have been nice for a big sci-fi movie like this one, the Dolby TrueHD that was ported over from the Blu-ray, more than does the job. As for bonus content, we get the legacy features from the previous media release. If you love 90's disaster movies, Deep Impact is one of the better ones.
Bonus Features:
Commentary by director Mimi Leder and visual effects supervisor Scott Farrar
Preparing For The End
Making An Impact
Creating The Perfect Traffic Jam
Parting Thoughts
Photo Gallery
Trailers
By: Marc Ferman