Flowers in the Attic (Special Edition): Blu-Ray Review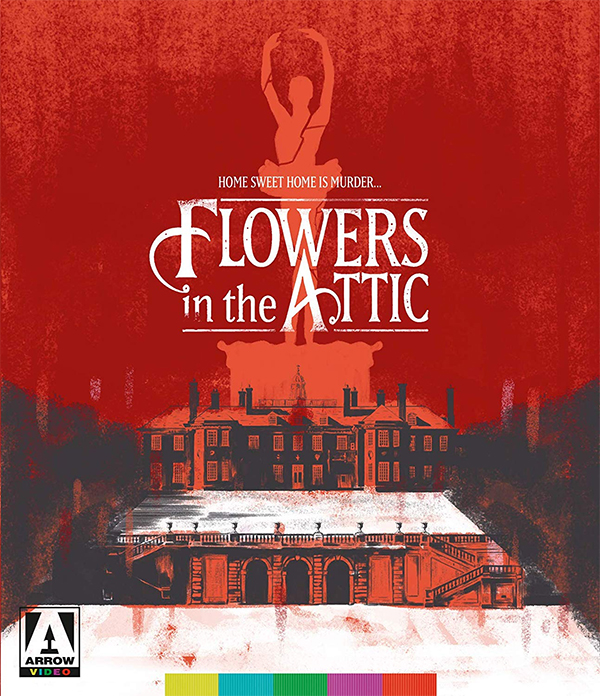 Arriving this week on Special Edition Blu-ray is the 1987 adaptation of "Flowers in the Attic", a film originally to be written and directed by the legendary Wes Craven, but handed over to Jeffrey Bloom instead. I have never read the novel, but it is well known that much of what made it so popular had been removed from the final film. This is an incest-laden story with very little incest.  It has been more than three decades since I had seen the film and truth-be-told, it might be even worse than I remember. That doesn't mean one can't have some fun with it depending on how you view the film.
For those of you unfamiliar with "Flowers in the Attic", the story centers on four siblings, Cathy (Kristy Swanson), Chris (Jeb Stuart Adams), Cory (Ben Ryan Ganger) and Carrie (Lindsay Parker). After the death of their father, the sibling's mother (Victoria Tennant) brings them to live with their estranged grandmother (Louise Fletcher) and dying grandfather (Nathan Davis). It turns out that the children's mother and father were niece and uncle which made them the product of incest. Because of this, mother was kicked out of the family mansion and taken out of the will. Although grandmother is disgusted by the children's existence, she allows them to stay as-long-as they are kept locked in a room with an attic. Months go by with the children locked in the room, and their mother visiting them less and less, they begin to question what will happen to them.
"Flowers in the Attic" is bad on almost every level, from the writing, to the acting, to the make-up. Seriously, as the siblings get older and weaker, the white make-up is just piled on to make them look pale, but it is pretty, laughable. Although she isn't given a whole lot to do, Louise Fletcher is easily the best part of the film and I wish they allowed her to have tome more impactful moments, rather than keeping it so one note.  The best thing I can say about the film is the look of it. Shot in Massachusetts at the Crane Estate, the location is easily one of the most impressive aspects in the "Flowers in the Attic".
The transfer is the same as 2018's UK release and it is fine, but it is the bonus content that makes this a worthy release for fans of the film. I know the adaptation has plenty of fans out there who will find much to enjoy here.
Bonus Materials
High Definition Blu-ray (1080p) presentation
Original lossless 2.0 stereo audio
Optional English subtitles for the deaf and hard of hearing
New audio commentary by Kat Ellinger, author and editor-in-chief of Diabolique Magazine
Home Sweet Home: Filming Flowers in the Attic, a new interview with cinematographer Frank Byers
Fear & Wonder: Designing Flowers in the Attic, a new interview with production designer John Muto
The Devil's Spawn: Playing Flowers in the Attic, a new interview with actor Jeb Stuart Adams
Shattered Innocence: Composing Flowers in the Attic, a new interview with composer Christopher Young
Production gallery of behind-the-scenes images, illustrations and storyboards
The original, studio-vetoed ending
The revised ending with commentary by replacement director Tony Kayden
Original theatrical trailer
Reversible sleeve featuring original and newly commissioned artwork by Haunt Love
By: Marc Ferman