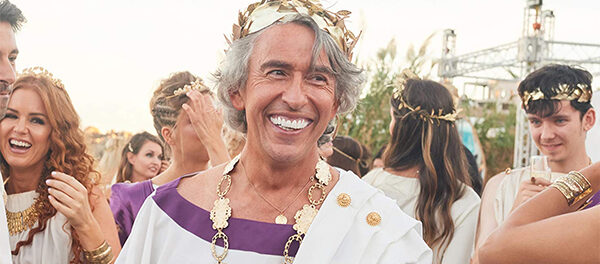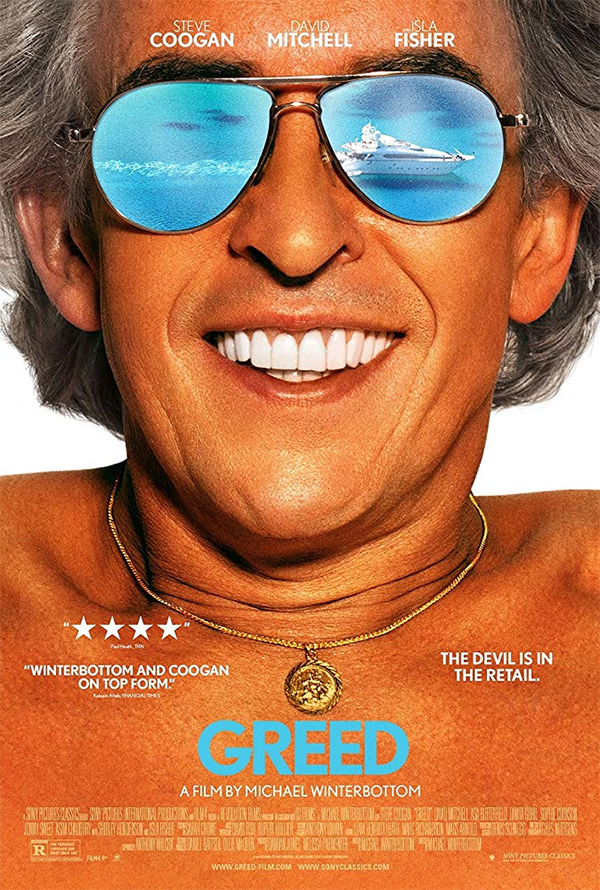 Writer/director Michael Winterbottom's "Greed" is a satire about the rich and Steve Coogan is perfectly cast as the ultra-greedy billionaire fashion mogul who is about to celebrate his 60th birthday on the beautiful Greek island of Mykonos. One would think that this is the kind of story that would be ripe with humor, but "Greed" lacks anything even remotely funny.
The narrative plays out partially in the form of a mockumentary with flashbacks about Richard thrown in. We learn about how he went from being a confident, smart-ass teenager to one of the most powerful men in the fashion industry. It was a mix of skill, savvy and the ability to make people bend to his will. His power to negotiate ridiculous manufacturing costs, would result in cheap labor which would force the factory workers to live in filth.  We all know that this is how things operate in the real world, so it is really, difficult to find anything here that would be even remotely humorous. Now, truth be told, these scenes are never played for laughs and they are done quite seriously, but when the film tries to flex its comedic muscles, it just doesn't work.
Much of the film takes place on the island where the birthday party is being prepared. Unfortunately for Richard, nothing is going right. The workers are having trouble getting the gladiator arena finished. The lion they brought in for the show is not in the best of moods and Richard's reality television star daughter is having her own issues. There is also the matter of the group of refugees that made the beach their home, which is unpleasant to Richard's eye. "Greed" has a whole lot going on, and some of it works thanks mostly to the cast.  Isla Fisher and Shirley Henderson are very good as Richard's ex-wife and mother. I also thought David Mitchell gave an interesting performance as Richard's socially awkward autobiographer.
Unfortunately, this satire on capitalism and selfishness does not do a good job at balancing the different tones. No matter how game the cast is, they are just unable to elevate the material.
By: Marc Ferman