Incredibles 2: Movie Review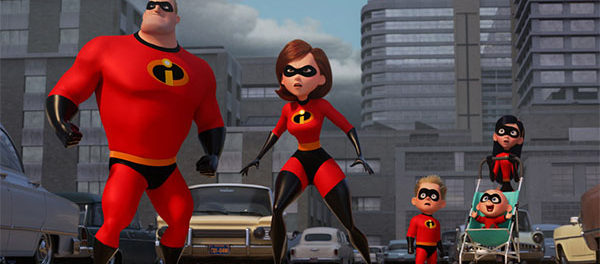 With the-exception-of the "Toy Story" series, the sequels that Pixar has produced aren't the animation studio's best work. I am looking at "Cars 2-3" and "Finding Dory".  That-being-said, the long-awaited follow-up to one of Pixar's most beloved films, "The Incredibles" could be their best sequel yet.  I consider "Incredibles 2" one of the five best Pixar films to date. Thanks in so small part to the return of writer/director Brad Bird.
From the very start, Bird drops us into the action with the Incredible family battling the villainous Underminer (voiced by Pixar's lucky charm, John Ratzenberger).  Mr. Incredible (Craig T. Nelson), his wife Elastigirl (Holly Hunter), their kids, Violet (Sarah Vowell) and Dash (Huck Milner) are all in on the action, while also looking after baby Jack-Jack (Eli Fucile). Unfortunately, not only is the city badly damaged, but the hero family fail at capturing the Underminer.  To make matters worse, it is still illegal to be a superhero and the Incredibles are blamed for the city-wide damage.
Things start to look up when billionaire superhero activists Winston Deavor (Bob Odenkirk) and his sister Evelyn (Catherine Keener) offer to help change the public perception of superheroes in-order-to make them legal again. They decide to make Elastigirl the face of their campaign and give her all the tools necessary to stop crime.   This leaves Mr. Incredible at home taking care of the kids.  A job that just got so much harder now that Baby Jack-Jack has developed some dangerous superpowers of his own.
Bird knows exactly what people loved about the first film and he did a great job building on that.  The family interaction is key. We love this family and they are still so much fun to watch.  Where "Incredibles 2" excels at is the action.  Things feel more dangerous this time around and making Elastigirl the hero at the forefront just feels right.  That doesn't mean the other characters are left on the sideline.  Each member of the family gets their time to shine, even Jack-Jack.  Frozone (Samuel L. Jackson) is back as well, though the character feels like he is missing through half of the film.
If you loved the first film, you are sure to enjoy the sequel.  I am hoping we get a part three and don't have to wait another 14 years for it. "Incredibles 2" is an incredible ride.
By: Marc Ferman