Legend (Limited Edition): Blu-Ray Review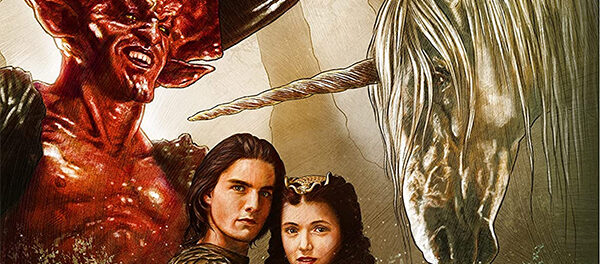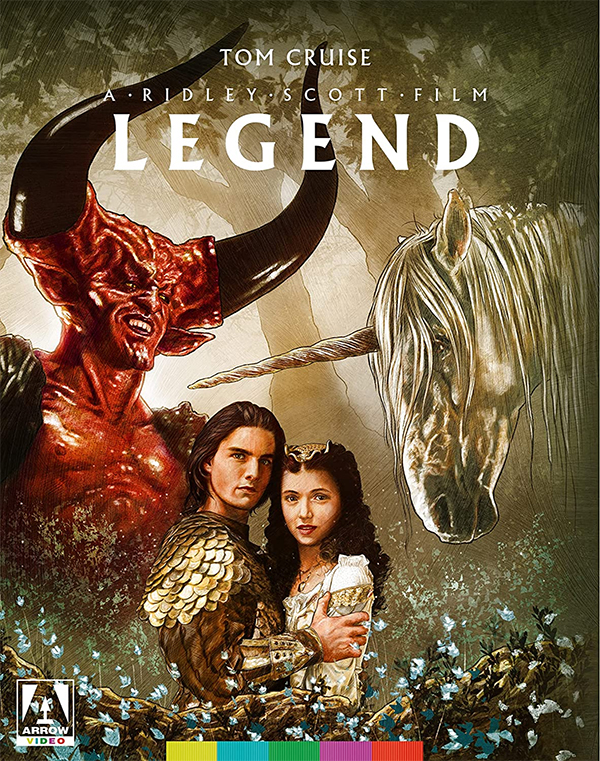 Ridley Scott's 1985 dark-fantasy Legend gets a truly beautiful looking Limited Edition release, courtesy of Arrow Video. The early 80's brought a handful of films in the genre that I was a fan of, even if they were not all great.  Krull, The Dark Crystal, The Beastmaster, Clash of the Titans and The Neverending Story are just some of the titles that come to mind. My feelings towards Legend have always been mixed.  While I loved the world that was created and the visual spectacle of the film, the story just never quite clicked. Much of it had to with how badly the US release was edited, as I didn't get to see Scott's superior director's cut until I was much older. While the 113-minute Director's Cut is included on the second disk of this release, it is the 90-minute US Theatrical Cut that gets the new 2K restoration.
In this dark fairytale, the Lord of Darkness (Tim Curry) wants to have the sun set for the very last time and bring permanent night to the world. To do this, he must sever the horns of the last two remaining unicorns. With the help of some nasty little goblins, the unicorns, as well as Princess Lili (Mia Sara) are taken prisoner. However, the Lord of Darkness has fallen in love with his captive (Lili, not the unicorn), and he wants her to spend eternity at his side. This doesn't sit well with Jack (Tom Cruise), a young innocent boy, who also loves Lili. Along with a group of magical forest creatures, Jack goes on a quest to save both the princess and the unicorns and stop the everlasting darkness.
To this day, Rob Bottin's make-up design work on Tim Curry remains one of my favorites. The actor's performance underneath all of those prosthetics is just as impressive 35 years later. Legend is at its' best when it is focused on the Lord and Lili within the lair. That goes for both cuts of the film. The new 2K restoration looks wonderful and even the darkly lit scenes, where the film's villain resides are well detailed.
While loaded with bonus features, most of them are ported over from previous releases. However, there are other extras worth noting, like the illustrated perfect-bound book, double-sided poster and glossy full-color cast portraits. This is definitely one for the collectors.
Bonus Materials:
High Definition (1080p) Blu-ray presentations of the U.S. Theatrical Cut and the Director's Cut
DTS-HD MA 5.1 and 2.0 stereo audio on both cuts
Optional English subtitles for the deaf and hard of hearing on both cuts
Illustrated perfect-bound book with new writing by Nicholas Clement and Kat Ellinger and archive materials including production notes and a 2002 interview with Charles de Lauzirika about the restoration of the Director's Cut
Large double-sided poster with newly commissioned artwork by Neil Davies and original theatrical artwork by John Alvin
Glossy full-color portraits of the cast photographed by Annie Leibovitz
Six double-sided postcard-sized lobby card reproductions
Reversible sleeve featuring newly commissioned artwork by Neil Davies and original theatrical artwork by John Alvin
DISC 1: US THEATRICAL CUT
New 2K restoration of the US Theatrical Cut from original materials including a 4K scan of the original negative
New commentary by Paul M. Sammon author of Ridley Scott: The Making of His Movies
2002 Reconstructed isolated score by Tangerine Dream
Isolated music and effects track
A Fairytale in Pinewood, new featurette interviewing grip David Cadwalladr, costume designer Charles Knode, co-star Annabelle Lanyon, camera operator Peter MacDonald, set decorator Ann Mollo and draftsman John Ralph
Incarnations of a Legend, comparison featurette written and narrated by critic Travis Crawford
The Directors: Ridley Scott, 2003 documentary where the director discusses his career, including Legend
"Is Your Love Strong Enough?" music video by Bryan Ferry
DISC 2: DIRECTOR'S CUT
Commentary by Ridley Scott
Creating A Myth: Memories of Legend, a 2002 documentary with interviews with Ridley Scott, William Hjortsberg, Mia Sara, Tim Curry, Rob Bottin and others
Original promotional featurette
Alternate 'Four Goblins' opening and 'The Fairie Dance' deleted scene
Storyboard galleries for three deleted scenes
Two drafts of William Hjortsberg's screenplay
Alternate footage from the overseas release plus textless footage
Trailers and TV spots
Still galleries
By: Marc Ferman