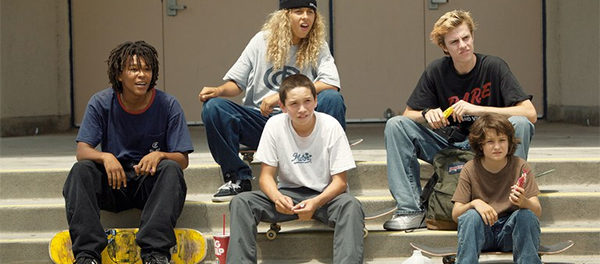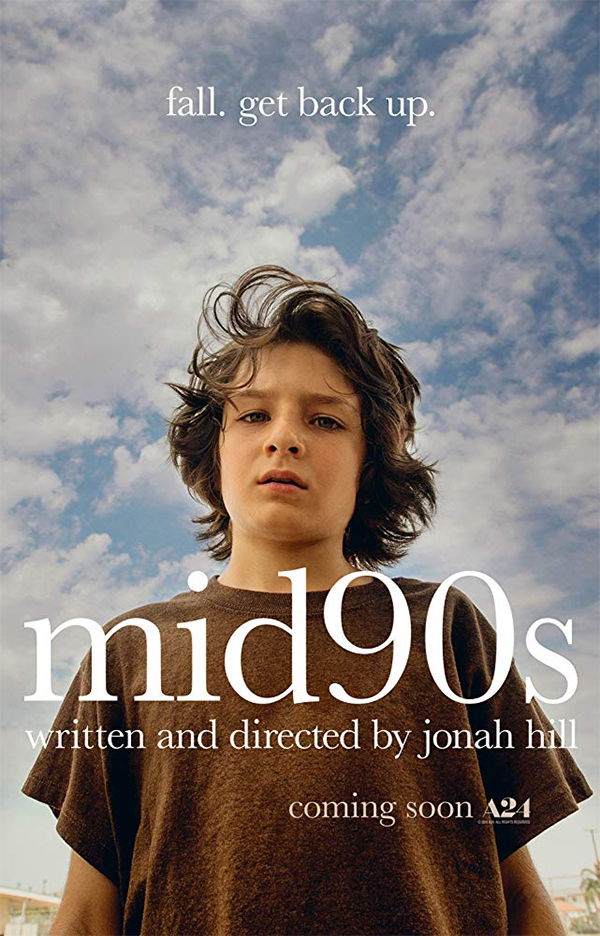 Jonah Hill makes his feature film writing/directing debut with the stellar coming-of-age drama, "Mid90s".  If you are familiar with 1995's "Kids", which is set in New York, "Mid90s" feels like the perfect Los Angeles set companion piece and that is a great compliment to Hill's debut.
Set in the mid-1990's (obviously), the story centers on 13-year-old Stevie (Sunny Suljic), a lonely kid who is desperate to find a place to belong. Stevie lives with his single mother, Dabney (Katherine Waterston) and his abusive older brother Ian (Lucas Hedges). Even with the threat of a beating by his older sibling, Stevie is quick to enter Ian's bedroom when he isn't home, just to go through his wardrobe and music collection.  Ian's room felt so very familiar to me as his CD and cassette collection was almost identical to mine. He even had the recorded Stretch Armstrong and Bobbito radio show mixtapes that I had. Hill's attention to detail is spot on.
After watching some kids skating outside the Motor City Skate Shop, Stevie walks in the following day and heads out back to watch them skate. It doesn't take long for the crew of misfit skaters to take him under their wing and even give him the nickname "Sunburn". The nickname came from a conversation the group was having. Hill wisely cast real skaters (not actors) to play the kids Stevie befriends. There is Ray (Na-kel Smith), Ruben (Gio Galicia), Fuckshit (Olan Prenatt) and Fourth Grade (Ryder McLaughlin). The latter is the only one of them who had any sort of acting experience.  Each of these performances felt authentic and it was easy to believe their friendships. "Fuckshit" got his nick name because that is exactly what he says every time he sees something cool and "Fourth Grade" got his nickname for his lack-of-intelligence. Each of the kids have different personalities, but it is Ray who actually has goals in life and has his own reasons to look out for Stevie.
I mentioned Hill's attention to detail before.  The skate shop is something that stood out to me simply because I have been there before.  Not that actual shop (because it's fictional), but there was a store in Miami that I used to hang out in which was basically run by kids like the ones in the film with the owner nowhere to be seen. They would hang out in the shop and talk all types of nonsense while drinking. They never cared who would come in to shop, offending would-be customers. That explained why the same shirts would sit on the racks, collecting dust for months. Hill nailed the store perfectly.
The heart of "Mid90s" lies in Suljic's break-out performance, which I hope doesn't go ignored come awards season.  It is Suljic's intense transition from lonely sweet kid to one going down a dangerous path that includes drinking and smoking. Keep in mind that he is only 13. Suljic has such great range as an actor. In an early scene, the audience hearts melted when Stevie tried to properly thank Ray for a skateboard he was given. Half the theater went "awwww" in unison.  In another scene Stevie goes ballistic on his mother after she confronts the kids that she feels are causing her son to make poor choices. It is frightening just how unhinged Stevie seams at that moment.  It is a testament to Suljic's talents as he makes the audience feel what his character is feeling.
Although Waterston's role is not extensive, she is able to make an impact. She was a teenager when she had Ian and has been on her own for quite some time.  There are some deep seeded reasons why Ian is the way he is with his little brother. Hedges gives a strong turn as Ian and although we do learn more about him towards the end, I never fully understood him. I mean that in a good way, as Ian is more complex.
"Mid90s" isn't a perfect film, and many might take issue with its' abrupt ending, but I felt it ended on just the right note.  I believe those who grew up in the 80s/90s will find more to connect with here, but I highly recommend this one for those who also grew up a decade later. "Mid90s" feels like a very personal film for Hill and I look forward to what he comes up with next.
By: Marc Ferman