My Science Project: Blu-Ray Review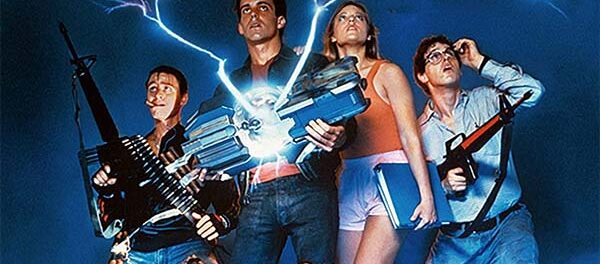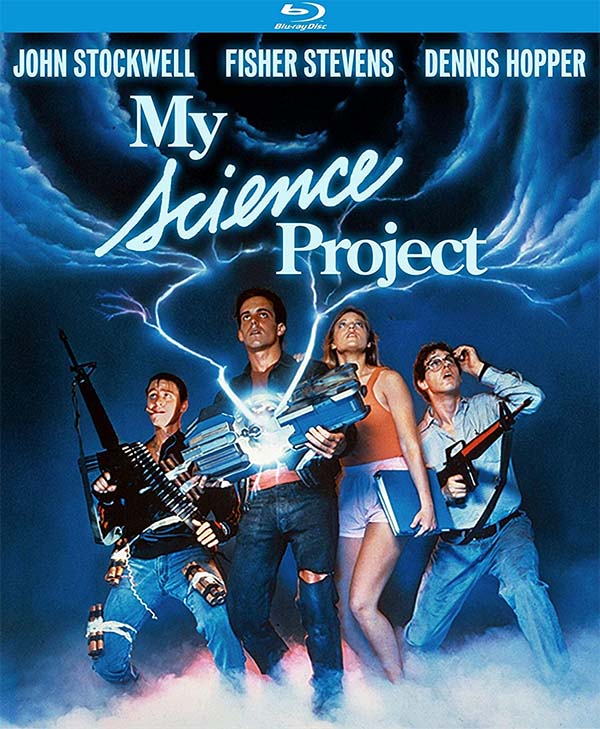 1985 was the year of the teenagers and wacky science comedies. There was Weird Science, Real Genius and probably the least popular of the lot, My Science Project. With the popularity of the sub-genre that year, it was given that at least one of these films would fail and My Science Project did so poorly, its' theatrical run only lasted two weeks. It was the only film of the lot that even I didn't see theatrically. Does that make it a bad film? Not at all, but it is far less memorable than the others. For me, the big saving grace is the casting of Fisher Stevens as the best friend.
My Science Project opens in the year 1957 where we see that the United States military has discovered a crashed UFO and are holding it in a hanger bay. President Eisenhower orders it to be destroyed so that the public doesn't learn of its' existence. Three decades later, high school student/ace car mechanic Michael Harlan (John Stockwell) is on the verge of failing science class. If he doesn't turn in a mind-blowing science project for his teacher Mr. Roberts (Dennis Hopper), he will receive a failing grade. Meanwhile, the school's brightest student Ellie Sawyer (Danielle von Zerneck) has an obvious crush on Michael and she convinces him to ask her out. She didn't imagine that he would take her to a military junk yard for their first date. It is there where they discover a piece of that spaceship from years ago and without knowing what it is, Michael hopes to pass it off as his science project.
It doesn't take long for Michael, his best friend Vince (Stevens), Ellie and a jerk named Sherman (Raphael Sbarge) to find themselves in some sort of temporal vortex caused by the device they discovered. Now the teenagers must roam through the school hallways at night and fight off cavemen, a Vietnam war, dinosaurs and apocalyptic mutants from the future. All of this taking place on a very minimal budget. High school movies are rarely expensive productions, but when science fiction is incorporated, you would think a little more money could be invested, especially when the film was produced by Disney.
My Science Project is a film I had seen a few times as a teenager on cable but never left a lasting impression. I thought it was OK but lacked any real fun or sense of adventure. This also came out around the time of Back to the Future which also dealt with a teenager and time travel, which also went on to become my favorite film of all time.
Originally released on Blu-ray in 2016 but then went out of print, Kino Lorber is now releasing a new Blu-ray and including a couple of new bonus features. I am not sure if this is the same HD transfer used for the 2016 release, but since I have never actually seen that disk, I am unable to compare. As mentioned before, I had never experienced My Science Project theatrically, so this is by far the best video presentation I have seen of the film. For those who are fans of the mid-80's comedy, I doubt you would be disappointed with this disk as the picture is quite sharp. I have no hesitation in giving the My Science Project Blu-ray a passing grade.
Bonus Features:
NEW Audio Commentary by Film Historians Mike McPadden and Kat Ellinger
NEW Interview with Co-Star Fisher Stevens
Theatrical Trailer
By: Marc Ferman