My Stepmother is an Alien (Special Edition): Blu-Ray Review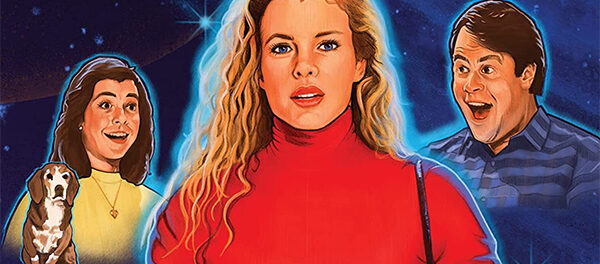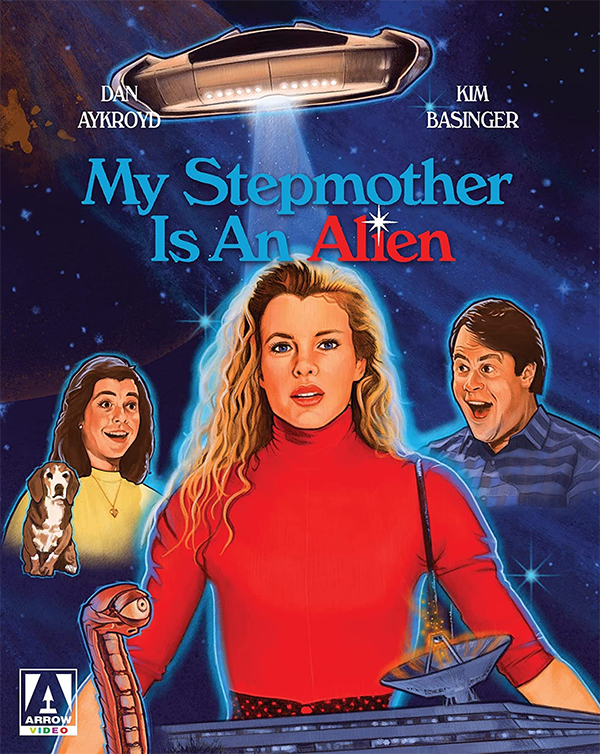 One thing I have wondered since the 1988 release of Richard Benjamin's My Stepmother is an Alien is that, would it have been funnier if Dan Aykroyd played the fish-out-of-water alien and Kim Basinger played the human that fell in love with him? The reason for this notion is that we have seen Aykroyd play that type of loony character before quite effectively (Loose Cannons is not a good example). As for Basinger, she goes so over-the-top here, but not in a good way. Her performance is jarring at times. This week, Arrow Video has released a Special Edition Blu-ray of My Stepmother is an Alien which features a brand new 2K restoration.
Widowed father, Steven Mills (Aykroyd) has been working on sending radio waves into deep space with the hopes of contacting alien lifeforms.  When he is not at work, Steven takes care of his daughter Jessie (Alyson Hannigan) and the two have a sweet little relationship. Steven's brother however is the absolute opposite. Ron (Jon Lovitz) is a rich, selfish womanizer and at times can't fathom how him and his brother are so different. Yet, they still seem to spend plenty of time together.
Due to a fluke, Steven does send a radio signal to the next solar system that disrupts the gravity on an alien planet. The leaders of that planet send Celeste (Basinger) to Earth to find Steven Mills with the hope of getting him to send the signal again so that the gravity issue can be corrected. However, the only human things Celeste knows about are from television shows and commercials. This makes her initial interactions with Steven very weird. It is that strangeness that the scientist almost immediately falls in love with though.
Although Jessie loves seeing her dad happy for the first time in years, she figures something is wrong with Celest when she sees her drinking battery acid and taking things out of a hot oven with her bare hands. Still, since Steven now can't think of anything else but Celeste, she agrees to marry him in hopes that it will help him focus on his work again, so he can figure out how to send another transmission to space. Yep, this movie is as stupid as it sounds. One of the cool things here though is seeing a handful of young actors before they became famous. Not only do we see a young Hannigan before she went on to do American Pie and How I Met Your Mother, but her Buffy the Vampire Slayer co-star Seth Green shows up as her date, Fred Glass. We even see a young Juliette Lewis here.
The new 2K restoration was as scanned from the original 35mm negative and color graded by Mike Underwood. A stellar job was done here with the new presentation. The colors are sharp. A perfect example would be Celeste's initial red dress and how it absolutely pops. With the art deco beach house location behind her, we can see just how vibrant the picture quality is. We get a DTS-HD Audio 2.0 track which compliments the picture nicely enough. As for the bonus content, this one is a bit slim, but we do get a new interview with director Richard Benjamin and commentary by critic Bryan Reesman.  If you are a fan of My Stepmother is an Alien, this one might be worth adding to your collection.
Bonus Materials:
Brand new 2K restoration from the original camera negative
High Definition (1080p) Blu-ray presentation
Original lossless 2.0 stereo audio
Optional English subtitles for the deaf and hard-of-hearing
Brand new audio commentary by critic Bryan Reesman
Cosmetic Encounters: Directing My Stepmother is An Alien, a brand new interview with director Richard Benjamin
Original trailer
Image gallery
Reversible sleeve featuring original and newly commissioned artwork by Colin Murdoch
FIRST PRESSING ONLY: Illustrated collector's booklet featuring new writing on the film by Amanda Reyes
By: Marc Ferman