Swamp Thing: 4K UHD Review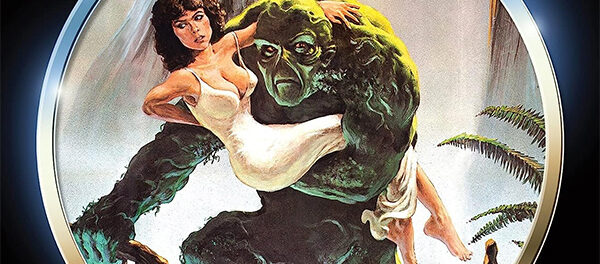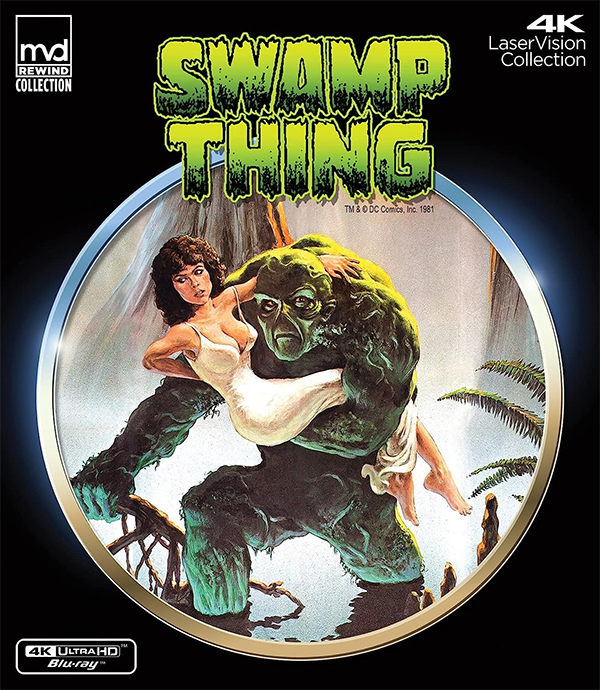 The late Wes Craven is best known for his contributions to horror, most notably, A Nightmare on Elm Street and Scream. After making a name for himself with The Hills Have Eyes and The Last House on the Left, Craven took a turn and brought the DC Comics character Swamp Thing to the big screen in 1982. This was just a few years after Superman made a massive impact in cinema. Granted, Swamp Thing never reached the heights of the man of steel. However, the character did spawn a sequel and television series. It also gained a cult following over the decades. This week Swamp Thing arrives on 4K UHD, courtesy of MVD's Rewind Collection.
Brilliant scientist Dr. Alec Holland (Ray Wise) has been working in a remote research lab, deep in the swamp, developing a formula that can allow vegetation to grow in the harshest of conditions. This could end world hunger. Because the project is government funded, they sent agent Alice Cable (Adrienne Barbeau) to keep an eye on things. What neither of them realize is that the sinister Anton Arcane (Louis Jourdan) has been keeping his eye on Alec's work as well. Arcane wants the formula to make himself immortal. While attempting to steal Alec's work, Arcane and his thugs kill Alec's team, including his sister, then seemingly kills Alec when he gets covered in the formula, set on fire and falls into the swamp.
Alice manages to escape and hides one of Alec's journals that contains information that Arcane would need to replicate the formula. It doesn't take long for Arcane's private army to locate Alice, but before they can kill her, a massive swamp creature comes out of the water and rescues her. Yep, it's Alec, who is now Swamp Thing (Dick Durock). We get quite a bit of silly swamp action, including airboat chases and machine guns. Plus, plenty of sloshing around. I am pretty sure running in the swamp is as hard as it looks.
Crave, who also wrote the film, keeps some dark elements of the comic, but manages to inject plenty of humor. This is something that the filmmaker would excel at later in his career. I would be lying if I said I didn't prefer 1989's Return of Swamp Thing more. That is because the sequel fully embraces the campiness. Still, there is so much to enjoy about Craven's time with the character. Louis Jourdan's performance alone is worth watching.
MVD gives us brand new 4K restorations of the US Theatrical PG version and the Unrated International version of the film, both in Dolby Vision/ HDR.  The restorations were taken from a 16-bit can of the original camera negative. Granted, there is barely a difference between both cuts of the film, but I am sure most of you will dive into the unrated one first. This is an absolutely beautiful transfer and a definite improvement over the Blu-ray Shout! Factory released a decade ago.  Most of Swamp Thing takes place during the daytime. While the location can be murky, the image comes alive when the sun shines through the trees. The greenery looks rich and detailed, and so do the flesh tones of the characters. Unfortunately, there is a downside. The Swamp Thing rubber suit looks downright bad at times. We can see the seams and folds, especially when the creature is bending over or kneeling. Still, that is a common issue with creature costumes in old monster movies, when the resolution is bumped up to 4K.  The DTS-HD Audio 2.0 Mono is perfectly fine and thankfully we get that killer score from Harry Manfredini. If you are a fan of Swamp Thing, you may want to get your hands on this release.
Disk 1 – 4K UHD Special Features: 
2023 4K Restoration (16-Bit Scan of the Original Camera Negative) of both the US Theatrical PG Version and Unrated International Version of the film presented in its original 1.85:1 Aspect Ratio in Dolby Vision / HDR
Audio: DTS-HD Master Audio 2.0 Mono, Spanish Mono
Optional English Subtitles
Audio Commentary with Writer/Director Wes Craven moderated by Sean Clark (Theatrical / PG Version)
Audio Commentary with Makeup Effects Artist William Munns moderated by Michael Felsher (Theatrical / PG Version)
Collectible "4K LaserVision" Mini-Poster of cover art
Limited Edition Slipcover (First Pressing Only)
Disk 2 – Blu-Ray Special Features: 
2023 HD Restoration of both the US Theatrical PG Version and Unrated International Version of the film presented in its original 1.85:1 Aspect Ratio
Audio Commentary with Writer/Director Wes Craven moderated by Sean Clark (Theatrical / PG Version)
Audio Commentary with Makeup Effects Artist William Munns moderated by Michael Felsher (Theatrical / PG Version)
DTS-HD Audio 2.0 Mono, Spanish Mono Audio
Optional English Subtitles
"Tales From the Swamp" (Remastered) with Actress Adrienne Barbeau (HD, 16:56)
"Hey Jude" with Actor Reggie Batts (HD, 14:30)
"That Swamp Thing" with Len Wein, Creator of Swamp Thing (HD, 13:19)
"Swamp Screen: Designing DC's Main Monster" featurette (HD, 20:32)
"From Krug to Comics: How the Mainstream Shaped a Radical Genre Voice" featurette (HD, 17:34)
Posters & Lobby Cards – Photo Gallery
Photos from the Film – Photo Gallery
William Munns' Behind the Scenes Pictures – Photo Gallery
Behind the Scenes Photos by Geoffrey Rayle – Photo Gallery
Theatrical Trailer (HD, 1:31)
By: Marc Ferman