Thelma & Louise (Criterion Collection): 4K UHD Review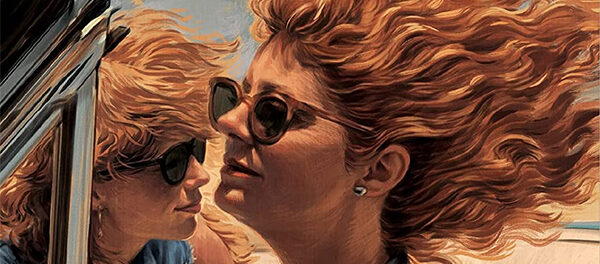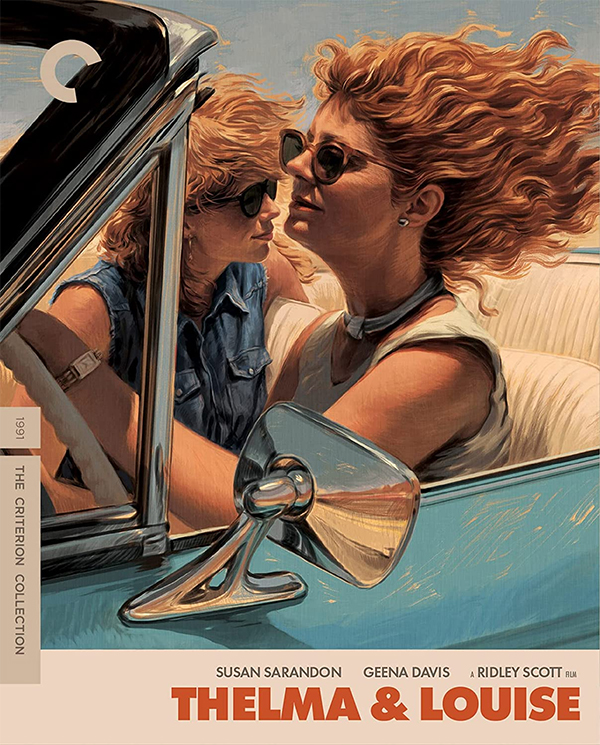 Available this week on 4K UHD is Ridley Scott's 1991 crime-drama, Thelma & Louise, courtesy of Criterion. The film was nominated for 6 Academy Awards, winning for best screenplay. It was also the second-best reviewed film of the year, right behind Silence of the Lambs. Surprisingly, I had never seen Thelma & Louise until now.
Thelma (Gina Davis) lives a miserable life with her abusive husband Darryl (Christopher McDonald). He does not respect her, appreciate her and constantly controls every aspect of her life. He is also most likely cheating on her after work. Yet, Thelma spends almost every waking moment taking care of Darryl. Louise (Susan Sarandon) is a full-time server in a local diner and is fully independent. While she does have a boyfriend in Jimmy (Michael Madsen), he is not always around.  When Louise decides to get out of town for a few days, she asks Thelma to go with her. Knowing Daryll wouldn't let her go if she asks, Thelma impulsively decides to go away with Louise. She leaves a note for her husband to see when he gets home, right next to a microwave dinner.
What starts off as a fun and harmless adventure, takes a serious turn when a sexual predator sets his sights on Thelma and attempts to rape her. When Louise steps in to save her friend, things end in the attacker getting shot and forces the two women to go on the run. Since Thelma was getting close with the guy in the bar in front of hundreds of witnesses, they felt nobody would believe that he was trying to attack her. There was no evidence.
Now, Thelma and Louise are on the road and their plan is to crossover to Mexico before they are caught by authorities. On their trail is Arkansas State Police Detective Hal Slocumb (Harvey Keitel) and an FBI Agent (Stephen Tobolowsky). While Slobumb is sympathetic to the situation the two friends have gotten themselves into, the FBI seem to care less about whether the women are caught dead or alive.
The performances by Davis and Sarandon are the key to what makes Thelma & Louise such a powerful film, which feels just as relevant more than three decades later. It's easy to see why Callie Khouri's screenplay was given so much love by the Academy. I should take a moment and mention Brad Pitt's brief but charming performance as a cowboy robber that catches the attention of Thelma. While Ridley Scott might be mostly known for his epic scale films like Alien, Blade Runner and Gladiator, his work as a filmmaker shines almost as bright with a more grounded story like Thelma & Louise.
As mentioned before, I had never seen Thelma & Louise prior to this release from Criterion. Because of this, I wouldn't be able to compare it to previous 1080p Blu-ray releases. Having said that, the 4K transfer which was taken from the original 35mm camera negative looks absolutely stunning. Presented with Dolby Vision/HDR the environments are what truly pop here. From the darkened bar with neon beer signs to the golden browns of the canyons. We get a 5.1 DTS-HD Master audio track that brings no complaints. From Hans Zimmer's score to the exploding fuel truck and pouring rain, everything has a perfect balance.
The Criterion released is packed with bonus content, including new interviews with Ridley Scott and Callie Khouri. Plus, we get Scott's 1965 short film Boy and Bicycle. If you are a fan of Thelma & Louise, I highly recommend picking up this release.
Bonus Features:
New 4K digital restoration, supervised by director Ridley Scott, with 5.1 surround DTS-HD Master Audio soundtrack
One 4K UHD disc of the film presented in Dolby Vision HDR and two Blu-rays with the film and special features
Two audio commentaries, featuring Scott, screenwriter Callie Khouri, and actors Geena Davis and Susan Sarandon
New interviews with Scott and Khouri
Documentary featuring Davis; Khouri; Sarandon; Scott; actors Michael Madsen, Christopher McDonald, and Brad Pitt; and other members of the cast and crew
Boy and Bicycle (1965), Scott's first short film, and one of his early commercials
Original theatrical featurette
Storyboards and deleted and extended scenes, including an extended ending with director's commentary
Music video for Glenn Frey's "Part of Me, Part of You," from the film's soundtrack
Trailers
English subtitles for the deaf and hard of hearing
PLUS: Essays by critics Jessica Kiang and Rachel Syme and journalist Rebecca Traister
New cover by Sam Hadley
By: Marc Ferman