V For Vendetta: 4K UHD Review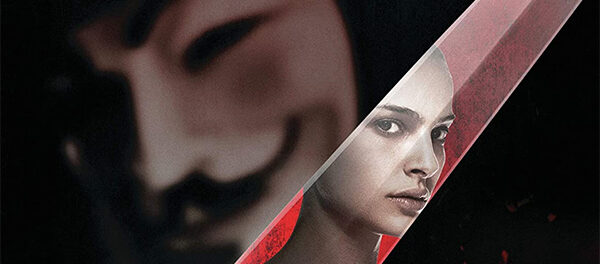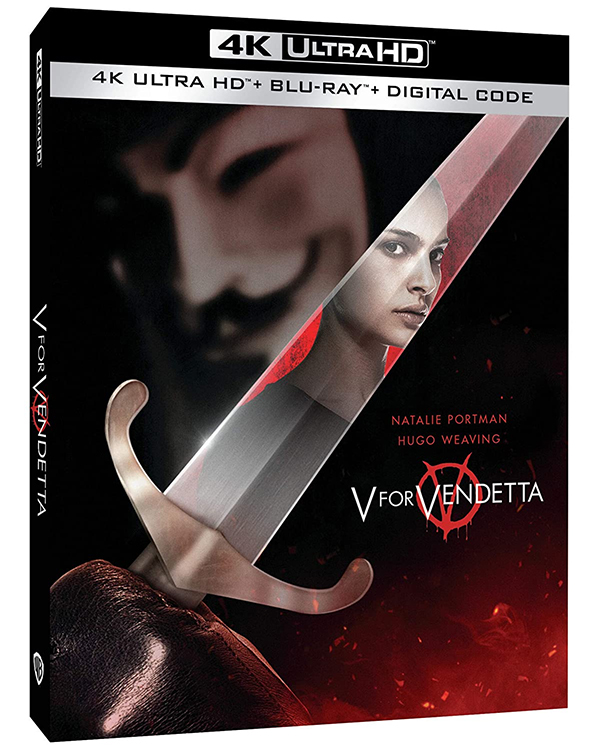 If you are familiar with James McTeigue's 2006 film V for Vendetta, it shouldn't surprise you that Warner Bros has decided to release the new 4K UHD on November 3rd (Election Day). After-all, much of the political aspects of the film very much mirror what is going on in our country right now. Based on Alan More's comic book, the film is about an anarchist who wants to take down the most powerful individuals running the country. He also wants to exact revenge for atrocities that were done to him years earlier by many of those individuals.
At the time, V for Vendetta was set in-the-near future and it is at times unnerving how familiar things feel to our current political climate. Sure, things are much more dire in the film, but it feels more relatable now than ever. The anarchist in the film (voiced by Hugo Weaving) is never seen without his Guy Fawkes Mask to conceal his identity and also to make himself a symbol to the people of the country. Going by the name of V. He winds up taking in a young woman named Evey (Natalie Portman) who is knocked unconscious after preventing his capture.  Though Evey is not too happy about being forced to live underground with V, the two wind up eventually working together.
V for Vendetta is a film I enjoyed upon its theatrical release, but now the film plays even better for the reasons I mentioned earlier. In 2008 an adequate Blu-ray was released, but I never realized how sub-par that transfer was until viewing the stunning new 4K release. Funnily enough, the 12-year old Blu-ray is included in this release.  I am still a big fan of the film's set design and the use of black and grey. This was a post-Matrix film and the Wachowski's who co-wrote V for Vendetta brought some of their style along with them. It was clear that they wanted to attract the same massive audience. To go along with the spectacular picture, is a new Dolby Atmos track which is great. However, since I don't have an Atmos system, I am more than happy with the Dolby TrueHD that is presented for my needs.
If you are a fan of V for Vendetta, I highly recommend picking up this new 4K.  The film has never looked better. There are also a few new special features included as well as the ones from the original Blu-ray.
New Special Features on 4K UHD Disc
"V for Vendetta" Unmasked – A making-of behind the scenes look at everything that went in to the production of the film, featuring interviews with the filmmakers, cast and crew.
Natalie Portman's Audition – Explore Portman's character, Evey, in even more depth by taking a look at her never-before-seen audition tape.
James McTeigue & Lana Wachowski in Conversation – Join director James McTeigue and writer Lana Wachowski for a look back on the significance of "V for Vendetta."
Previously Released Special Features on Blu-ray Disc
"Freedom! Forever!: Making V for Vendetta" – The cast and crew of "V for Vendetta" reveal the intense filmmaking process
"Designing the Near Future" – A look at the artistic process of creating the frightening future world of V
"Remember, Remember: Guy Fawkes and the Gunpowder Plot" – The history behind the story of Guy Fawkes
"England Prevails: V for Vendetta and the New Wave in Comics" – The origins of the original V story is illuminated
"Cat Power Montage" – Cat Power song played under images of the film
Theatrical Trailer
Easter Egg: Hidden Bonus: "Saturday Night Live" Digital Short
By: Marc Ferman