A Most Violent Year: Movie Review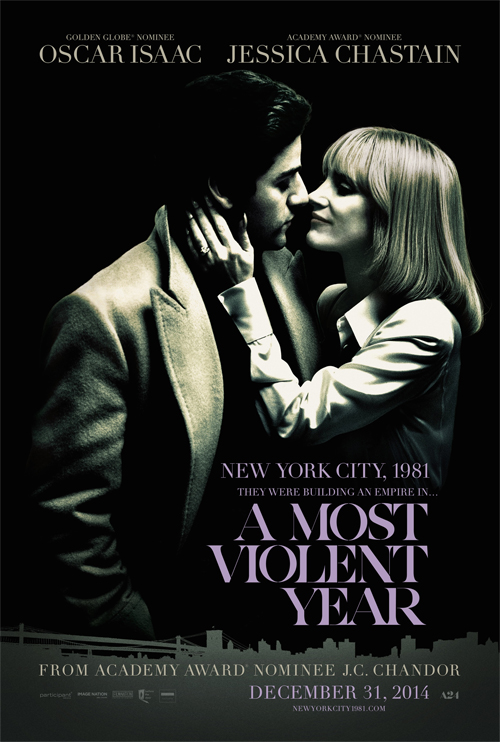 Writer/ Director J.C. Chandor blew me away with his 2011 feature film debut "Margin Call". In 2013 Chandor nearly put me to sleep with his Robert Redford man-at-sea film "All Is Lost". Unfortunately the third time isn't a charm. "A Most Violent Year" starts off pretty strong but then becomes way too tedious and that is a bad sign for any film, much less a crime-drama set in 1981 New York City.
Abel Morales (Oscar Isaac) and his wife Anna (Jessica Chastain) are trying to expand their oil distribution business during the most dangerous year in New York City's history. Abel just put all his money down as a deposit on some riverfront property that will make him one of the most powerful business men in the city. However, he only has one month to come up with the 1.5 million dollar balance or he will lose everything. It doesn't help matters that the District Attorney (David Oyelowo) is about to hit Abel's company with multiple charges. That is not all. Abel's truck drivers are being hijacked and beaten at gunpoint, which is causing him to lose thousands of dollars in stolen fuel.
The cast is more than fine, especially Chastain who is tough-as-nails and the clearly the backbone of her husband's business. She is by far the best part of the film. Albert Brooks also does a nice job as Abel's legal counsel. Isaacs is good, but at times I felt he was miscast. Oyelowo, who I just saw a week earlier in "Selma" isn't given much to do here, but he is still great and given the film's best moment in the final scenes. I really wanted to like "A Most Violent Year" but it just felt like it was going on forever.
By: Marc Ferman