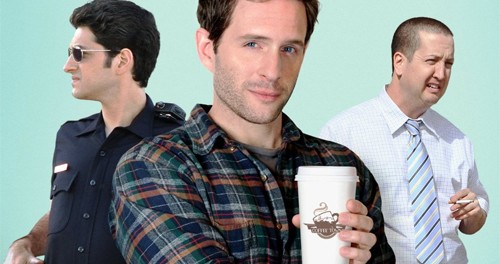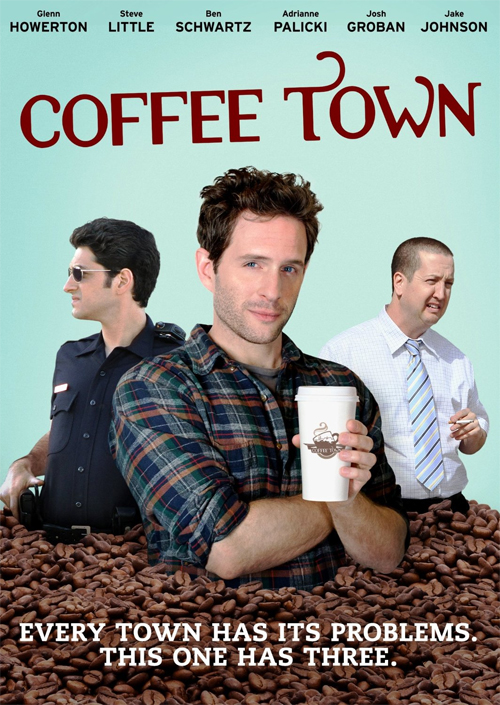 Arriving on DVD this week is CollegeHumor's "Coffee Town", courtesy of Shout! Factory. This mildly amusing comedy stars Glenn Howerton (It's Always Sunny in Philadelphia), Ben Schwartz (This is Where I leave You), Steve Little (Eastbound and Down), and Adrianne Palicki (Agents of S.H.I.E.L.D.)
Will (Howerton) spends most of his days at Coffee Town, a coffee shop less than three blocks from his apartment. This is Will's office. As long as he always has a beverage on hand, he is able to set up his laptop and makes use of the free wi-fi. When he learns that his favorite spot may be transformed into a bistro, Will and his friends Chad (Little) and Gino (Schwartz) come up with a plan to rob the shop in order to stop the owner from upgrading the location. Yes, "Coffee Town" is as stupid as it sounds.
"Coffee Town" has a few laughs with its' crude humor but Schwartz is hands down the funniest on here playing the laziest cops, ever. Many of the jokes feel tired, and this is just not a very good movie. Still, I am rooting for CollegeHumor and I hope they don't become the next National Lampoon.
By: Marc Ferman
Order: Coffee Town (DVD)