An American Werewolf in London (Limited Edition): 4K UHD Review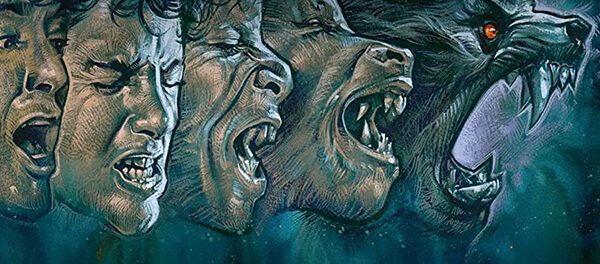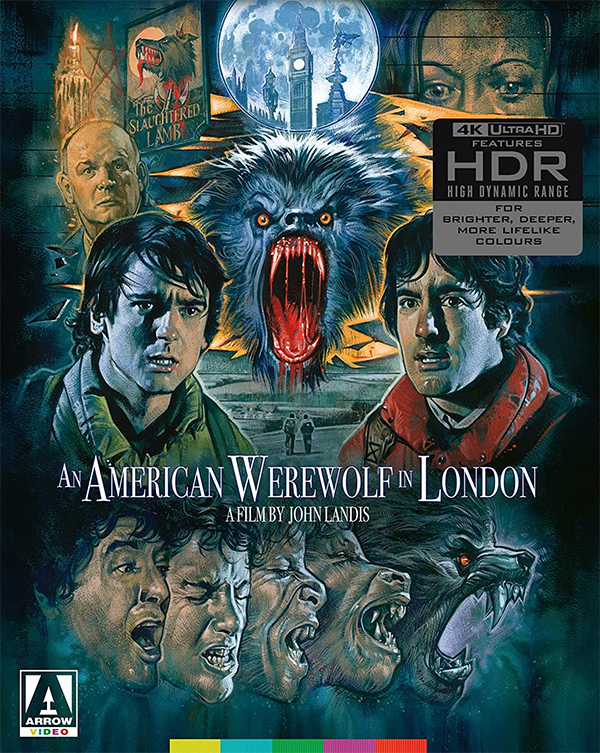 The 1981 horror-comedy, An American Werewolf in London from writer/director John Landis happens to be my favorite werewolf movie to date, with Joe Dante's The Howling coming in second. Interestingly, enough both films were released in the same year.  This week Arrow Video released the 4K restoration of the film, which comes jam-packed with all kinds of extras, much like their 2019 Blu-ray release.
The story centers on a couple of Americans, David and Jack (David Naughton and Griffin Dunne), backpacking through Europe. While out in the countryside, they are attacked by an animal. David was bitten but Jack was killed.  When Jack starts appearing to David as one of the undead and informing him that they were attacked by a werewolf, David begins to think he is losing his mind. Thankfully for David, his nurse (Jenny Algutter) has taken a liking to him and invited David to stay with her. However, Jack's warnings come-to-pass and David does transform, taking a handful of lives with him.
This brand new restoration was done exclusively by Arrow Video. The original 35mm camera negative was scanned and restored in 4K and presented in HDR10 & Dolby Vision. Arrow video also remastered the 5.1 DTW-HD audio. Let me start off by saying that for me, the 2019 Blu-ray that Arrow released was near perfection. If you already own that release, I don't think it is necessary to upgrade to the full 4K Presentation. Having said that, there are some noticeable upgrades. While the picture does tend to have a darker tint than the Blu-ray, there are moments here when the images really pop. Perfect examples would be some of the fresh bloody make up effects like with Jack's face and the werewolf attack with all the neon lights in London in the final act. There images look absolutely stellar. I definitely prefer the 5.1 audio over the 1.0 mono, but everyone will have their own preference for that.
There is so much to love in An American Werewolf in London, however it is the incredible creature effects and sense of humor that have always stood out to me the most.  Included with the abundance of bonus content are two feature-length documentaries, "Mark of the Beast" and "Beware the Moon". A double-sided poster and postcards are included, but my favorite addition would be the booklet with writing from Travis Crawford and Simon Ward.  This is a must-own for anyone who loves this film as much as I do.
Bonus Materials:
Brand new 4K restoration by Arrow Films from the original camera negative
4K (2160p) UHD Blu-ray presentation in Dolby Vision (HDR10 compatible)
Original uncompressed 1.0 mono and optional 5.1 DTS-HD Master Audio
Optional English subtitles for the deaf and hard of hearing
Audio commentary by Beware the Moon filmmaker Paul Davis
Audio commentary by actors David Naughton and Griffin Dunne
Mark of The Beast: The Legacy of the Universal Werewolf, a feature-length documentary by filmmaker Daniel Griffith, featuring interviews with John Landis, David Naughton, Joe Dante and more
An American Filmmaker in London, an interview with John Landis in which he reflects on British cinema and his time working in Britain
I Think He's a Jew: The Werewolf's Secret, a video essay by filmmaker Jon Spira (Elstree 1976) about how Landis' film explores Jewish identity
The Werewolf's Call, Corin Hardy, director of The Hallow and The Nun, chats with writer Simon Ward about their formative experiences with Landis' film
Wares of the Wolf, a featurette in which SFX artist Dan Martin and Tim Lawes of Prop Store look at some of the original costumes and special effects artefacts from the film
Beware the Moon, Paul Davis' acclaimed, feature-length exploration of Landis' film which boasts extensive cast and crew interviews
An American Werewolf in Bob's Basement and Causing a Disturbance: Piccadilly Revisited, two 2008 featurettes filmed by Paul Davis
Making An American Werewolf in London, a short archival featurette on the film's production
An Interview with John Landis, a lengthy archival interview with the director about the film
Make-up Artist Rick Baker on An American Werewolf in London, the legendary make-up artist discusses his work on the film
I Walked with a Werewolf, an archival interview with Rick Baker about Universal horror and its legacy of Wolfman films
Casting of the Hand, archival footage from Rick Baker's workshop showing the casting of David Naughton's hand
Outtakes
Storyboards featurette
Original trailer and teaser plus TV and radio spots
Extensive image gallery featuring over 200 stills, posters and other ephemera
Reversible sleeve featuring original poster art and artwork by Graham Humphreys
Double-sided fold-out poster
Six double-sided, postcard-sized lobby card reproductions
Limited edition 60-page, perfect-bound book featuring new writing by Craig Ian Mann and Simon Ward, archival articles and original reviews
By: Marc Ferman
Parts of this review were taken from my coverage of the 2019 Blu-ray.