2022 SXSW Film Festival Recap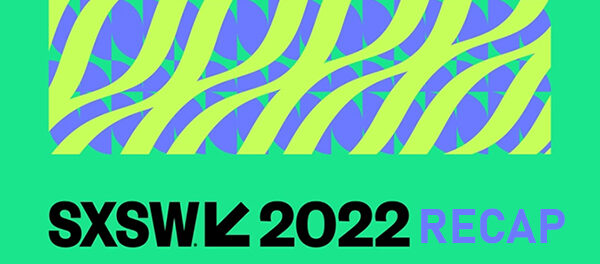 SXSW was back in person this year with their 2022 festival. After two years of being strictly virtual, it was great to attend in-person premieres again with a theater full of cinephiles. I had been very much looking forward to being in Austin again and this was my first trip anywhere since 2019, due to the pandemic. While COVID hasn't quite disappeared, it was great to see the festival life beginning to make a comeback. Below are reviews for some of the features I was able to attend during SXSW.
Everything Everywhere All at Once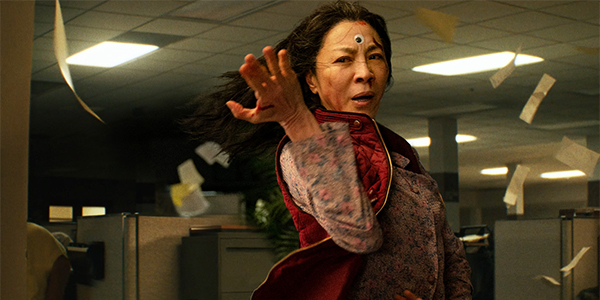 Writers/Directors Dan Kwan and Daniel Scheinert aka The Daniels (Swiss Army Man) are back with one of the most original and insanely entertaining films I have seen in a long time. The appropriately titled, Everything Everywhere All at Once is sure to grab the attention of those who may not yet be familiar with the filmmakers.
Evelyn Wang (Michelle Yeoh) is a Chinese-American immigrant who has been so busy running her laundromat and taking up other side projects that she hasn't been truly paying attention to what's most important in her life. Not only is Evelyn in a heap of trouble with the IRS and her assigned agent, Deirdre Beaubeirdra (Jamie Lee Curtis), but she also doesn't listen to her daughter Joy (Stephanie Hsu), who has grown increasingly frustrated with her mother.  There is also Evelyn's supporting husband Waymond (Ke Huy Quan) who has had enough and unsuccessfully tries multiple times to let her know that he wants a divorce.
Things begin to get much more chaotic for Evelyn when another version of her husband from another universe takes over his mind to inform her that there is a being out there looking for her. He tells her that each Evelyn from every universe has a particular skill that they excel at. However, because she never finishes anything, she is the only Evelyn that isn't good at anything. She must tap into every version of herself from multiple universes in-order-to acquire the skills to defeat the being that is hunting her down. If this sounds like a lot, that's because it is. Everything Everywhere All at Once makes anything Marvel and DC has done look like child's play. At this point, I would love to see the Daniels take on a Marvel multiverse story.
While the film does feel like it runs on a bit too long at 132 minutes, there is just so much amazing stuff that happens on the screen within that time. It was a blast seeing Ke Huy Quan again. As someone who grew up with Temple of Doom and The Goonies, it was like reconnecting with an old friend. He is so much fun and delivers a heartfelt and beautiful performance. We also get the wonderful James Hong as Joy's grandfather. Jenny Slate also gets a small but fun role. This cast is stacked with an immense amount of talent.
If you like your science fiction to be fun, smart and filled with visual delight, I highly recommend Everything Everywhere All at Once.
Kids in the Hall: Comedy Punks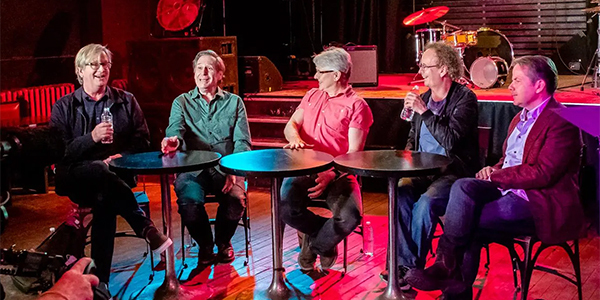 As someone who has loved the Kids in the Hall since their cable debut, I was not only excited to learn about their upcoming reboot, but their new documentary Kids in the Hall: Comedy Punks.
For the first time, we get to learn the full story straight from the five members of the comedy troop through interviews, as-well-as never-seen-before archival footage of their early days in Canada. Dave Foley, Bruce McCulloch, Kevin McDonald, Scott Thompson and Mark McKinny take us from the mid-80's through today and share with us their ups and downs.
I was in my early twenties when I first became familiar with Kids in the Hall and at that age, I didn't quite grasp how groundbreaking and important their work was. It wasn't until I was older and saw what their comedy meant to their fans and what they represented, that I began to truly understand.
In Comedy Punks we get to see how these friends worked together in such an inspired way, but also see how they were torn apart due to conflicts and still figure out a way to reunite after seemingly ending for good. If you are a fan of Kids in the Hall, I highly recommend checking this out when it arrives on Prime Video.
The Cellar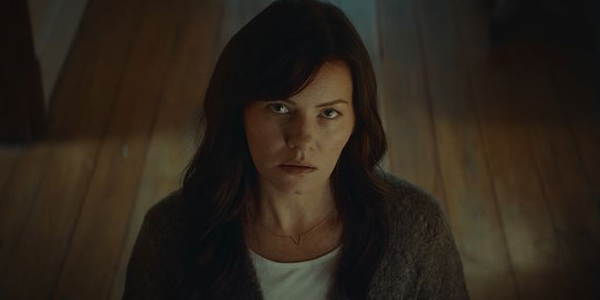 Writer/Director Brendan Muldowney (Pilgrimage) brings us the latest gothic haunted house tale, The Cellar, which stars Elisha Cuthbert (The Girl Next Door, House of Wax). While Muldowney is a skilled filmmaker, he is someone who likes to take his time when it comes to telling a story. That usually isn't a bad thing, but here we get what at times feels like an absolute slog and the lack of scares makes things feel like they are moving along even slower. The 90-minute runtime feels much longer.
As The Cellar begins, the Woods family are starting a new chapter in their lives when Keira (Elisha Cuthbert) and her husband Brian (Eoin Macken) move into a big house with their children Ellie (Abby Fitz) and her younger brother Steven (Dylan Fitzmaurice Brady). Ellie being a teenager is the least thrilled about moving across the globe into a very small town. It doesn't help that the house is totally creeping her out.
Of course, this isn't just any old house, there is something truly sinister hanging around, but we aren't quite sure what it is. To make matters worse, whatever the entity might be, it has taken Ellie. While the authorities think Ellie ran away due to her troubled past, Keira knows that there is something more to it. The deeper she digs, the more she discovers about those who owned the home before. Ellie isn't the first to go missing.
While The Cellar has a great atmosphere thanks Muldowney as-well-as cinematographer Tom Cornerford and composter Stephen McKeon it just isn't all that interesting. While this isn't Cuthbert's first venture into horror, her performance here just doesn't quite click. Even with its' problems, The Cellar isn't a terrible film. It just never feels fresh. We have seen this story countless times and the lack of originality doesn't help. Even the final act feels like it borrows from films like Insidious along with others. While I can't recommend this one, fans of the scary house sub-genre may find a few things to dig about in The Cellar.
A Lot of Nothing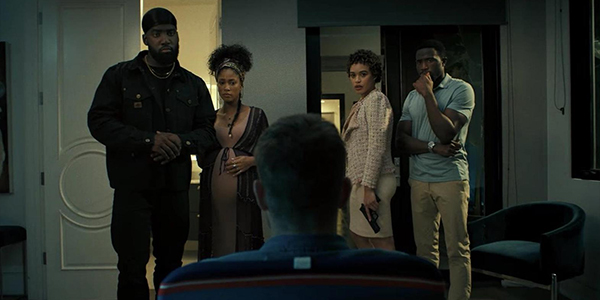 Mo McRae makes his feature film directorial debut with the biting dark comedy, A Lot of Nothing which he also co-wrote with Sarah Kelly Kaplan.
Set in a beautiful Los Angeles home, James (Y'lan Noel) and his wife Vanessa (Cleopatra Coleman) sit at home watching TV when on the news they see that a kid was shot by a police officer. While James seems generally unphased by what transpired, Vanessa is downright furious.  It doesn't help matters that the cop that shot the kid is Brian (Justin Hartley) and he just so happens to be their next door neighbor.
After Vanessa has a brief confrontation with Brian the next day that doesn't go well, James heads over to his neighbor's home to smooth things over. Things are made even worse when Vanessa decides to take the cop to their home at gunpoint. James reluctantly goes along with it because there seems to be no other option at that point. With Brian now taped to a chair in their home, the couple now wants to seek justice for the dead kid. Unfortunately, Justice is put on hold because Jame's brother, Jamal (Shamier Anderson) and his pregnant girlfriend Marley (Skye P. Marshall) have come over for dinner.
Soon things start spiraling even more out of control, when not only does Jamal (who is an ex-con that hates cops) learns about Brian being in the house, but a big secret between the couples is also revealed that causes some serious problems (though maybe not as bad as kidnapping a police officer).
The first quarter of A Lot of Nothing is extremely strong and not only smartly written, but well directed, McRare is without a doubt a filmmaker to keep an eye on. The cast is also fantastic here, most notably, Coleman and Noel who have great chemistry. What I love about the film's opening minutes is that it feels like a stage play and I was completely locked in. Unfortunately, A Lot of Nothing isn't able to sustain that level of unique storytelling throughout the film. As things get more out of control, McRae seems to lose a bit of his grasp on the events that are unfolding.  Still, there is so much good stuff going on here and even though its' not perfect, I recommend checking this one out.
Master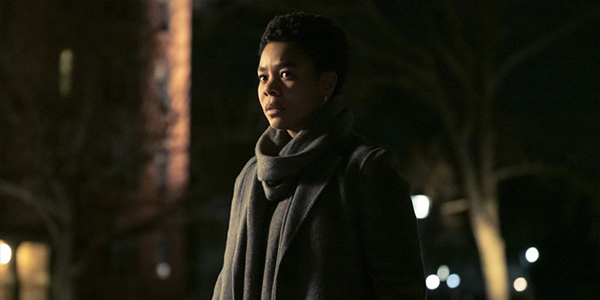 Writer/Director Mariama Diallo makes her feature film debut with the horror-drama Master, starring Regina Hall and Zoe Renee. There were quite a few films playing SXSW this week that dealt with race issues and Master is no exception.
Set at a predominantly white New England college, two African American women are beginning a new chapter in their lives. Gail Bishop (Hall) is the new dean at the college and Jasmine Moore (Renee) is a freshman student.  We are taken through a parallel journey of their experiences that feels like a cross between horror and psychological drama. The unevenness in the narrative seems to be the film's biggest problem.
Both Gail and Jasmine are dealing with forms of racisms from not only the college faculty but also the students. While this could make for an interesting drama on its' own, the inclusion of the supernatural elements didn't work for me.  Having said that, Diallo is a gifted filmmaker, and she knows how to dial-up the creep factor. With the help of cinematographer Charlotte Hornsby, we are taken through an extremely unsettling college setting. Both Hall and Renee are fantastic here, as-well-as Amber Grey who plays a college professor, Liv Beckman.
While Master is sure to grab the attention of many, I just couldn't get into it.  Still, I can't wait to see what Diallo brings us next.
By: Marc Ferman