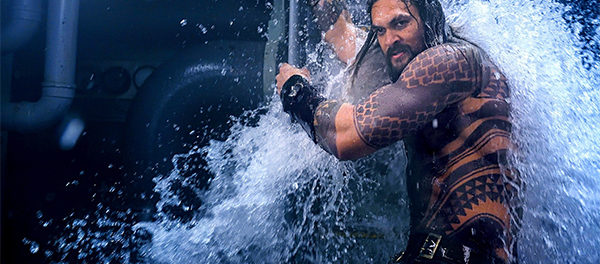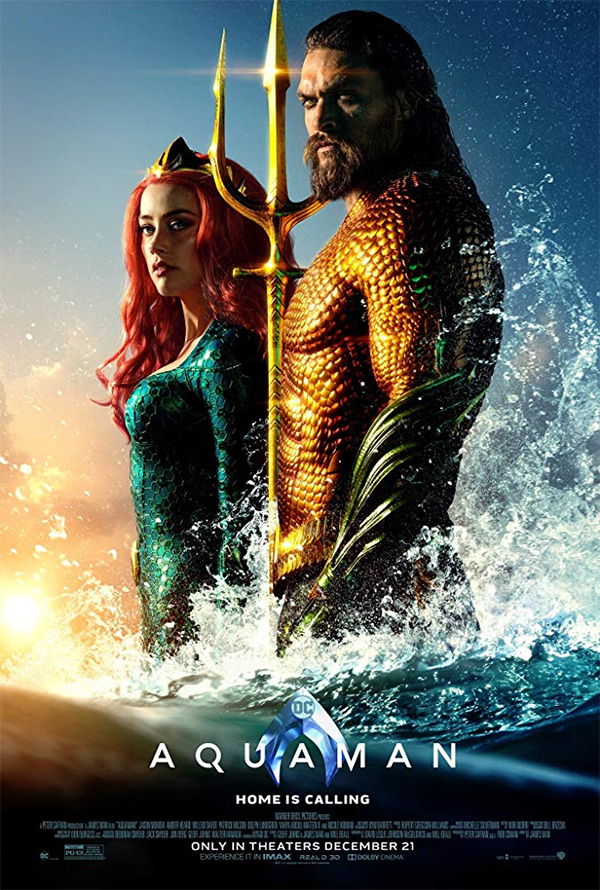 The DC Cinematic Universe has been a rocky one. It started with a decent Superman film, then a truly terrible Batman vs. Superman story, followed by a poorly conceived introduction to the Suicide Squad. Next came a remarkably terrific Wonder Woman film. Each of those cultivated into what was to be DC's crown jewel, "Justice League".  What should have been a global cinematic powerhouse, wound up being one of the year's biggest disappointments.  By that point, you would think that this current series of films would be terminated, but not only is a new Wonder Woman film coming out in the next year, this week sees the release of "Aquaman". As much as I enjoyed "Wonder Woman", "Aquaman" is even better.
Although, "Aquaman" takes place after the events in "Justice League", this has barely any connection to that film. This is a good thing since most people want to wipe the superhero team-up from their memory (I am one of the few who didn't hate it).  One of the benefits of having Arthur Curry aka Aquaman in "Justice League" is that it took some of the pressure off doing an origin story. We get a little about his upbringing through flashbacks but the director James Wan and the writers felt it would be better to just jump into the action, and I totally agree.
For those unfamiliar with Aquaman (Jason Momoa), he is the child of lighthouse keeper Tom Curry (Temuera Morrison) and Princess Atlanna (Nicole Kidman). Their love was a forbidden one. He is from the land, she is from the sea and the two were never supposed to meet and fall in love. This made their son Arthur a child of two different worlds and it also made him an heir to the kingdom of Atlantis.
Arthur's half-brother King Orm (Patrick Wilson) plans to bring a war to the surface and a reluctant Arthur must stop that from happening. With the help of Princess Mera (Amber Heard) who is unhappily betrothed to Orm will do whatever it takes to help Arthur stop the King, as well as Vulko (Willem Dafoe) who secretly trained Arthur how to fight as a young man.
In order to defeat his half-brother, Arthur and Mera must travel across the globe to locate a powerful trident that belonged to the original king.  Arthur would only be able to claim the weapon if he was deemed worthy (which we all know he will be). This of course leads into a massive climatic battle between Arthur, King Orm and thousands of various sea creatures.
After seeing "Aquaman", I was trying to figure out which I thought was a better DC film, this one, or "Wonder Woman".  Both are quite great, but "Aquaman" I feel comes out ahead because it has a far more satisfying final act.  The undersea battle is CGI greatness and looks even more amazing in IMAX.  Orm also is a more layered villain than expected. There were some choices made with the character that made him more compelling, especially later in the film.
Momoa has settled nicely into the role of Arthur Curry. He is not what more comic book fans originally envisioned what Aquaman should be, but he just feels right. Momoa also knows how to balance humor and action. James Wan also has done a commendable job bringing a difficult character to adapt to the big screen successfully. Wan, being known mostly as a horror filmmaker manages to deliver a few solidly scary moments, including one on a fishing boat where Arthur and Mera are bombarded by vicious sea monsters.
I don't have as much faith in the DC Universe as I have with the Marvel one, but I don't feel it is too late for the studio to turn things around. If they focus more on making good movies like "Aquaman" rather than just building a franchise, they will do great. Here is hoping that April's release of "Shazam!" delivers as well.  In the meantime, take a dip with "Aquaman" this holiday season.
By: Marc Ferman