Bill & Ted Face the Music: Movie Review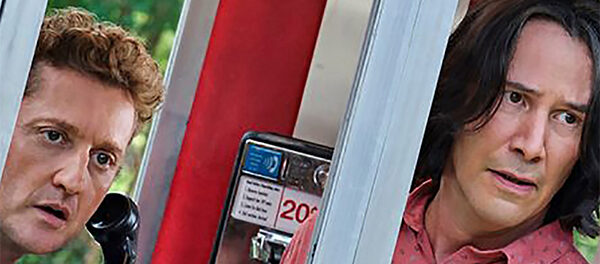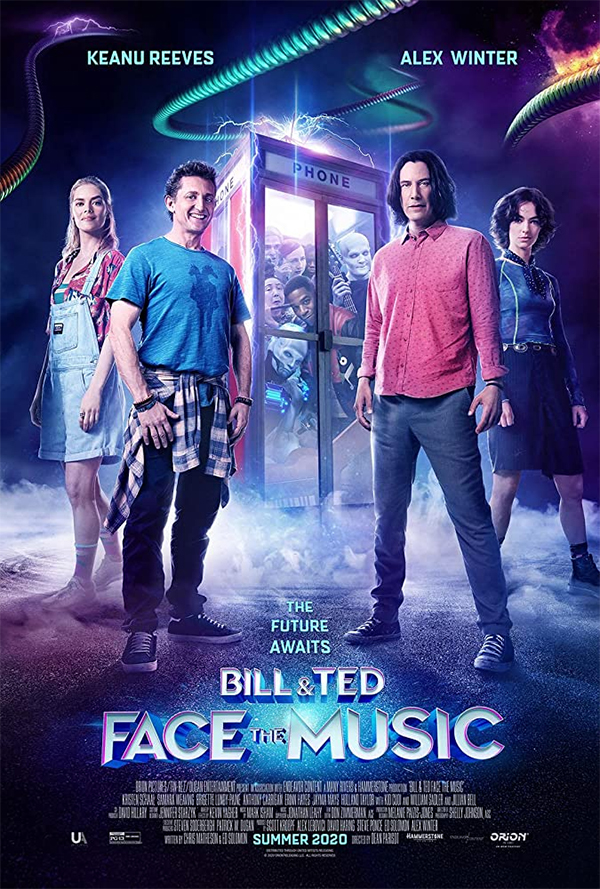 It has taken nearly three decades for Keanu Reeves and Alex Winter to return for the third and final chapter in the Bill & Ted saga, "Bill & Ted Face the Music". As someone who has been a huge fan of the first two films since their release, even hosting multiple repertory screenings of them over the past few years, I was over the moon when I first learned that a third film was on the way. It has taken years for creators Chis Matheson and Ed Solomon, along with Reeves and Winter to not only get a story that they felt good enough to move forward with, but also to find the funding to make it a reality. When it comes down to it, Bill & Ted 3 would have not come together if it wasn't for the devoted love from the character's fans. You can even feel the fan love in the end credits which shows personal video clips from hundreds of most excellent Bill & Ted loyalists.  So, now having seen "Bill & Ted Face the Music", was it all that I hoped for? Well, it is nearly impossible for any film to live up to that type of anticipation and excitement. However, despite some issues, I was generally pleased.
It has been nearly thirty years since Bill & Ted went on their bogus journey, however life hasn't panned out the way they hoped. For the past three decades the San Dimas duo have worked hard to write the song that would unite the universe, having had absolutely no luck. Ted's dad (Hal Landon Jr.) still sees his son as a failure and believes that Bill & Ted's 24-year-old daughter's Billie (Brigette Lundy-Paine) and Thea (Samara Weaving) are heading down the same aimless path as their fathers. Even the princesses that Bill & Ted married (re-cast for a second time, now played by Jayma Mays and Erinn Hayes) have brought their husbands into couples counseling. Billie and Thea absolutely love their dads and support them completely. They are also musical savants which should give you a hint into the direction the story will be heading. The casting of the daughters was crucial to make "Bill & Ted Face the Music" and thankfully they nailed it. Most Notibly, with Lundy-Paine who channels a younger Reeves without trying to do an impersonation. She has the mannerisms down pat. Winter seemed to step back into the Bill character with ease, however Reeves does look either a bit tired or not as comfortable as he did when he played the character of Ted years ago. It may also just be because in the Film, Ted is actually tired and unsure of himself and what he is doing.
"Face the Music" is almost like a hybrid of the two films that came before it, which makes sense since this is a movie that was made specifically for the fans and not as some type of reboot. One of the reasons "Bogus Journey" was so effective was because it did not duplicate the first film. With the third outing, it was smart to incorporate a bit of both, including some of the dark humor from the second film.
I don't want to giveaway too much of the story because, as I mentioned before, this movie was made for the Bill & Ted fans and its all about going on the journey with them. Having said that, there are some elements that just didn't work for me. One of the biggest problems I had was with the multiple versions of Bill & Ted. Our heroes time travel numerous times, running into very bitter older versions of themselves. For the sake of the plot, they are not supposed to be likeable, but at the same time, I really want to like every version of Bill & Ted and don't want to see them in a bad place. Some of these versions were real jerks.
Although I think Kristen Schaal can be quite funny, I felt she was not the right choice to play the daughter of George Carlin's Rufus and finally, although I loved Anthony Carrigan in TV's "Gotham", his android character is probably one of the worst parts of the film.  Listen, as much as I loved "Bogus Journey", I was never a fan of the Station character(s), so having a few minor characters that just don't gel for me is not a deal breaker. Despite my criticisms, "Face the Music" still delivers plenty that will please the fans. William Sadler once again is a scene stealer as Death and I absolutely love who they picked for Missy to marry next after divorcing Bill's dad and then Ted's dad.
"Face the Music" is also successful as juggling two different adventures within a 90-minute runtime. While Bill & Ted are on one mission, their daughters are on one to help their dads.  The princesses are also on their own adventure, but not much attention is spent on that.  As much as it pains me to say it, "Bill & Ted Face the Music" is not a great film, however it does deliver a great message at a time when we really need it. Even if I found myself slightly disappointed in the film as a whole, I am so grateful that it does exist and that I once again got to spend time with these two dudes as they embarked on another trip through time. Despite some of the missteps along the way, "Face the Music" ends on a pitch-perfect note.
By: Marc Ferman