Born in East L.A. (Collector's Edition): Blu-Ray Review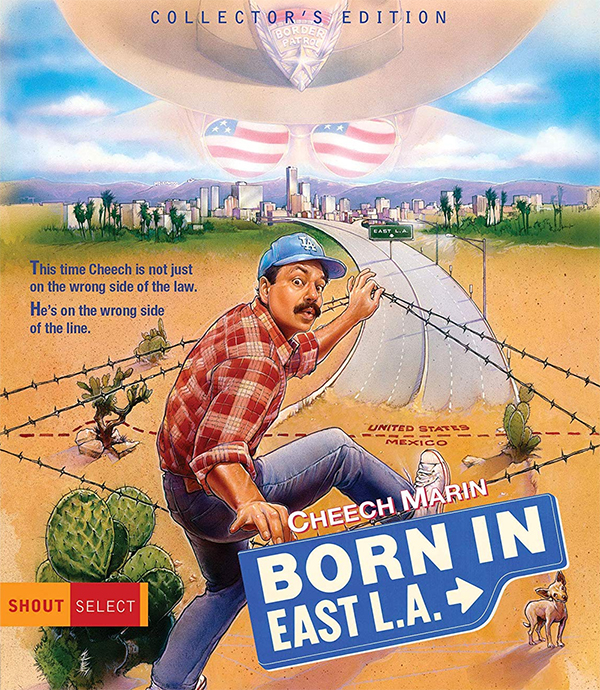 Arriving on Collector's Edition Blu-ray this week is Cheech Marin's 1987 comedy, "Born in East L.A.", which he wrote, directed and starred in. This was Marin's first solo film without his partner, Tommy Chong. It has been three decades since my last viewing of "Born in East L.A." and truthfully, I couldn't remember if I enjoyed the film when it was first released.  As a kid, I did like the Cheech & Chong movies, but they haven't aged well.  After revisiting "Born in East L.A." I can see why it never stuck with me.  The film was way too sweet for an 80's comedy starring Marin.  Not that sweet is a bad thing, but it didn't mesh well with the tone of everything.
For those of you who are fans of "Born in East L.A.", Shout! Factory had delivered a solid release.  Not only do you get the theatrical release, but you also get the extended cut that was shown on television (standard definition). Also, new interviews with Marin as well as co-stars Kamala Lopez and Paul Rodriguez. If those additions are to your liking, then you may want to ad "Born in East L.A." to your collection.
Bonus Features
NEW Audio Commentary By Director/Writer/Star Cheech Marin And Film Historian Marc Edward Heuck
NEW Interview With Cheech Marin
NEW Interview With Actress Kamala Lopez
NEW Interview With Actor Paul Rodriguez
Extended Television Cut Of Born In East L.A. (Standard Definition)
Theatrical Trailer
Photo Gallery
Production Notes
By: Marc Ferman