Buried Alive: Blu-Ray Review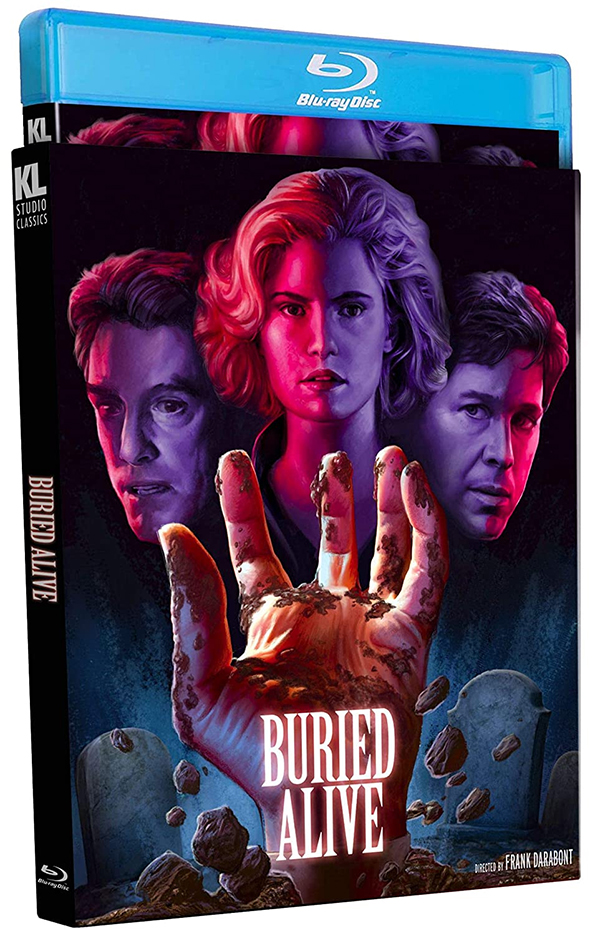 Three-time Oscar nominee Frank Darabont may best be known for his acclaimed features, The Shawshank Redemption, The Green Mile, The Mist, as well as adapting The Walking Dead into a hit series. However, the filmmaker made his feature length directorial debut with the 1990 made-for-TV horror-thriller, Buried Alive.  Despite being a fan of much of Darabont's work, I had never actually seen his debut film until now.
Clint Goodman (Tim Matheson) is living a very-happy existence after moving back to his hometown with his wife Joanna (Jennifer Jason Leigh) and running a successful contracting business. He even built a beautiful home for him and his life partner. What Clint doesn't realize is that Joanna has been having an affair with Doctor Cortland van Owen (William Atherton).
Joanna is extremely unhappy living in the country and her seemingly only way out is to move to Los Angeles with the sleezy doctor. However, what Cortland needs is money. He convinces Joanna to poison Clint in a way that would look like a heart attack. Then she could sell his business which is worth more than a million dollars. Although she has doubts initially, she does go through with the poisoning and opts for a quick burial by bypassing the embalming process. He is then buried in a pine coffin with water damage. Of course, those last couple of details partly explain how Clint actually, survived and was able to punch his way through the pine box and dig himself out of the grave. Sure, Buried Alive is stupid, but it's a well-made kind of stupid.
Once Clint makes his way out of his grave, he heads home and learns everything about Joanna and Cortland and proceeds to get his revenge on them. At the same time, the Clint's friend and local sheriff Sam Eberly (played by the late great Hoyt Axton) does some investigating of his own when Clint's empty grave is discovered.
Produced on a two-million-dollar budget, Buried Alive gets by on the filmmaker's directorial choices as well as its' talented cast. The brand new 2K master looks great, especially for a made-for-TV feature. As for bonus content, we ger a new interview with William Atherton as well as a new audio commentary by Entertainment Journalist Bryan Reesman. If you are a fan of Darabont and want to see how far he has come as a filmmaker over the last three decades, I recommend picking up this release.  Now, I kind of want to see the 1997 sequel directed by Tim Matheson.
Bonus Features:
Brand New 2K Master
NEW Interview with Actor William Atherton
NEW Audio Commentary by Entertainment Journalist and Author Bryan Reesman
Trailers
By: Marc Ferman