Chicago (20th Anniversary Limited Edition): Blu-Ray Review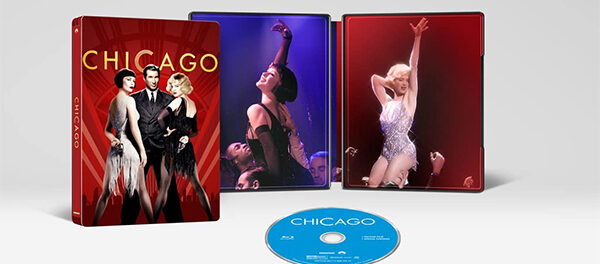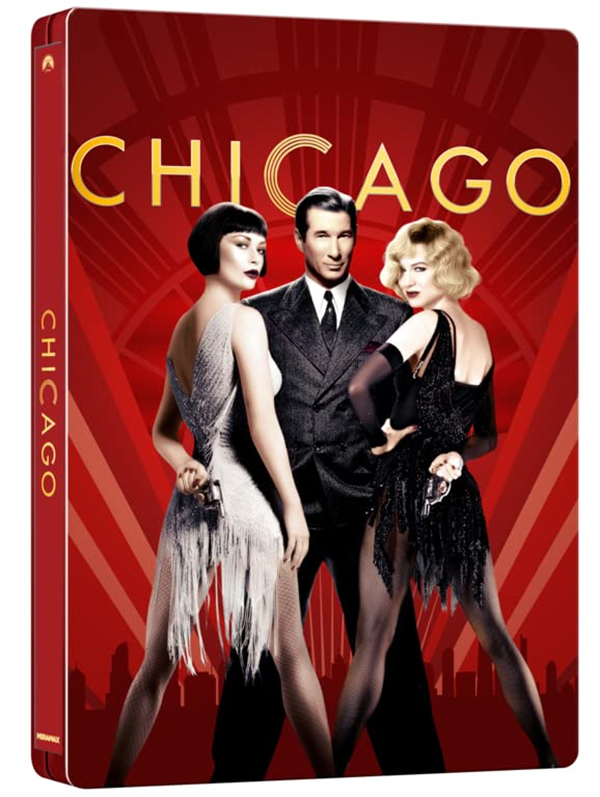 As someone who enjoys a good musical (and even a bad one at times), it may surprise you that I had never seen director Rob Marshall's 2002 film adaptation of Chicago. I always meant to get around to seeing it, but it just never happened. This week Paramount released a Limited Edition 20th Anniversary Blu-ray steelbook and figured, now is the time for me to finally take a look at the musical that garnered so many Academy Award nominations and wins two decades ago. While watching it, all I could think was, what the hell took me so long? This thing is amazing.
Chicago centers on two women, Velma Kelly (Catherine Zeta-Jones) and Roxie Hart (Renée Zellweger), both of them in prison for murder. While Velma killed her sister who was the other half of a performing duo, Roxie killed the man she was cheating on her husband Amos (John C. Reilly) with. Before their incarceration, Velma was a rising star in Chicago and Roxie was a wannabe star looking for her first big break.
Both Velma and Roxie want out of prison and they are both counting on the same attorney Billy Flynn (Richard Gere) to make that happen. The problem is that Billy goes to where the attention is and with Velma's interest from the media diminishing, he begins to put more focus on Roxie who has been gaining headlines in the newspapers and radio. Of course Velma is not happy about this at all and probably wishes she was much nicer to Roxie from the beginning.
While the cast here is phenomenal, Zeta-Jones has never been better, it is the musical numbers and production design that take center stage. There is a reason Chicago is considered by many one of the best Broadway musicals of all time.  I would go so far as saying that this could very well be one of the best film adaptations of a musical ever produced. However, since I never actually saw the Broadway show, I can't actually make that claim.
While I think this would have been the perfect time for the studio to release a 4K restoration of Chicago, I have no doubt that one will be coming sometime in the not-to-distant future. For now however, if you don't own Chicago on Blu-ray, this new steelbook packaging is a real eye-catcher and would probably make for a great Valentine's gift for the special someone in your life.
Bonus Features:
Feature Commentary with director Rob Marshall and screenwriter Bill Condon
Chicago in the Spotlight – A Retrospective with Cast and Crew
Bringing Chicago to Life: Adapting the Broadway Musical to Film
Developing the Screenplay: Collaborating with Bill Condon
Casting the Movie: Finding Actors Who Can Sing and Dance
The Extended Cast: The Great Dancers of Chicago
Rehearsals: The Best of Times
Rob Marshall: Born to Direct
Marty Richards: In Remembrance
Neil Meron and Craig Zadan: Renowned Musical Producers
The Magicians Behind the Camera: Colleen Atwood – Dion Beebe – John Myhre
The Best of Broadway: The Choreographers
The Director's Cut: Musical History is Made
The 75th Academy Awards: And the Oscar goes to…
The 85th Academy Awards: A Walk Down Memory Lane
The Relevance and Impact: The Aftermath of the Modern Day Musical
Extended Musical Performances
"And All That Jazz"
"When You're Good to Mama"
"Cell Block Tango"
"We Both Reached For The Gun"
"Mister Cellophane"
"All I Care About"
"All I Care About" with Richard Gere
"Nowadays" with Renée Zellweger
"And All That Jazz" with Catherine Zeta-Jones
"I Can't Do It Alone" rehearsal
"Nowadays/Hot Honey Rag" rehearsal
"We Both Reached For The Gun" rehearsal
"Cell Block Tango" rehearsal
By: Marc Ferman