Men at Work (MVD Rewind Collection: Blu-Ray Review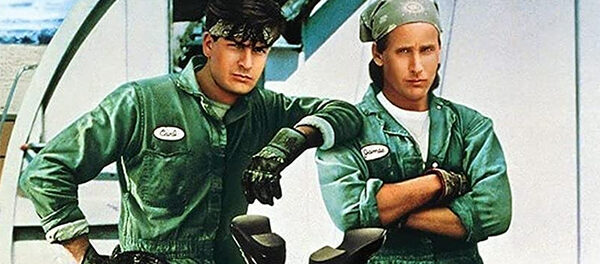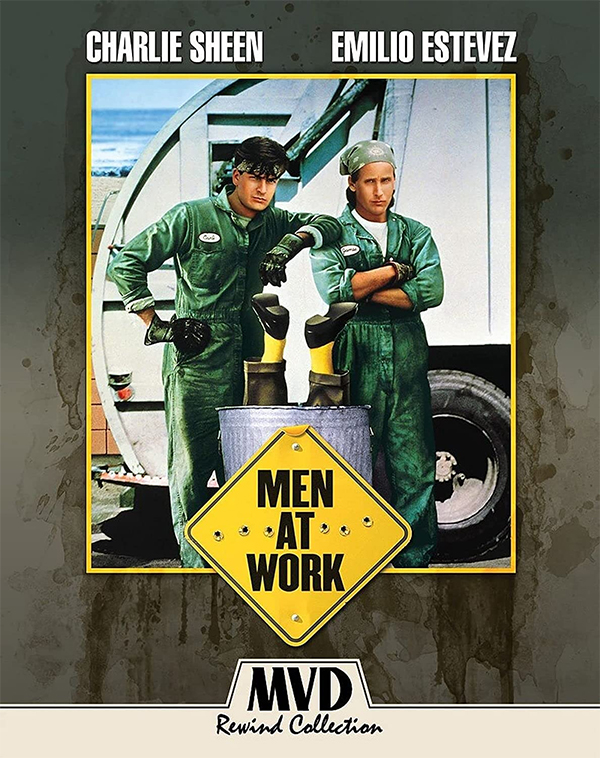 A few years back, Shout! Factory released Men at Work on Blu-ray as part of a double-feature disk with Easy Money. Up until now, the film never received a stand-alone Blu-ray release. MVD has changed that, having released Men at Work as part of the MVD Rewind Collection.
Carl (Charlie Sheen) and James (Emilio Estevez) are lifelong friends who not only live together but plan to open their own surf shop one day on the beach. For now, they work as garbage men, picking up the trash every morning while having a little fun like rolling bowling balls down the street. Apparently they were having a little too much fun because now they are forced to ride with a chaperone named Louis (Keith David), who is tasked to keep an eye on them.
Carl and James first day with Louis turns out to be a real doozie, when they discover a dead body in one of the trash cans. To make matters worse, that man was a public official that Carl shot with a pellet gun the night before. With Carl and James panicking, they decide to investigate Susan (Leslie Hope), who had a relationship with the deceased. What they soon discover is that the situation is much bigger then them, involving corrupt cops, an evil businessman, a couple of hitmen and a toxic waste dumping conspiracy.
Written and directed by Estevez, Men at Work has an enjoyable first half when it follows Carl and James on the job. The two real-life siblings have good on-screen chemistry too. The addition of Keith David as the crazed war vet just adds to the fun. However, once the film goes into the whole toxic waste action-crime direction, it loses some of the fun.  It doesn't become unwatchable. However, it does begin to wear out its' welcome.
The 1080p presentation here looks good, especially during the daytime shots close to the beach. We get quite a few scenes in similar locations during the film's first act. The LPCM 2.0 audio track is more than serviceable here. Garbage trucks give off more sound than a normal vehicle and when the action is turned up in the final act there doesn't seem to be any issues. While I think Men at Work is simply okay, fans of the film should be pleased that the film has finally been given its' own release.
Bonus Features:
High Definition (1080p) presentation of the main feature in 1.85:1 aspect ratio
Audio: LPCM 2.0 Stereo
Optional English, French and Spanish Subtitles
Original Theatrical Trailer
Reversible Artwork
Collectable Mini-Poster
By: Marc Ferman