Escape from L.A. – 4K UHD Review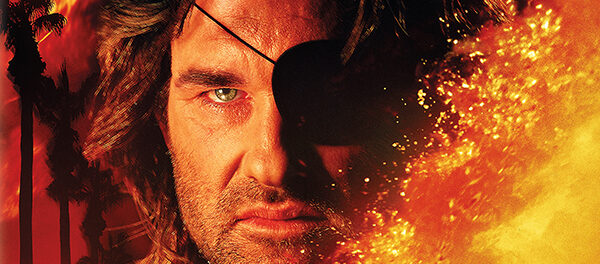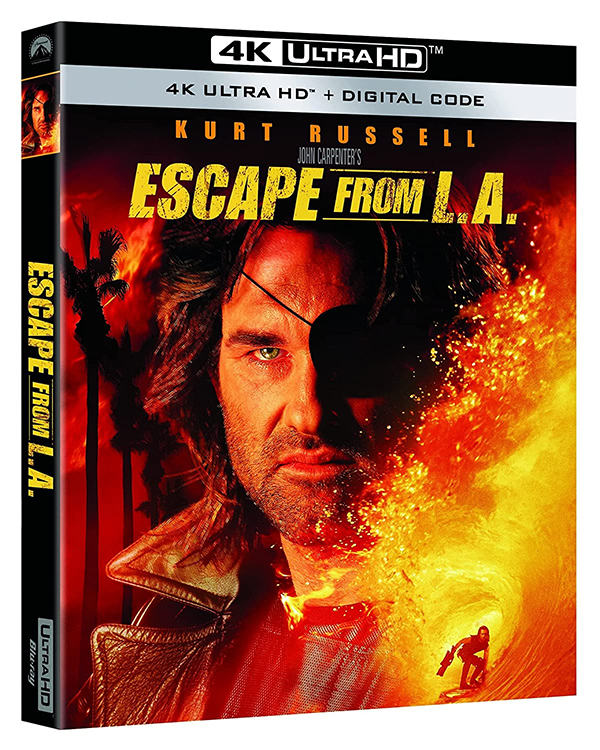 Available now on 4K UHD is John Carpenter's 1996 Escape from New York sequel, Escape from L.A. In 2020 a Collector's Edition Blu-ray featuring a 4K scan of the film was released. Now, Paramount has released a true 4K disk.
A box office bomb when released theatrically, the second Snake Plissken adventure didn't quite recapture the same gritty and dark sci-fi action that audiences had grown to love since the early 80's. John Carpenter, Debra Hill and Kurt Russell decided that the right way to go, was to give the film more of a satire feel. At times, that decision worked, especially with the inclusion of supporting characters, played by Peter Fonda, Bruce Campbell, Pam Grier and Steve Buscemi. Carpenter hasn't had much experience with comedy. The only other films he has directed that share a similar tone as L.A., are Big Trouble in Little China and They Live. The latter being the best.
For those unfamiliar with Escape from L.A., Snake has been captured by the newly formed World Police. In exchange for his freedom (and his life), he must enter the island of Los Angeles (which had been separated from the United States after a major earthquake). The island is occupied by people who were deemed undesirable by the U.S. The president's daughter stole a black box that control's the world's power and delivered it to the hands of the terrorist/leader Cuervo Jones (Georges Corraface) who resides in L.A. Snake has 10 hours to retrieve the box and bring it back to the U.S. or the toxin he has been dosed with will kill him.
Escape from L.A. is not very good, but at the same time, it is not the least bit dull either. Carpenter keeps things moving along pretty-quickly, having Snake drop-in on some seriously destroyed L.A. landmarks. The visual effects that were bad, even for the 90's looks much worse now, but they kinda ad to the film's charm. The Snake on a surfboard sequence is one of my favorite badly-aged moments.
When it comes down to it, I love watching Snake Plissken almost as much as Kurt Russell loves playing him. I know that there is almost no chance in hell that we would get a third film, but I would be thrilled to see some sort of Old Man Plissken film come to life with Russell, front and center. Better yet, have Snake team up with Jack Burton from "Little China" and cast Russell against himself.
While I was more than happy with Shout! Factory's 1080p presentation of the 4K restoration, I will say that Paramount's full 4K disk looks even better. For the most part, Escape from L.A. is a very dark film, taking place entirely at night, Aside from some fires, explosions and interior locations, you might not notice a huge difference between the two presentations, although facial details are much more defined. While I wouldn't say it's necessary to upgrade from Shout's 2020 Collector's Edition, I would say this disk a vast improvement over the 2010 Blu-ray.
Escape from L.A. comes with a DTS-HD Master Audio 5.1 track, however there was an issue with the disk's initial pressing. Paramount has since addressed the issue, which you can read below.
It has come to our attention that there is an English audio encoding error on the new 4K Ultra HD Disc of John Carpenter's Escape from L.A.  Paramount Home Entertainment has corrected the issue and is immediately creating new discs, however the initial shipment of discs has reached some retail outlets.  Fans who purchase a disc with a white UPC barcode on the package and would like a replacement should email PHE_CustomerService@Paramount.com for instructions.  The corrected product will be shipped free of charge.  If your disc package has a yellow UPC barcode, then it is the corrected version and you do not need a replacement.

It is always our intention to distribute the highest quality product and we apologize for any inconvenience this error has caused.
Portions of this review were taken from my coverage of the 2020 Collector's Edition Blu-ray.
By: Marc Ferman