Event Horizon (25th Anniversary Edition): 4K UHD Review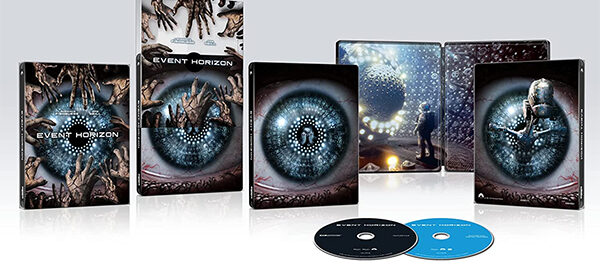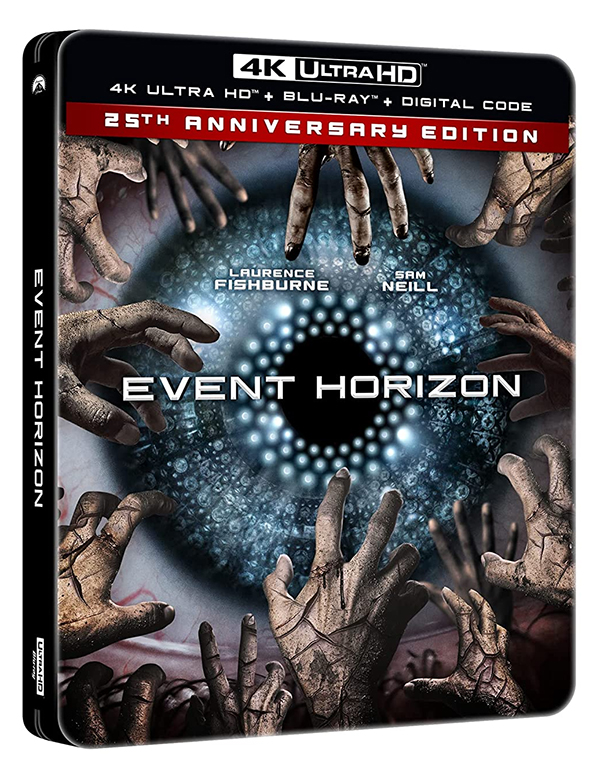 Paul W.S. Anderson's 1997 sci-fi/horror flick Event Horizon gets a 4K upgrade with a 25th anniversary steelbook packaging, courtesy of Paramount. It is well-known that the film had a troubled production. Anderson had to cut more than 30-minutes from the original cut, leaving a very choppy final film. While the filmmaker felt his original cut was too long, he did want to deliver a 106-minute film rather than a 96-minute one and was not keen on taking out all the gory moments. The poor reception from critics and the box office shouldn't have come as a surprise. However, Event Horizon built a following on home video and even though an attempt was made to restore the original cut, that footage remains lost. It's a shame, because I would have loved to seen Anderson's original vision. While not quite the disaster that Supernova turned out to be three years later, Event Horizon was still a mess, yet an entertaining one.
After receiving a distress signal, the rescue ship Lewis and Clark is dispatched to locate the Event Horizon starship that has been missing for seven years. The team is led by Captain S.J. Miller (Laurence Fishburne). His crew is made-up of Lieutenant M.L. Starck (Joely Richardson), medical technician Peters (Kathleen Quinlan), rescue technician T.F. Cooper (Richard T. Jones), medical doctor D.J. (Jason Isaacs), the pilot W.F. "Smitty" Smith (Sean Pertwee) and Ensign F.M. Justin (Jack Noseworthy). Joining the crew is Dr. William G. Weir (Sam Neill), who designed the Event Horizon and its technology that can bend space. For a 90's sci-fi horror film from the director of Mortal Kombat, that's an impressively solid cast.
When the crew does locate the seemingly deserted Event Horizon, they begin to notice something seems a bit off with the ship. Crew member's bodies start popping up mutilated and the Lewis and Clark crew can't understand what happened. It doesn't take long (thanks to some over editing) for each of the L&C crew members to start having hallucinations. For Justin, something in the core pulls him into the unknown, only to come out mentally broken and forces him to try and take his own life. Peters begins seeing visions her handicapped son and Miller begins being taunted by his past. It is Dr. Weir however that is drawn to the darkness that inhabited the ship and he has no desire to leave.
Event Horizon is pretty much Hellraiser in space and on that level, it works, but not very well. What keeps the film engaging is the cast who are all much better than the material they are working with. The other thing is the set design. The ship looks pretty cool and kind of like a nightmare on its' own. Unfortunately, the 90's CGI hasn't aged well here. It's most noticeable when we see items floating in the ship like bottles and liquid. While I have never actually watched the 2008 Blu-ray or last year's release from Shout! Factory, I will say that the new 2160p/Dolby Vision transfer looks quite spectacular. As mentioned before, the set design in the film is quite lovely, and the details presented in 4K really give the film some life. The new transfer also gives us a great look at some of the make-up effects which are definitely gnarly. I seriously wish there was more gore. While that last time I watched Event Horizon was off of a DVD, there is simply no comparison. For the audio, we get Dolby TrueHD 5.1 which was used in the prior release and it's more than fine. Yes, I would have loved to have gotten an Atmos track, but again, the 2008 track has no serious issues.
As for bonus materials, these are all imported from the 2008 Blu-ray, so if you have that disk, you probably have already seen the extras. If you are a fan of Event Horizon, this new 4K transfer is definitely worth grabbing, as the film has never looked better.
Bonus Materials:
Commentary by director Paul W.S. Anderson and producer Jeremy Bolt
The Making of Event Horizon – 5 Documentaries
The Point of No Return – the filming of Event Horizon with director commentary
Secrets – deleted & extended scenes with selectable director commentary
The Unseen Event Horizon
Theatrical Trailer
Video Trailer
By: Marc Ferman