Fighting with My Family: Movie Review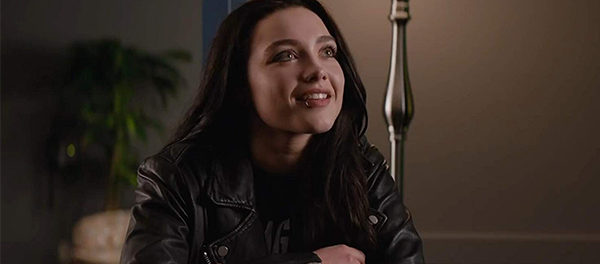 Saraya-Jade Bevis aka WWE's Paige became the youngest Divas champion at the age of 21. Writer/Director Stephen Merchant's biographical sports-comedy, "Fighting with My Family" tells the story of Saraya's journey from wrestling with her family as a child to her big win in 2014 that changed her life forever.
Saraya (Florence Pugh) and her brother Zak (Jack Lowden) grew up in a family in which wrestling was a way of life. Their father Ricky (Nick Frost) was a former criminal who straightened out his life when he fell in love with Julia (Lena Headey). They started teaching wrestling together while also performing. Unlike her brother, Saraya had no interest in wrestling. That was until her parents convinced her to fill in one night with her brother at in a live match.  From that moment on, she was in love with the sport.
Saraya and Zak were a team but when only Saraya gets selected by coach Hutch Morgan (Vince Vaughn) during the WWE try-outs, it drives a wedge between the siblings.  Saraya does not want to go to Florida and train without her brother, and even though he puts up a front, he clearly resents that his sister was chosen and not him.
One does not need to be a fan of wrestling or even know anything about it to deeply enjoy "Fighting with My Family". This is a fish-out-of-water underdog tale based on real-life people that are all-too-human. One would think the comedic elements around the Knight family were written simply to make the film funnier, but when we see clips of the real family during the end credits, we realize they are an odd yet loving bunch. Nick Frost is quite good as the father and some of the funniest scenes are around him.  However, it is Pugh who carries "Fighting with My Family" and she does an outstanding job.
Yes, pro-wrestling is a fixed sport, but that doesn't mean that the wrestlers don't work hard and endure punishment to their bodies. Wrestling is most likely the most painful form of storytelling. This is something that is only briefly addressed in the film, as "Fighting with My Family" is less about the sport and more about the people.
If you like a heartfelt story about a person overcoming obstacles in order to make their dream a reality as-well-as various real-life colorful characters portrayed by a truly talented cast, I highly recommend that you go see "Fighting with My Family".
By: Marc Ferman