Five Feet Apart: Movie Review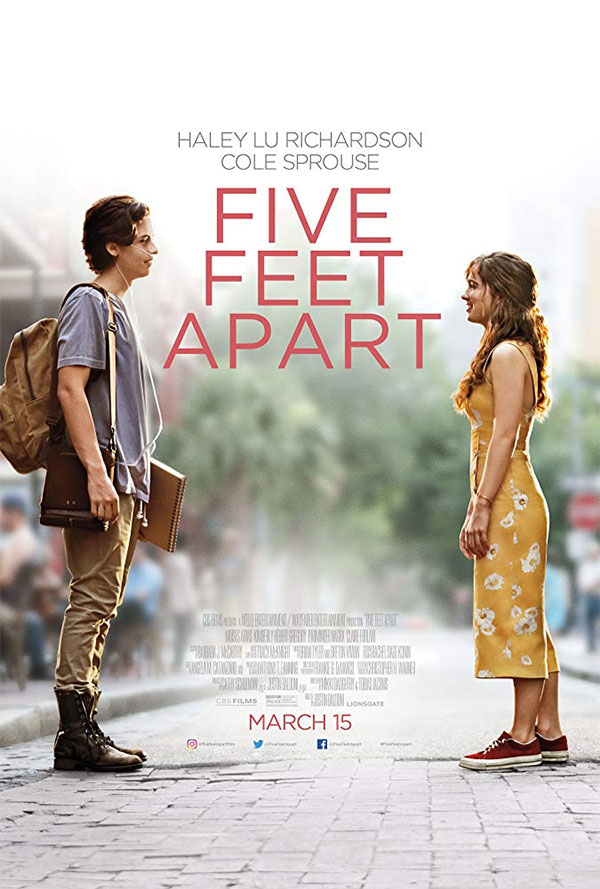 Justin Baldoni makes his feature film directorial debut with the romantic-drama, "Five Feet Apart". However, more interestingly, co-writers Mikki Daughtry and Tobias Iaconis (who are also pretty-new to screenwriting) are both responsible for next month's "The Curse of La Llorona".  If you have seen the trailer for the latter, I am sure you would find it surprising that both films come from the same minds. OK, back to "Five Feet Apart".  For those of you who are fans of films like "The Fault in Our Stars" and "My Sister's Keeper", the latest health challenged love story was made for you.
The film's title is based on the "six-foot rule" which states that cystic fibrosis patients should be kept at no less than six feet apart from each other. Any closer and they risk cross-infection. Stella (Haley Lu Richardson) has been in and out of hospitals for most of her life. To say life has been hard for Stella and her family is an understatement. They family has suffered various degrees of loss. Because of this, Stella is very controlling of her own treatments, down to organizing her own medical cart.
In another part of the hospital, there is Will (Cole Sprouse), another teenager with CF who doesn't take his treatments as seriously.  Stella find's Will's lack of following the rules frustrating, but at the same time she does find him to be quite charming. She can only avoid his smile and witty banter for so long before she opens-up and gets him to take his treatments.  We all know that the two are going to fall in love, but we have no clue how it will end.  Realistically, anyone who is familiar with CF knows that these two characters have no future together.  It's just not possible, so the question is, what will happen?
"Five Feet Apart" is no better or worse than other films of its' kind. We are not shown the disease at its' worst because that wouldn't sell tickets to the film's target demographic.  This film is more about the love story than the disease. Having said that, Richardson and Sprouse have terrific chemistry together and they did a good job making me care about what happens to them. However, it is Moises Arias who plays Stella's best friend, Poe (who also has CF) that steals every scene he is in.
"Five Feet Apart" is sure to cause a-number-of audience members to whip out their tissues, which is to be expected.  The cast is way better than the material, but if you saw the trailer and felt like "Five Feet Apart" was right up your alley, then I think you will find plenty to like here.
By: Marc Ferman