Get Crazy: Blu-Ray Review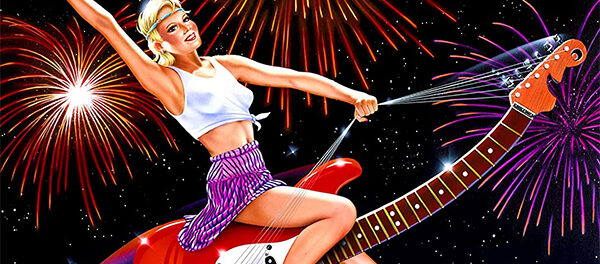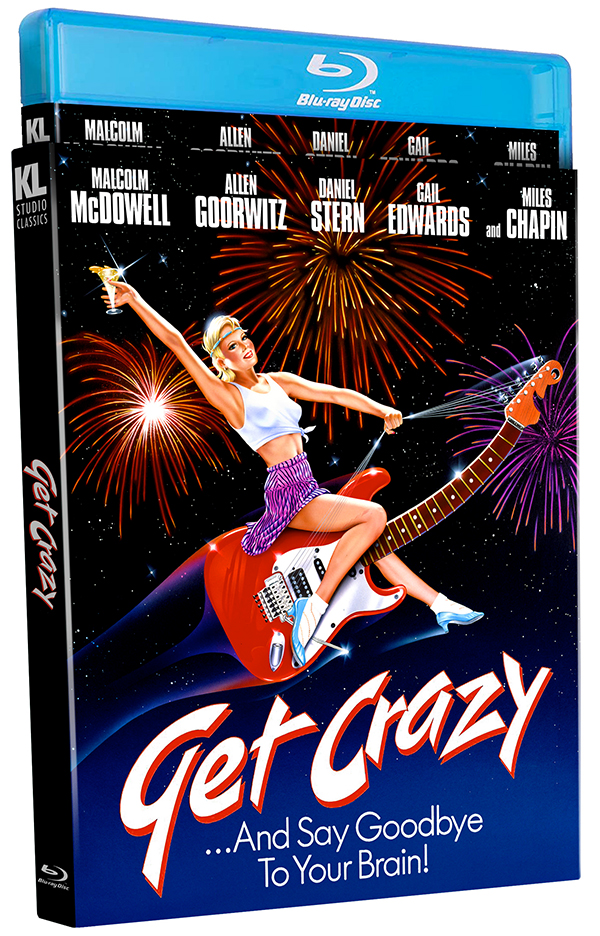 One of the great things about boutique physical media houses like Kino Lorber and others is that they somehow are-able-to bring long-lost films back from the dead and restore them to their former glory. This week sees 1983's Get Crazy released on Blu-ray for the very first time. Directed by Allan Arkush (Rock 'n' Roll High School), the musical-comedy never even received a DVD and has been out-of-print since its' initial VHS release. There are a few films out there that truly feel like they were inspired by the budding MTV generation and Get Crazy was one of them.
Set during 1983 New Year's Eve, concert promoter Max Wolfe (Allen Garfield) wants to put one the biggest show of his career that will give all the local kids something to remember. Assisting Max is the Saturn Theater's new stage manager Neil Allen (Daniel Stern), as well as visiting former stage manager Willy Loman (Gail Edwards). This of course sets up a romance between Neil and Willy in-the-midst of all the film's craziness.
Unfortunately, Max's former employee-turned-sleezy promoter Colin Beverly (Ed Begley Jr.) wants the Saturn Theater and will stop at nothing to get it. This includes having his goons plant a bomb in the venue. That way, he can build his office building on the property.  While Beverly is up to his dirty deeds, there is more trouble brewing at the Saturn. Max suddenly suffers a health scare and now Neil and Willy need to make sure the concert goes off without a hitch and their only help are a couple of clueless stagehands. Issues arise with the bands, fire inspector and Max's nephew Sammy (Miles Chapin) who has no problem selling out his uncle to Colin Beverly.
While the plot of Get Crazy seems pretty-straight forward, the movie itself is actually a very odd one. According to Arkush, the producer would only allow him to make this movie if he made it into a spoof, like Airplane!  That explains a lot. While we might have gotten a better film if the narrative was played straight, I am pretty sure it wouldn't have been as memorable or become a minor cult film. One of the highlights in Get Crazy would have to be Malcolm McDowell as rock-star Reggie Wanker. His character truly lives up to his last name. It was also nice to see a young Daniel Stern in the lead role, even though Arkush originally Tom Hanks for the part.
The new 2K master was approved by Arkush and the film has never looked better. Granted, I haven't seen Get Crazy in nearly four decades. While this film is not for everyone, if you are a fan of Rock 'n' Roll High School then this will surely be your cup of tea. This release is also packed with bonus features, including commentary with Arkush as-well-as Eli Roth and Daniel Kremer. We also get a feature-length documentary titled The Afterparty featuring cast and crew discussing the making of the Get Crazy. This is definitely a worthy addition for film collector fans.
Blu-ray Extras Include:
Brand New 2K Master – Approved by Director Allan Arkush
NEW Audio Commentary by Director Allan Arkush, Filmmaker Eli Roth and Filmmaker/Historian Daniel Kremer
THE AFTER PARTY: A NEW 76-Minute Documentary Featuring Malcom McDowell, Daniel Stern, Howard Kaylan, Stacy Nelkin, Gail Edwards, Lori Eastside and the Nada Band, Lee Ving, Allan Arkush, Screenwriter Danny Opatoshu and many other crew members who share their excitement and joy in making the movie that trace the origins of GET CRAZY, plus anecdotes and many photos
World Premiere Music Video 1: GET CRAZY Theme Song by Sparks (1983 Made for MTV)
World Premiere Music Video 2: NOT GONNA TAKE IT NO MORE: Lori Eastside & the Nada Band (1983 Made for MTV)
World Premiere Music Video 3: NOT GONNA TAKE IT NO MORE: Lori Eastside & the Nada Band (2021 Return Performance of the Original Song)
TRAILERS FROM HELL with Allan Arkush
FAN FICTION: Punk Podcasters NO DOGS IN SPACE create life stories and discographies for Reggie Wanker, Lori Eastside & the Nada Band and Piggy
Theatrical Trailer
By: Marc Ferman