King Kong (Collector's Edition): Blu-Ray Review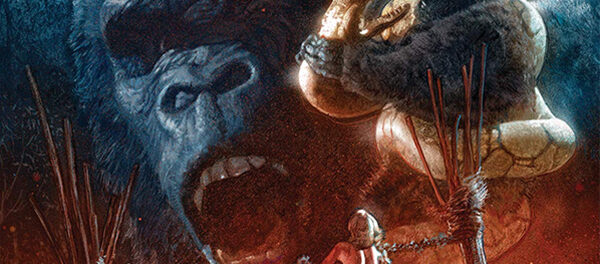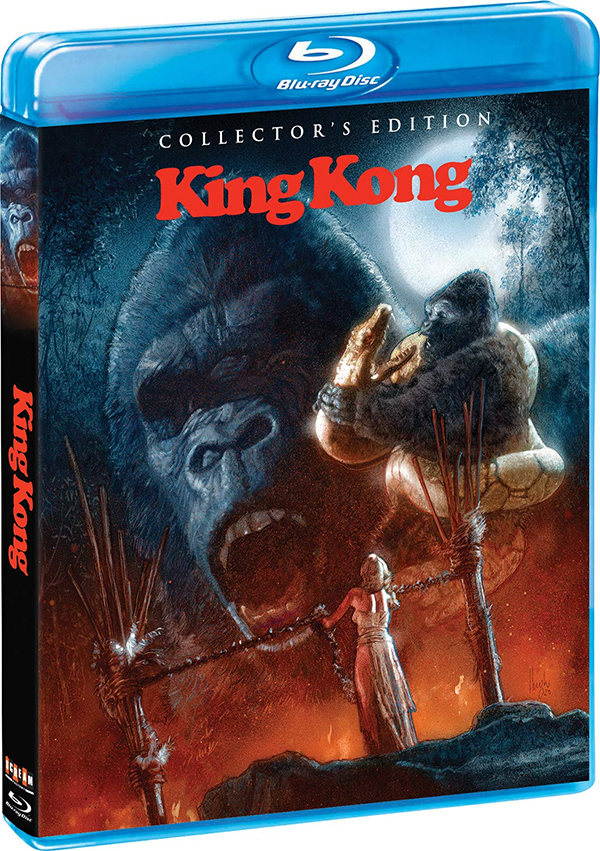 King Kong has been around for nearly 90 years. The original 1933 film is usually considered the best by film lovers. However, depending on your age there is a cinematic version of the giant ape that you grew up with. For me it is Josh Guillermin's 1976 big budget remake starring Jeff Bridges, Charles Grodin and Jessica Lange.  Admittedly, my favorite film about the beast is the more recent Kong: Skull Island, but the 70's version still holds a special place in my heart. This week, Shout! Factory is releasing a two-disk Collector's Edition of King Kong that includes both the theatrical and extended TV broadcast cut of the film and if you are a Kong lover, this set if for you.
Fred Wilson (Grodin) believes he has located a massive oil reserve just beneath an island he discovered that is continuously cloaked by a perpetual fog bank. To make sure he beats out competing oil companies, he leads a secret expedition to the island to lay claim to the potential fortunes it can bring. Along for the ride is Jack Prescott, a university professor that sneaked onto the ship in-order-to learn more about what inhabits the island. There is also Dwan (Lange), a beautiful young woman who was found floating on a raft at sea, when her yacht exploded. She was the sole survivor.
Once they get to the island, they soon discover they are not alone. The natives are not too happy about the visitors, but they do want Dwan so they can give her as an offering to their god, Kong. Eventually Dawn is taken by the natives and given to Kong. Of course, she is rescued, but Wilson refuses to go back home empty handed, so a trap is set to capture the big ape and bring him back to America, where he is to be turned into a traveling attraction. We all pretty much know what happens next.
Now, these are not new 2K or 4K scans of the film, even though the addition TV footage inserted are 2K scans. Still, the transfer looks quite good with very, little to complain about. To be honest, the special effects are so dated that I don't think I would want to see a sharper picture than the one that is delivered here. The 5.1 DTS-HD audio is absolutely, perfect, with the score delivering on all the right notes. A newly restored theatrical DTS-HD 2.0 stereo track is also included. There are quite a few new bonus features as well.  If you are a fan of this version of King Kong, then I highly recommend picking up the Collector's Edition.
Bonus Features:
DISC ONE: THEATRICAL CUT (2.35:1)
NEW Audio Commentary With Film Historian Ray Morton (Author Of KING KONG – THE HISTORY OF A MOVIE ICON)
NEW Audio Interview With Special Makeup Effects Wizard Rick Baker
NEW Something's Haywire – An Interview With Actor Jack O'Halloran
NEW On The Top Of The World – An Interview With Assistant Director David McGiffert And Production Manager Brian Frankish
NEW Maybe In Their Wildest Dreams – An Interview With Sculptor Steve Varner
NEW There's A Fog Bank Out There – An Interview With Second Unit Director William Kronick
NEW From Space To Apes – An Interview With Photographic Effects Assistant Barry Nolan
NEW When The Monkey Dies, Everybody Cries – An Interview With Production Assistants Jeffrey Chernov And Scott Thaler
Audio: DTS-HD 5.1 And NEW Restored Theatrical DTS-HD 2.0 Stereo Track
Theatrical Trailer
TV Spots
Radio Spots
Still Galleries – Posters, Lobby Cards, Behind-The-Scenes Photos
DISC TWO: EXTENDED TV BROADCAST CUT (2.35:1)
NEW 2K Scan Of The Additional TV Footage From The Internegative
KING KONG Panel Discussion From The Aero Theater (2016)
By: Marc Ferman