King Richard: Movie Review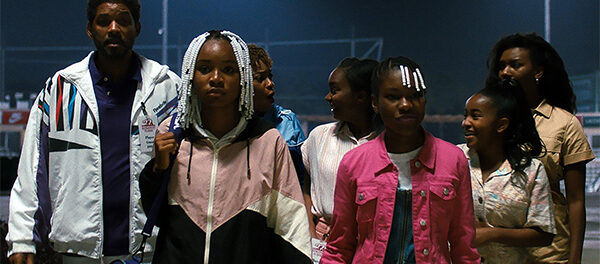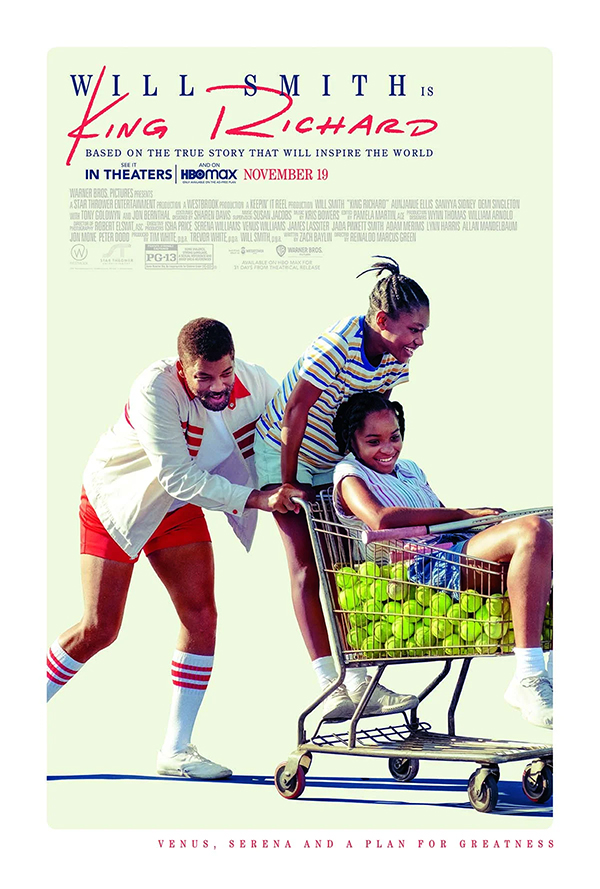 Based on the true story of Richard Williams, father of tennis superstars Venus and Serena Williams and his unconventional methods used to mold his daughters into the sports icons we know today. Not being a tennis fan (even though I come from a family of tennis players), I didn't know much about Venus and Serena before going into the film. Sure, I knew they were siblings that were also tennis champions but it's safe to say most people knew that.  What I had absolutely no clue about was how their father, Richard (played by Will Smith) planned out their whole career from the time they were born. The fact that most of his planning came to reality is simply mind blowing.
Richard (Smith) and Brandy (Aunjanue Ellis) Williams are hard working and loving parents who want the best for their daughters Serena (Demi Singleton) and Venus (Saniyya Sidney). Richard works the graveyard shift as a security guard, where he spends the long quiet nights reading publications about tennis. When he is not at work, he is with daughters at the local run-down tennis court training them to be great tennis players. Richard and his wife were young athletes, but he has much bigger plans for Serena and Venus.  He picked a sport that at the time had no black representation. His plan from the time they were born was to make his girls sports icons and he had a very specific way to make sure it happened.
Richard knew that even he was limited to what he could make happen given that his family barely manage to make ends meet while living in Compton, California. It took countless rejections from professional tennis coaches until Richard forced his way in front of the eyes of Paul Cohen (Tony Goldwyn) who was so impressed by the girls, that he agreed to coach them. While Serena advanced much quicker that her sister Venus, both wound up getting invited to a train in Florida with Rick Macci (Jon Bernthal), even though it cost Rick a little something extra, to move Richard and Brandy down with them. While Rick saw the raw potential in both Serena and Venus, he was constantly at odds with Richard, who had his own demands when it came to his daughter's careers.
King Richard is filled with clichés that come with this kind of inspirational feel-good story. Even, when based on a true story, it's hard not to notice how some things might have been played up for Hollywood.  Even so, it isn't hard to look over those issues when you have a cast doing such a great job here.  Smith had an interesting challenge in that he was playing a person that is supposed to be annoying and often agitating. Almost every person who is not in Richard's immediate family seem to want to get him out of the picture and honestly, I can't blame them. He makes everyone's job much harder, even if he did accomplish what he set out to do in the end. Smith may have played a person I didn't care for, but he did a great job at it.
For me the stand outs here are Singleton and Sidney as Serena and Venus respectively. They both give breakthrough performances, especially Singleton who we see bombarded with various deeply emotional moments throughout. It's nice to see Bernthal in a lighter type of role for a change and it's always good to see Goldwyn popping on screen.
Director Rinaldo Marcus Green has delivered a good movie that is elevated by his cast. Is King Richard an Academy Award contender? Sadly, I don't think so, but I have a feeling that it will receive a nomination or two, simply because these are the types of films that Hollywood likes to celebrate, and I am pretty confident that word-of-mouth will help this one find a pretty large audience.
By: Marc Ferman