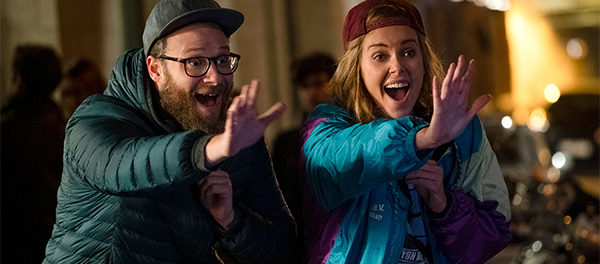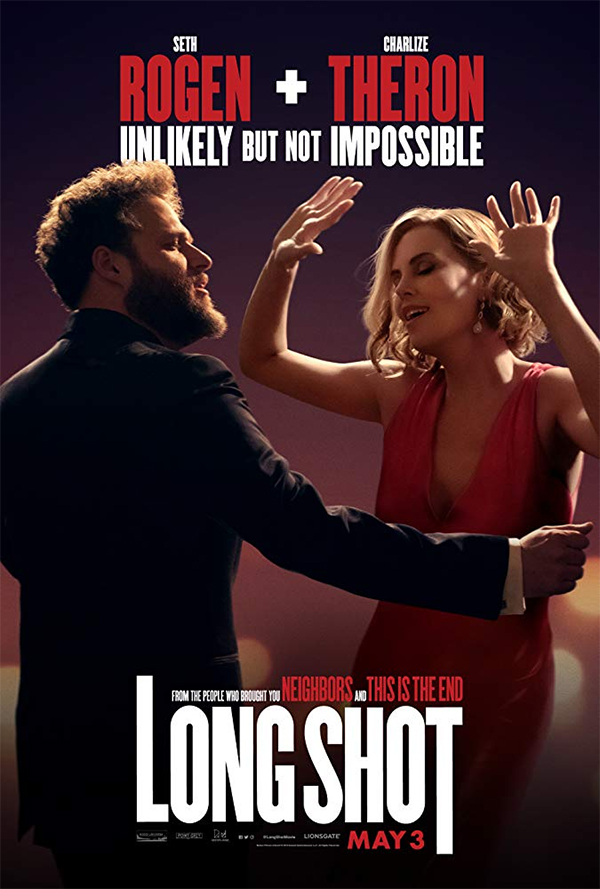 Director Jonathan Levine teams up once again with Seth Rogan for the romantic-comedy, "Long Shot".  The two worked together on 2011's "50/50" and 2015's "The Night Before".  When it comes to films about relationships, Levine has delivered some entertainingly unique ones. I am a big fan of both, "The Wackness" and "Warm Bodies".  The filmmaker excels at finding humor in even the most-dire of situations.  Although "Long Shot" is not nearly as good as his previous efforts, it still manages to deliver a few laughs. The biggest selling point is the chemistry between Rogan and co-star Charlize Theron.
After journalist Fred Flarsky (Rogan) quits his job over principles, his best friend Lance (O'Shea Jackson Jr.) takes him out for a night of fun.  This includes an upscale party where Boys II Men will be performing.  Being a fan of the group, that is Fred's sole reason for attending.  It is at that party where Charlotte Field (Theron), one of the most influential women in Washington, recognizes him. It turns out, Charlotte was Fred's babysitter. In one of the film's funniest moments, we get to see a very awkward moment between the two of them as kids during a flashback.  The reunion is sweet, until Fred runs into Parker Wembley, the man who bought the publication Fred worked for. Fred's distaste for Parker (played by an unrecognizable Andy Serkis) is the reason he quit.  This leads to an embarrassing incident involving Fred that goes viral.
Charlotte however needs a speechwriter, as she is planning to run for President of the United States. Despite the people working on her campaign thinking it is a bad idea, she decides to offer Fred the job. Not only does she like his writing, but she sees the added benefit that he knows her and where she came from. Of course, a romance blossoms between Fred and Charlotte and when the film focuses on their relationship, it is at its' best.
The problem with "Long Shot" is that it is too long.  Running at just over two hours, very few rom-coms can pull off a runtime like that.  It doesn't help that the laughs aren't as frequent as they should be. The cast is very good here. A stand out is Alexander Skarsgård who has a supporting role as the Canadian Prime Minister. I also liked Bob Odenkirk who plays the current president. He played the president on a television series, went on to become the actual president and has decided not to run again, because he would rather act in movies. I thought that was quite hilarious.
If you like the stars, you will most likely find plenty to enjoy in "Long Shot". Since, "Avengers: Endgame" is taking up more than half the multiplex auditoriums, there aren't a whole lot of selections in theaters right now regardless. This might just be the best option for a date movie this weekend.
By: Marc Ferman