Maniac Cop 2 + Maniac Cop 3: Badge of Silence (Special Editions): 4K UHD Review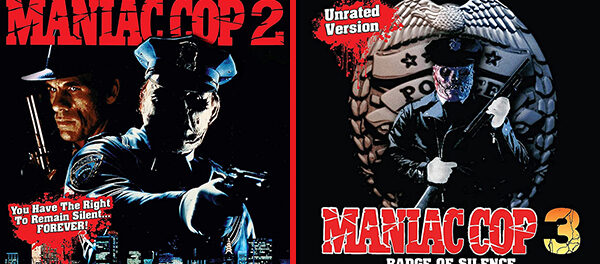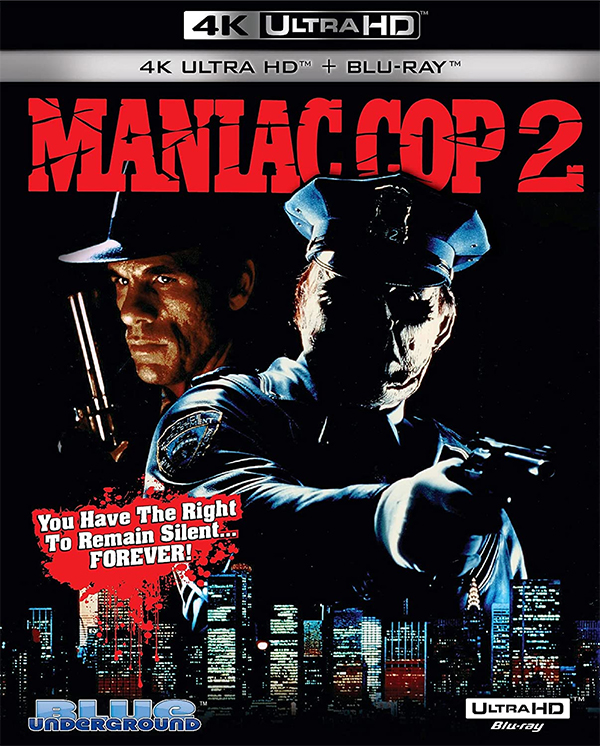 In 2013 Blue Underground released both Maniac 2 and 3 on Blu-ray, which was sourced from 4K restorations.  Both of those Blu-rays looked quite incredible at the time, but now the company has released 4K UHDs with Dolby Atmos and the result is near-perfection. For me, Maniac Cop 2 is one of the few horror sequels that is superior in almost every way to the original and it is an absolute blast to watch. While Maniac Cop 3: Badge of Silence is a tragic incoherent mess, it does its' best to wrap up the trilogy and features an insanely awesome fire-filled car chase in the final act.
For those of you unfamiliar with the Maniac Cop films, the trilogy follows a good cop named Matt Cordell (Robert Z'Dar) who was framed by some crooked politicians and then sent to prison, where he was mutilated and murdered by some of the inmates. However, Cordell wasn't dead and now he is terrorizing the streets of New York City, dressed as a cop and getting revenge for what was done to him. By the time we get to the 2nd and 3rd film, the Maniac Cop becomes more like Jason Voorhees, an unstoppable, rotting, killing machine.
As I mentioned before, Maniac Cop 2 is such a good time. Sure, I hated that Bruce Campbell's character returns from the first film, only to be killed off in the opening minutes, but thankfully, there is enough great stuff going on in the story that Campbell is barely missed.  That brings me to one of the other things I loved about this series. All three Maniac Cop films feature a who's who of genre icons. Aside from Campbell, the trilogy also features the likes of Tom Atkins, Richard Roundtree, Robert Davi, Michael Lerner, Clarence Williams III, Leo Rossi, Paul Gleason and Robert Forster.
Though I wouldn't necessarily tell someone who already own the 2013 Blu-rays that they need to go out and upgrade to the 4K disks, I would say that if you do not already own them, invest in the 4K which comes in a combo pack with the 1080p Blu-ray. While there are noticeable improvements when viewing in full 4K, the Blu-ray still looks very good. The scenes set. It's the exterior shots in NYC that the full 4K presentation is most noticeable., especially when looking at the big colorful signs in the background. Even the well-lit indoor action sequences see a strong improvement. One of my favorite sequences in Maniac Cop 2 was when Cordell makes his way into the police station and blows everyone away. Sure, it may rip-off The Terminator a bit, but I think director William Lustig executed (pun intended) the scene better than Cameron did.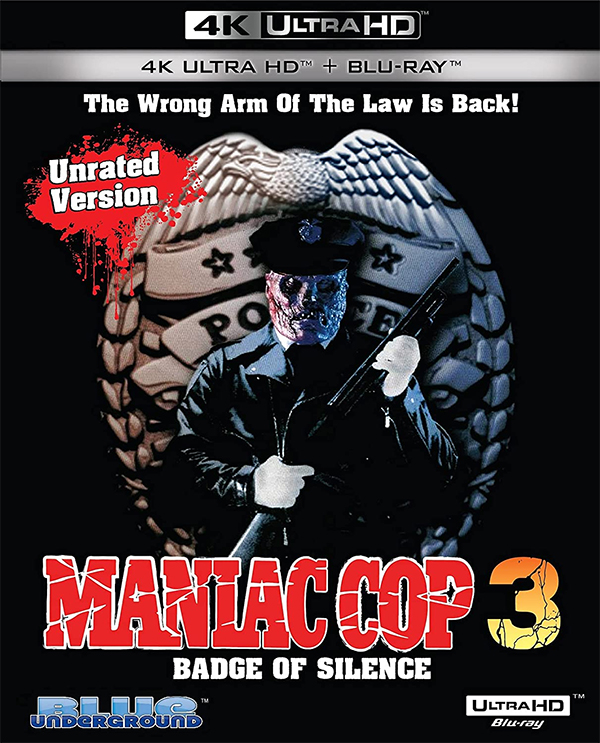 Despite its' numerous flaws, Maniac Cop 3 was shot in the 2.39:1 ratio and because of this, there is more of a difference in the upgrade to full 4K from the Blu-ray than with Maniac Cop 2. While the first sequel is better in almost every way, part 3 looks even more cinematic at times. Still it is easy to see why Lustig felt so much displeasure with the 3rd film's production and I wish we were given a better final film than this.
The inclusion of the Dolby Atmos audio is a welcome one to both Maniac Cop 2 and Maniac Cop 3. Being someone who loves the score on both films as well as the massive amounts of gun fire in part 2, this is definitely an upgrade, but there is noting wrong with the Blu-ray's 7.1 track either, which was also quite solid.
For those who don't already own Blue Underground's Blu-rays, I highly recommend picking up the Maniac Cop 2 4K UHD and if you are a fan of part 3 or a completest, then Maniac Cop 3 is also a worthy addition to your collection. This is one of the most underrated horror franchises around and I actually wish it went on for a bit longer, as I don't feel like Badge of Silence should have ended the series.
Maniac Cop 2 Bonus Features:
Disc 1 (4K UHD Blu-ray) Feature Film + Extras:
Audio Commentary with Director William Lustig and Filmmaker Nicolas Winding Refn
Theatrical Trailers
Isolated Music Track
Disc 2 (Blu-ray) Feature Film + Extras:
Audio Commentary with Director William Lustig and Filmmaker Nicolas Winding Refn
Back On The Beat – The Making Of MANIAC COP 2
Cinefamily Q&A with Director William Lustig
Deleted Scene
Theatrical Trailers
Poster & Still Gallery
Isolated Music Track
Maniac Cop 3 Bonus Features:
Disc 1 (4K UHD Blu-ray) Feature Film + Extras:
NEW! Audio Commentary with Director Alan Smithee
Theatrical Trailer
Disc 2 (Blu-ray) Feature Film + Extras:
NEW! Audio Commentary with Director Alan Smithee
Wrong Arm Of The Law – The Making Of MANIAC COP 3
Deleted and Extended Scenes
Theatrical Trailer
Poster & Still Gallery
Original Synopsis
By: Marc Ferman