Phantom of the Mall: Eric's Revenge (Limited Edition): Blu-Ray Review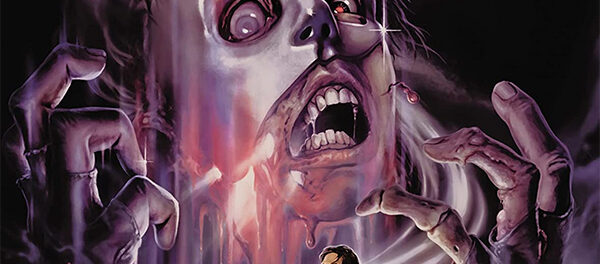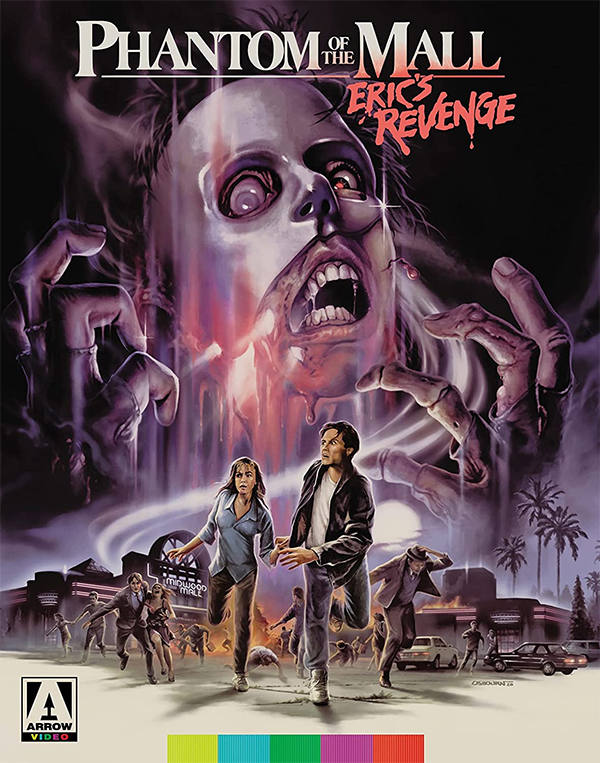 At the tail-end of 1989 (which was also the end of the 80's), modern horror fans were treated to two different updates to Gaston Leroux's Phantom of the Opera. In November of '89 we got to see Freddy himself, Robert Englund in the title role in the period piece slasher directed by Dwight H. Little (Halloween 4, Free Willy 2). The following month in December, we got another Phantom movie, this time shot at probably the most famous movie mall in history, Sherman Oaks Galleria. Yep, this mall was featured in such classics as Fast Times at Ridgemont High, Valley Girl, Chopping Mall, Night of the Comet and of course Phantom of the Mall: Eric's Revenge, which arrives on Blu-ray for the first time, courtesy of Arrow Video.
I am 99.9% sure that Phantom of the Mall: Eric's Revenge was the last theatrically released horror film of the decade on December 1, 1989. If that is the case, then I think that is notable, considering the 80's is considered the ultimate slasher decade. I remember seeing the film in the theater opening weekend and I am pretty sure it was gone from the multiplex by the following week. While I am pretty, confident that Phantom of the Mall: Eric's Revenge has gone on to be largely forgotten, there are hardcore horror fans like myself that remember some of the odder genre films of our youth. While I can't say I ever loved Eric's Revenge, it had stuck with me over the past three decades and I wondered for years if it would ever be cleaned up and released on Blu-ray. Thankfully, the fine folks at Arrow felt the time had come to locate and restore this cult classic for those of us who have been waiting.
For those of you who are unfamiliar with Phantom of the Mall: Eric's Revenge the title pretty much informs you exactly what is in store. While you might think that this could be a comedy due to the title and the fact that it features Pauly Shore, this is in fact a slasher film that may take itself a little too seriously. Eric (Derek Rydall) and his girlfriend Melody (Karl Whitman) are madly in love. While in the heat of passion, they discover that the house is on fire and while Eric was able to get Melody to safety, he wasn't so lucky.  There was also a mysterious stranger that tried to finish Melody off with gasoline but was interrupted by approaching police cars.  It may not be a coincidence that developers have been hassling Eric's parents about their home, so they could build a shopping mall on the land.
The story shifts to a year later with the mall finally opening and all the local teens are looking for jobs. This includes Melody, her friend Susie (Kimber Sissons) and their goofball friend, Buzz (Pauly Shore). As the mall owner (Jonathan Goldsmith) and the mayor (Morgan Fairchild) celebrate the opening and potential profits that the shopping center will bring in, they are noticing there is a problem.  Not only are items going missing from various stores in the mall overnight, but security guards are turning up dead and the mall owner, Harv Posner is covering it up. (Mall murders are bad for business). It turns out that Eric is living somewhere within the mall and he gets around through the extremely large air shafts that lead to all different areas. Not only does Eric want revenge, but the severely burnt teenager also wants Melody back and he isn't too pleased that she is spending time with reporter/photographer Peter Baldwin (Rob Estes).
Phantom of the Mall: Eric's Revenge is a bad film, there is no way to even pretend its good, but even in all the mess, it does have its' charms. I am so glad Arrow got a hold of this title and gave it their full attention. There are three versions of the film on this two-disk set. Since I had seen the theatrical prior, I decided to dive into the Phan cut which combines scenes from the theatrical and TV cuts. While the film was given a 2K restoration, some of the inserted scenes to create this presentation are not ideal. Still, when it cuts back to the scenes from the theatrical cut, it is easy to see the great job they did on the restoration.
The very first thing that I noticed about this set was the incredible cover art from Justin Osbourn. Considering the original theatrical poster is probably one of the worst 80's horror posters ever created, I love that they gave this release a killer illustration. If you love the art as much as I do, then you will be pleased that a fold-out poster is included and if you happen to love the terrible movie poster, well, that's on the other side. The set also comes with six lobby card reproductions and a 60-page perfect-bound book which would be a must for any collector. The 2-disk set also includes a bunch of bonus features that you are going to want to dive into.
While Phantom of the Mall: Eric's Revenge is not for all horror fans, those who appreciate it, will absolutely love what Arrow has put together. It's a good thing they released this one just in time for the gift-giving season.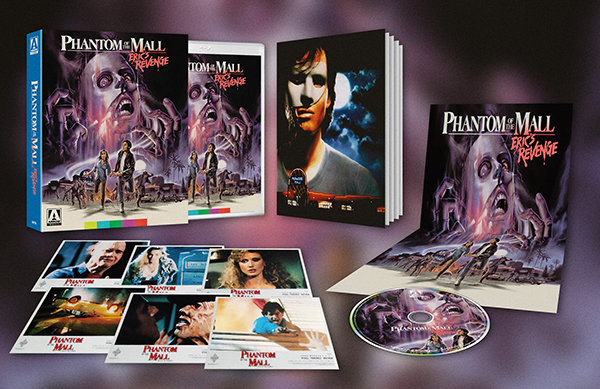 LIMITED EDITION 2-DISC BLU-RAY CONTENTS
Three versions of the feature: Original Theatrical Cut, TV Cut and bonus Integral Fan Cut!
High Definition Blu-ray (1080p) presentation
Original uncompressed mono audio on all cuts
Optional English subtitles for the deaf and hard of hearing on all cuts
60-page fully-illustrated perfect-bound book featuring new writing by Daniel Budnik and Amanda Reyes
Large fold-out double-sided poster featuring original and newly commissioned artwork by Justin Osbourn
Six postcard-sized lobby card reproductions
Limited edition packaging with reversible sleeve featuring original and newly commissioned artwork by Justin Osbourn
DISC ONE – THE THEATRICAL CUT (BLU-RAY)
Brand new 2K restoration of the Original Theatrical Cut from original film elements (90 mins)
Brand new audio commentary with director Richard Friedman, moderated by filmmaker Michael Felsher
Brand new audio commentary with disc producer Ewan Cant and film historian/author Amanda Reyes
Shop Til' You Drop!: The Making of Phantom of the Mall – brand new making-of documentary
The Vandals Go to the Mall – an interview with Joe Escalante of The Vandals on the creation of the Phantom of the Mall theme song
Alternate and Deleted Scenes from the TV Cut
Domestic and International Trailers
Image Gallery
Scott J. Schneid and Tony Michelman's original script and associated special effects storyboards by Alec Gillis and Tom Woodruff, Jr. [BD-ROM Content]
DISC TWO – THE TV & INTEGRAL FAN CUTS (BLU-RAY)
Brand new 2K restoration of the TV Cut with Standard Definition inserts for the footage unique to this version (89 mins)
Integral Fan Cut combining footage from both the Original Theatrical and TV Cuts for the ultimate Phantom of the Mall experience! (96 mins)
By: Marc Ferman