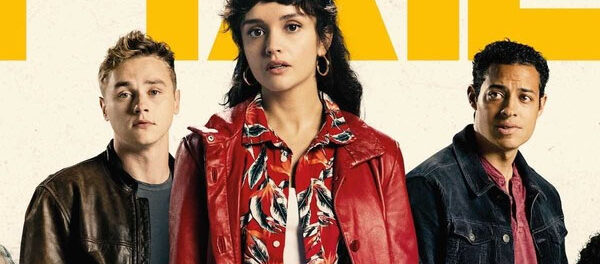 Available now on DVD is the crime-comedy, Pixie which stars Olivia Cooke, Chris Walley, Daryl McCormack, Colm Meaney and Alec Baldwin. Directed by Barnaby Thompson who produced a few Saturday Night Live features early in his career like Wayne's World and Coneheads, as-well-as Tommy Boy and Kids in the Hall: Brain Candy. So, he has been involved in some funny films.
Set in Ireland, friends Daniel (Walley) and Harland (McCormack) find themselves in a situation that neither are equipped to handle. They have come into possession of 15 kilos of narcotics after running over the man who stole the drugs from a group of gangster priests. Pixie (Cooke) discovers that the two young men have gotten their hands on the drugs and teams up with them. You see, Pixie's stepfather Dermot O'Brian (Meaney) is a gangster as well and he has no clue that she is running her own hustle, but more for personal reasons than just money.
Although it's not all that original, Pixie succeeds in different ways. First off, Cooke is absolutely, charming as the title character. There is some witty and sharp banter between many of the characters, thanks to writer Preston Thompson and when you have the right person behind the camera, films set in the Ireland countryside always look beautiful. It is Cooke who owns this film, and any fans of the young star are sure to enjoy here. If you like gangster comedies, I recommend checking out Pixie.
By: Marc Ferman