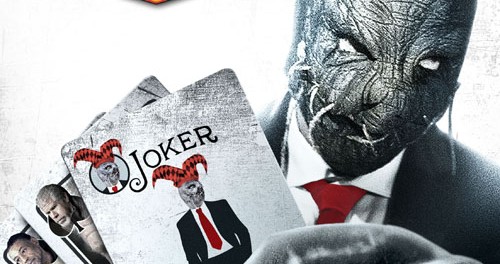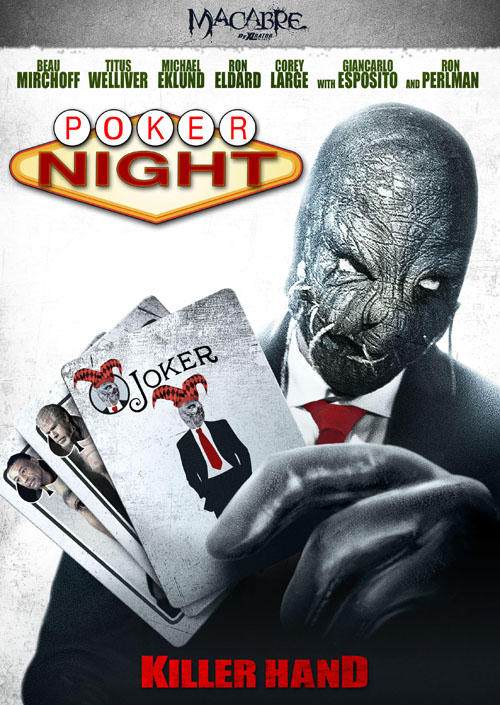 Arriving on DVD and Blu-ray this week is the new horror-thriller "Poker Night", written and directed by Greg Francis. Once-in-a-while a little movie comes along and surprises the hell out of you and "Poker Night" is one of those movies.
In this thriller, a young new detective named Jeter (Beau Mirchoff) has just made a big mistake. After having a few too many drinks with senior detectives during their traditional poker night, he decides to take a police call on his way home. In no condition to drive, much less fight crime, Jeter winds up getting himself abducted by a mysterious masked psychopath (Michael Eklund).
Taken to an abandoned building, chained up and tortured, Jeter realized he is not the only one who was abducted. Amy (Halston Sage), a young girl that has been missing for weeks and that Jeter has had an intimate relationship happens to be chained up in the next room.
"Poker Night" cleverly cuts back and forth between the current situation Jeter is in and the poker game that he was at earlier. During the poker game, Jeter's captain (Titus Welliver) and the senior detectives, Calabrese (Ron Perlman), Bernard (Giancarlo Esposito), Cunningham (Ron Eldard), and Davis (Corey Large) imparted wisdom unto the young detective that would eventually help him figure a way out.
This is a really fun flick and features a great sequence in which the masked killer has a flashback on how he got started in the whole being a deranged madman gig. It is actually quite weird and funny. "Poker Night" is definitely worth a gamble.
By: Marc Ferman