Popcorn Nights Best and Worst Films of 2015!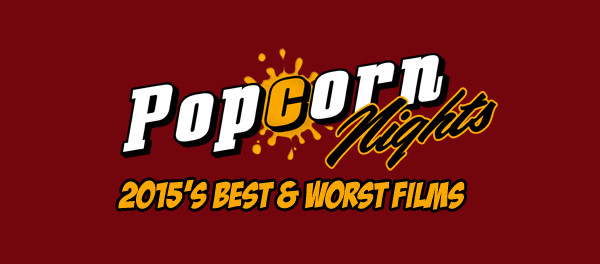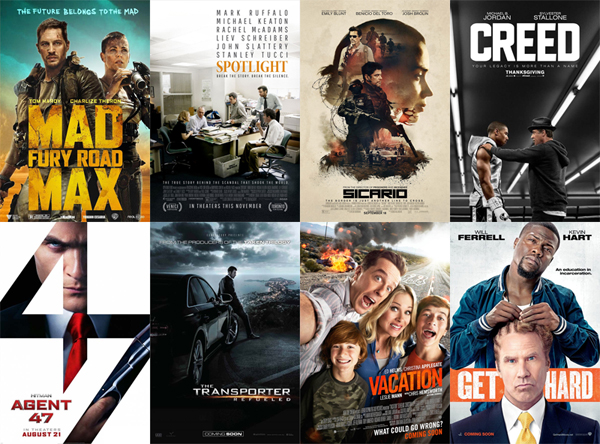 Here we are at the end of 2015 and the long awaited "Star Wars: The Force Awakens" has finally been released. I very much enjoyed "Episode VII", however with so many great films released in 2015, it didn't make my top 10 list. Neither did many of the ones getting plenty of awards attention. I know most reviewers are in love with "Carol", but not I. I haven't seen everything, so of course there could very well be films out there that I may enjoy or hate more than the ones on my list.  I must be clear that these two list are comprised from what I have seen.
Best of 2015:
1. Mad Max: Fury Road
2. Spotlight
3. The Martian
4. Sicario
5. Creed
6. The Hateful Eight
7. Room
8. Ex Machina
9. Dope
10. Brooklyn
Worst of 2015
1. Hitman: Agent 47
2. The Transporter: Refueled
3. Secret in Their Eyes
4. Get Hard
5. Vacation (2015)
6. Hot Tub Time Machine 2
7. Rock the Kasbah
8. Jupiter Ascending
9. Fifty Shades of Grey
10. The Last Witch Hunter
There you have it, those are my lists. I do want to mention a few films that did not make the cut but are worth pointing out. "The Revenant" is by far the most masterfully shot film of 2015 and so many sequences blew me away. If it didn't move along at a snail's pace, it might have made the list. "Mission: Impossible – Rogue Nation" and "Kingsman: The Secret Service" were both fantastic action films that were just a blast to watch, but just not good enough to make the top 10. As for the worst films, if my list went to 13, I would have had to include "Mississippi Grind", "Magic Mike XXL" and the animated flick, "Home". Those were pretty terrible, but the 10 listed were even worse. Let's see what 2016 has in store for us.
By: Marc Ferman