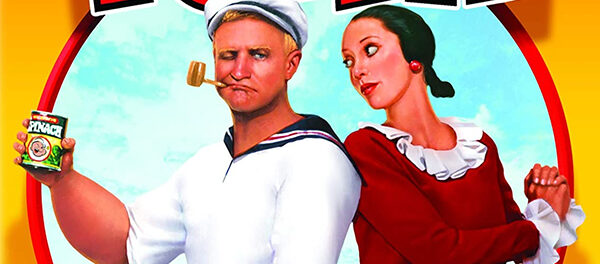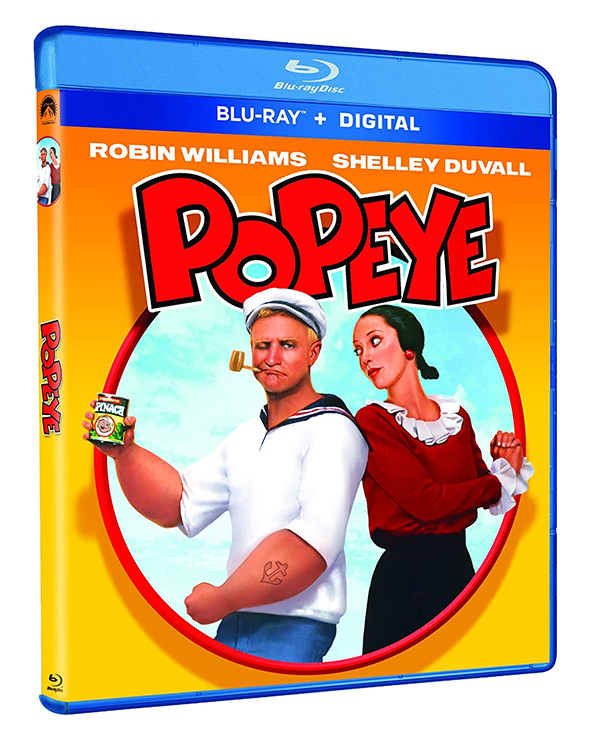 This week marks the 40th anniversary of Robert Altman's Popeye which stars Robin Williams as the title character and the perfectly cast Shelly Duvall as Olive Oyl. Turning the classic comic strip into a musical was without-a-doubt the right way to go but giving Altman the director's chair was the choice that I believe made this film unique. When film lovers think of Altman, comic book movie adaptation is not the first thing to come to mind. Granted, I was 7-years-old when Popeye came out and I did see it during its' theatrical run. However, at that age, I didn't have the slightest inkling of who the filmmaker was. All I knew at the time was that Mork from Ork was playing Popeye and I had to see it.  The film left a long-lasting impression on me. Having revisited Popeye for the first time in many years, I now have a better understanding why I loved this musical so much.
For those who have never seen Popeye, the story follows the title character (Williams) to the seaside town of Sweethaven, where he makes a stop while searching for his long-lost father. We learn pretty quickly that the town's mysterious commodore has a tight grasp on the citizens, taxing everyone for anything he can think of. There is also the commodore's right-hand-man, Bluto (Paul L. Smith), who is more like the town's bully. Popeye isn't looking for much in the town, other than a room to rent, some food and maybe some decent conversation. He is not at all looking for trouble, but that doesn't stop trouble from finding him. He gets into a scuffle at the local hamburger joint and not much later, he takes a pounding from Bluto when spotted with the mean guy's fiancé Olive Oyl (Duvall) and a baby which they both discovered moments before.
The rest of Popeye deals with the discovery of his father (Ray Walston), Bluto kidnapping baby Swee'Pea because the infant apparently can predict the future, which is great for gambling. Finally, the budding romance between Popeye and Olive Oyl. The story however isn't why I feel the film is so special. It is Altman's unique vision, as well as the committed performance from the cast. Williams and Duvall give their all here and they are simply wonderful. The musical numbers are also memorable. I Yam What I Yam, It's Not Easy Being Me, I'm Mean and I'm Popeye the Sailor Man are just a few of the numbers that were stuck in my head. One of my favorite aspects of the film has-to-be the incredible set built for the town of Sweethaven. It is really a sight to behold.
Popeye made a modest profit upon its' theatrical release, but the studio still found it to be a box-office disappointment. That is probably why they didn't choose to release this as part of their new Paramount Presents series. Popeye is making its' Blu-ray debut and the new HD transfer looks very sharp. Obviously, it's a huge improvement over the DVD release. The sets that I love have never looked better on home media. For the musical numbers, I am more-than happy with the Dolby TrueHD and I believe fans will feel the same way.
Popeye is without question an odd film but that's part of its charms. I am surprised it wasn't a bigger bomb when it was released four decades ago because Altman made some very bold choices here.  What I find interesting is that I enjoy the film now almost as much as I did when I was seven but for very different reasons. Now, I appreciate the creativity and ideas floating around the production. When I was younger, I just loved the songs and watching Williams be Popeye (I actually still love those things too).  If you are a fan of Popeye, I highly urge you to grab yourself the Blu-ray.
Bonus Features:
Return to Sweethaven: A Look Back with Robin and the Altmans
The Popeye Company Players
Popeye's Premiere
The Sailor Man Medleys
Theatrical Trailer
By: Marc Ferman