Top Gun: Limited Edition 4K UHD Steelbook Review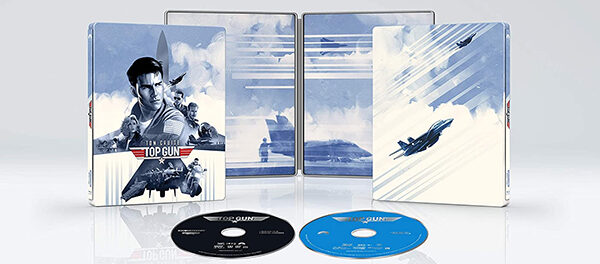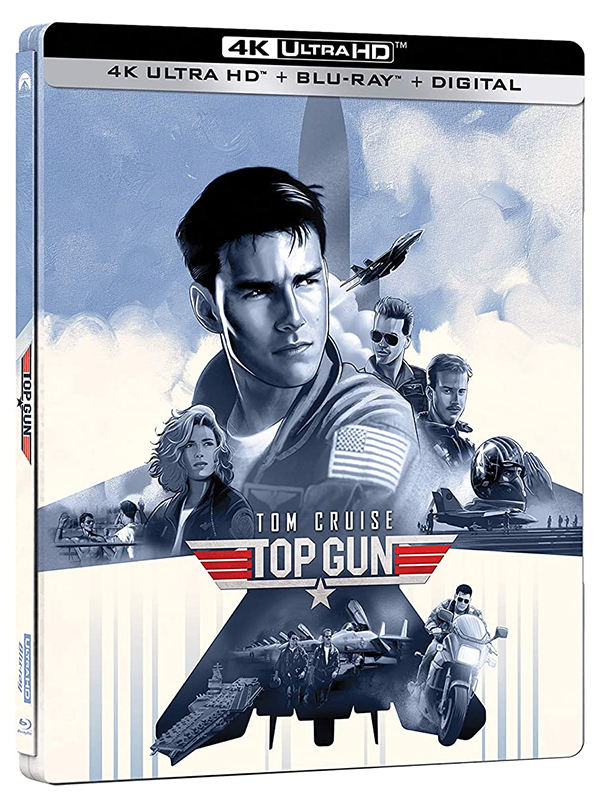 Top Gun arrived on 4K UHD this past May. However, since the holidays are here, Paramount Pictures are re-releasing the 80's classic in a nifty new Limited Edition steelbook packaging.  Now, the art on the new case looks absolutely, beautiful. Is it worth paying about double the price for over the standard case that is currently available? Well, if this is a gift for someone special and they are a huge Top Gun fan, then, why not?
Before his passing in 2012, Tony Scott directed a-number-of awesome films like Beverly Hills Cop II, The Last Boy Scout and True Romance. However, the filmmaker's most famous piece of cinema would arguably be 1986's Top Gun which helped catapult Tom Cruise to superstardom. The film takes place at the Navy's elite fighter weapons school which is know by its' cadets at Top Gun. The students compete to be the best and Maverick (Cruise) believes he is better than everyone else there. This doesn't sit well with fellow student Iceman (Val Kilmer) who believes Maverick's cowboy ways make him too dangerous to rely on. Maverick's best friend Goose (Anthony Edwards) will follow him anywhere though, which does lead to tragedy.
Is Top Gun a great film? Nope! However, it does totally deserve the massive pulp culture status it earned. With killer ariel action, a great soundtrack (if you count Kenny Loggins' Danger Zone being played over-and-over again), and just how beautifully shot this thing is.  Tom Cruise charms his way through Top Gun and a supporting cast that includes Michael Ironside, Tom Skerritt and James Tolkan ad to some of the badass of it all. My main issue with Top Gun was that the relationship between Maverick and Charlie (Kelly McGillis) just never worked. Having revisited the film, I just can't buy into it. There is no chemistry between the two.
The picture quality in the 4K release may not be superb but is still looks great and the Dolby Vision really helps showcase the visual style that Scott brought to the screen. This is worlds beyond the original Blu-ray which also happens to be included in this set. Where the disk really shines is in the audio. Using Dolby Atmos, the soundtrack soars. Remember when I brought up Danger Zone and the ariel sequences earlier? Well they are absolutely full throttle on this disk.  Weather you go for the standard package or the new steelbook, Top Gun 4K is a must own for anyone who loves this film.
Special features on 4K Ultra HD:
Commentary by producer Jerry Bruckheimer, director Tony Scott, co-screenwriter Jack Epps, Jr., and naval experts
The Legacy of Top Gun (UHD)
On Your Six – Thirty Years of Top Gun (HD)
Special features on Blu-ray:
Commentary by producer Jerry Bruckheimer, director Tony Scott, co-screenwriter Jack Epps, Jr., and naval experts
The Legacy of Top Gun (HD)
On Your Six – Thirty Years of Top Gun (HD)
Danger Zone: The Making of Top Gun
Multi-Angle Storyboards with Optional Commentary by director Tony Scott
Best of the Best: Inside the Real Top Gun
Music Videos
Original Theatrical Promotional Material
By: Marc Ferman