Eddie Murphy Classics Get Holiday Release: Blu-Ray/ 4K UHD Review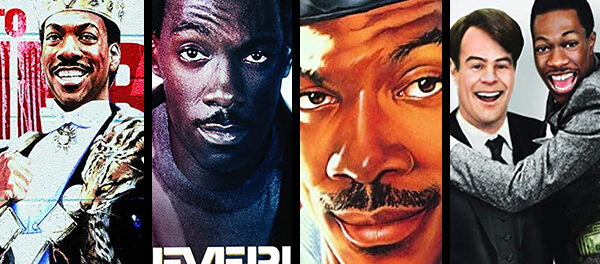 This is a great week to be an Eddie Murphy fan, as Paramount Pictures are releasing four of the comedian's 80's classics on 4K UHD and newly remastered Blu-rays. Being a child of the 80's, Murphy's comedies were constant viewings for me and if you have a loved one who loves his films, there is plenty to chose from that would make great holiday gifts. Coming to America and Beverly Hills Cop are both being released on 4K UHD for the first time. There is also Trading Places and The Golden Child, which are given newly remastered Blu-rays.
Coming to America: 4K UHD Review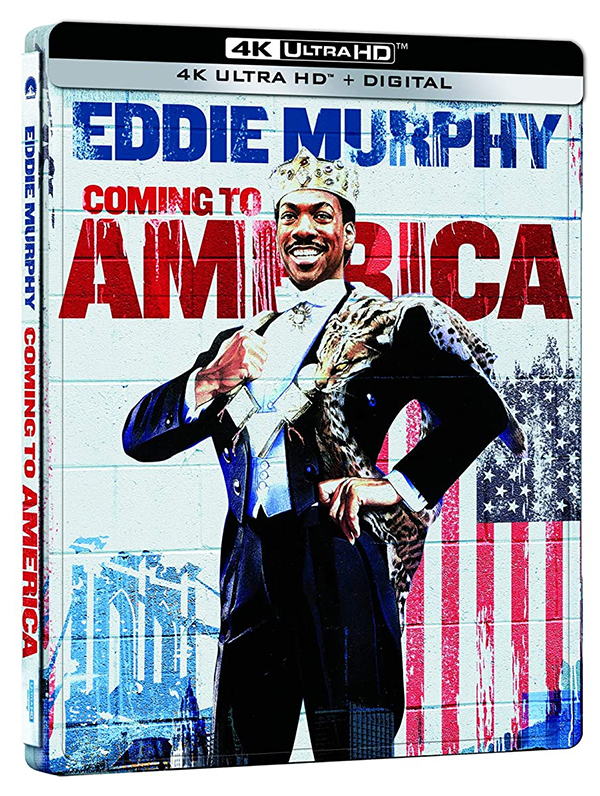 Eddie Murphy and director John Landis re-teamed for the first time after their 1983 comedy Trading Places for the 1988 comedy-fantasy-romance, Coming to America. This was a huge hit and Murphy's last great film of the 80's. This is also the film that established Murphy's ability to play multiple characters in various scenes. This is a gift that he would go on to perfect eight years later in The Nutty Professor.
The film centers on Prince Akeem (Murphy) who is supposed to be wed to a woman who has been trained her whole life to be a queen. Akeem wants to marry someone he loves and who would love him for who he is, not what he is. Akeem decides to travel to New York (Queens, get it?) with his servant and friend Semmi (Arsenio Hall) in hopes of finding a bride. It doesn't take long for the prince to meet Lisa (Shari Headley), an independent woman who is also a genuinely good person.
John Landis supervised this new 4K restoration with HDR and it is the best the film has looked since its theatrical release. As for the bonus features. They are simply carried over from the Blu-ray release. Nothing new has been added. However, the new 4K alone is worth the pick-up. Much like Trading Places it is also a great comedy for the Holiday season.
Prince-ipal Photography: The Coming Together of America
Fit For Akeem: The Costumes of Coming to America
Character Building: The Many Faces of Rick Baker
Composing America: The Musical Talents of Nile Rodgers
A Vintage Sit-Down with Eddie & Arsenio
Theatrical Trailer
Photo Gallery
Beverly Hills Cop: 4K UHD Review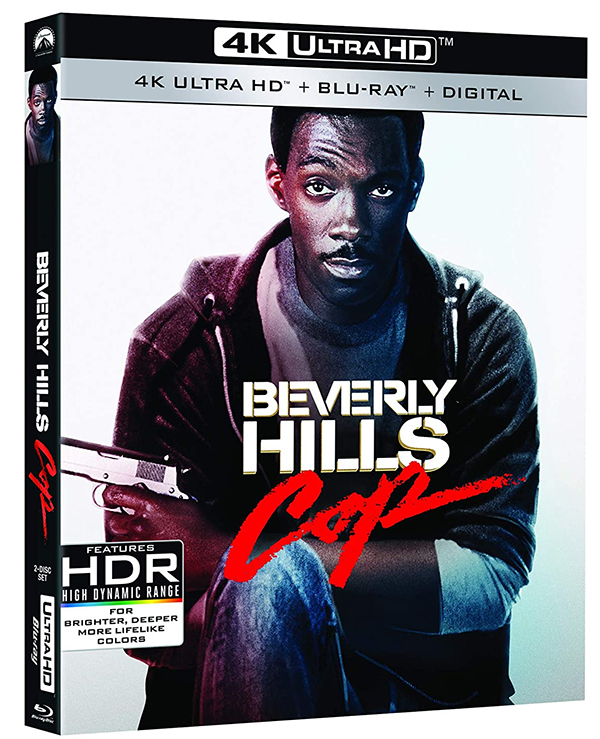 Eddie Murphy's film career was off to a great start with 48 Hours in 1982 and Trading Places in 1983, but the comedian shot to superstardom in 1984 with the release of Beverly Hills Cop (a film originally meant for Sylvester Stallone). A franchise was born, spawning two sequels with a potential fourth one on the way. Even a television pilot was shot which had Murphy reprising his role but will probably never see the light of day. I kind of wish it was included as a bonus feature on this release, but with rights issues, I am not surprised.
For those unfamiliar with the film, Axel Foley (Murphy) is a Detroit cop whose best friend was just murdered. Axel believes that the people who whacked his friend were from the place he worked at as a security guard in Los Angeles. Axel takes some of his vacation days from work and heads to California to try and solve his friend's murder. While doing so, he grabs the attention of the Beverly Hills Police Department, with Sergeant Taggert (John Ashton) and Detective Rosewood (Judge Reinhold) assigned to tailing Foley to make sure he stays out of trouble.
This is arguably one of Murphy's best comedies and totally deserves the 4K upgrade. I am actually a big fan of the first sequel as well, so hopefully that will get the 4K treatment one day as well. Axel Foley will arguably be Murry's most famous cinematic character and with good reason. Much like with the Coming to America UHD which is also releasing this week, the colors are very vibrant. It is more noticeable in the daytime shots. In the final act when the three cops arrive at the villain's home, the landscaping as well as the rest of the property really pops.
The film's soundtrack is also amplified with the original theme as well as the Pointer Sisters Nutron Dance hit blasting away on the DTS 5.1 audio. Yes, this is the same as the Blu-ray release, but that doesn't matter. As far as bonus features, these were simply ported over from the previous Blu-ray. Nothing new has been added.  Regardless, if you are a fan of Beverly Hills Cop, I highly recommend this release based on the transfer alone.
Commentary by director Martin Brest
Beverly Hills Cop—The Phenomenon Begins (SD)
A Glimpse Inside the Casting Process (SD)
The Music of Beverly Hills Cop (SD)
Deleted scenes (HD)
Behind-the-scenes featurettes incorporating vintage 1984 interviews (HD)
An isolated audio track of the original score by Harold Faltermeyer
"BHC Mixtape '84", which allows viewers to go directly to the scenes featuring the hit songs "The Heat Is On," "Neutron Dance," "New Attitude," "Stir It Up," "Do You Really," and "Nasty Girl."
Location Map
Theatrical Trailer (HD)
Trading Places: Blu-Ray Review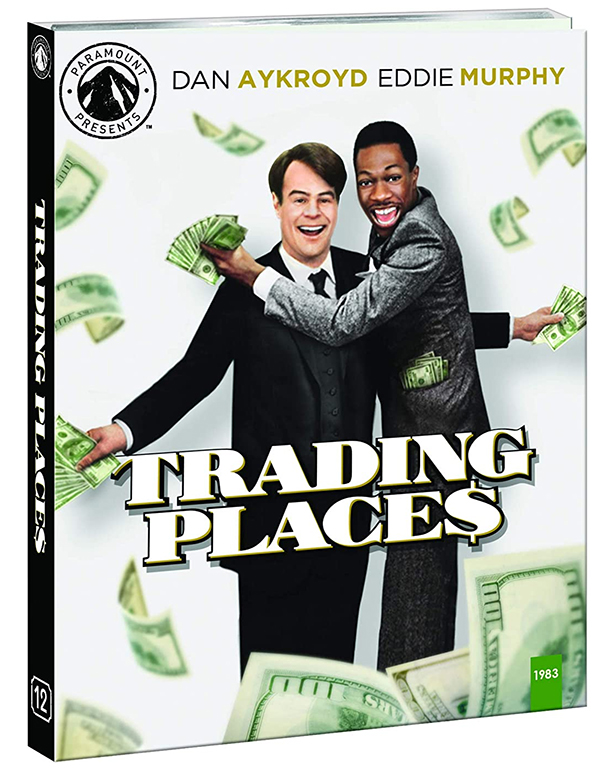 The Paramount Presents banner is including two Eddie Murphy 80's classics this week with the first being the 1983 comedy hit, Trading Places which co-stars Dan Aykroyd, Jamie Lee Curtis, Don Ameche and Ralph Bellamy. Much like the Coming to America 4K release (also dropping this week), Trading Places was remastered from a 4K film transfer supervised by director John Landis. The difference here is that this one is a Blu-ray. Having said that, this is the best the film has looked since its' theatrical release.
Many consider Trading Places to be a buddy comedy, but that never actually made sense to me since the two main characters don't really come together until the final act, aside from a brief encounter early on in the film. That doesn't make the comedy any less funny though.
Billy Ray Valentine to me is one of Murphy's most memorable characters and he truly shines here as a street hustler that trades places with Louis Winthorpe III (Aykroyd) a very well-off commodities broker who becomes the victim of a bet between his bosses Randolph and Mortimer Duke (Bellamy and Ameche respectively). They bet (for one dollar) that if they rip-apart Winthorpe's life by taking everything away from him, that he would land on his feet thanks to good genes. At the same time that if they take some from the streets, that person would be able to adapt to the upper-class lifestyle. That is where Valentine comes in. This puts both characters in some truly hilarious and sometimes sad situations. It is the cast however that brings everything together.
As for the bonus content, there is a new filmmaker focus with John Landis, but all the other features are simply ported from the previous Blu-ray. I have mentioned this before, I do wish the Paramount Presents series were 4K releases, but truthfully, this transfer looks near perfect as is and it just might not be necessary to go full 4K. This is a definite improvement over the previous release. However, I am a bit hesitant to say if an upgrade is required if you already own the older disk. If you don't already own the film, then I highly recommend grabbing it just in time for the holiday season.
The Paramount Presents Blu-ray includes a new Filmmaker Focus with John Landis.
Deleted Scenes
Insider Trading: The Making of Trading Places
Dressing the Part
The Trade in Trading Places
Trading Stories
Industry Promotional Piece
Theatrical Trailer
The Golden Child: Blu-Ray Review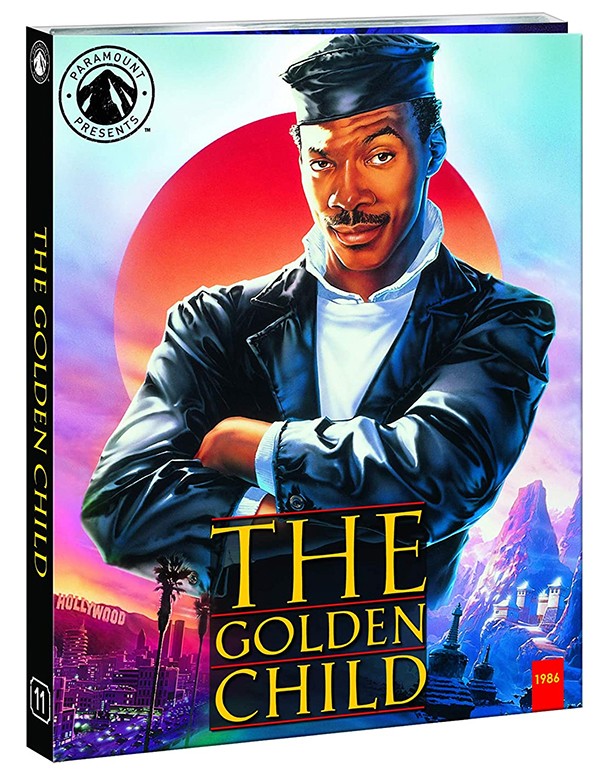 Well, I am definitely not saving the best for last, as even Eddie Murphy himself thinks 1986's The Golden Child sucks. Yet, the Paramount Presents label saw this film fit to be given the special treatment release and I figured why not revisit this one and see if it was better than I remembered?  It isn't!  Despite being a box-office success, Murphy's first venture into PG-13 territory was a creative stumble. In the mid-80's I loved adventure films, fantasy films and of course Eddie Murphy films, so I was excited for The Golden Child.  To this day, I think the film's poster is the best one ever created for an Eddie Murphy film. With the exception of the moment the comedian says the words "chunky asses", I don't think I laughed a single time throughout the 94-minute runtime.
Eddie Murphy is Chandler Jarrell, a finder of lost children in Los Angeles. When he is told by Kee Nang (Charlotte Lewis) that he is the chosen one and he must rescue the Golden Child (J.L. Reate) from the evil Sardo Numspa (Charles Dance), he believes she is off her rocker. However, when Sardo begins to come after Chandler, he begins to buy into the danger. There are multiple reasons why The Golden Child doesn't work for me (and many others). Murphy simply doesn't belong in this. He seems holding back due to the family nature of the film and the scenes in which Murphy is in Tibet feel forced and lack any real humor. As the comedian got older, he was able to mature into more family friendly material like The Nutty Professor, but here he just didn't seem to have been in that place yet.
Regardless of how I feel about The Golden Child, I do know this flick has its fans and this is the first ever Blu-ray release which should make those who love it very happy. Newly remastered from a 4K transfer supervised by director Michael Ritchie, the picture does look quite nice, but not nearly as impressive as the other releases this week. The dated special effects, mainly those involving the Charles Dance demon look absolutely terrible. Still, this is a fine release for the lesser 80's Murphy film.
The Making of The Golden Child HD (NEW)
The Chosen Ones
Daggers, Designs and Demons
Theatrical Trailer
By: Marc Ferman