Road Games (Collector's Edition): Blu-Ray Review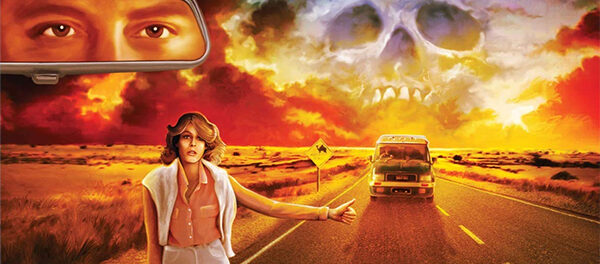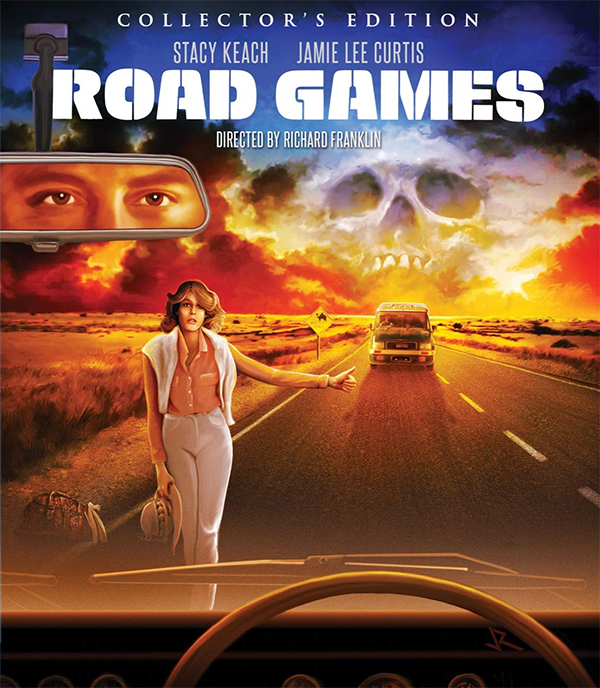 A few years before director Richard Franklin started taking on 80's Hollywood productions like "Psycho II" and "Cloak & Dagger", he was working in his homeland of Australia on films like the 1981 thriller "Road Games" which will have a Collector's Edition Blu-ray release this week, courtesy of Shout! Factory.
"Road Games" stars Stacy Keach as Pat Quid, an American truck driver, working in Australia delivering meat across the country, with a dingo as his companion. After Pat witnesses a man looking out his hotel room window at the trash bags on the street, he finds is odd that someone is so fixated on garbage. However, it is Pat's dingo's interest in that same trash that makes the situation even more curious. When Pat see's that same man (Grant Page) digging a hole in the middle of nowhere shortly after, he begins to believe that this could be the person responsible for a series of abductions/killings. Although Pat is not that keen on picking up hitchhikers, especially after his previous experience with the constantly jabbering Frita (Marion Edwards), he does pick up a young woman (Jamie Lee Curtis) who could very well be the killer's next victim. Pat also becomes obsessed with stopping the killer.
"Road Games" is a very different kind of road-set horror/thriller. Unlike "Duel", "The Hitcher" and "Joyride", Franklin's film is more Hitchcock influenced. It also benefits from the Australian filmmaker's unique style.  The score seems mismatched at times, yet still manages to feel just right. I love Keach in the lead here and "Road Games is quite fun. Those familiar with Mark Hartley's documentaries "Not Quite Hollywood" and "Electric Boogaloo", will be pleased to know that he is included on the bonus features, along with a new interview from Stacy Keach plus much more. If you are a fan of "Road Games", this release should not disappoint.
Bonus Features
NEW Australian Long Haul – An Interview With Actor Stacy Keach
NEW Audio Commentary With Cinematographer Vincent Monton, Production Coordinator Helen Watts, And Costume Designer Aphrodite Kondos, Moderated By Filmmaker Mark Hartley
NEW 1980 Script Read With Producer/Director Richard Franklin And Actors Stacy Keach And Marion Edwards
NEW Composer Brian May Music Demos Accompanied By Stills And Poster Gallery
Audio Commentary With Producer/Director Richard Franklin
Kangaroo Hitchcock: The Making Of Road Games – Featuring Interviews With Director Richard Franklin And Actor Stacey Keach
Extended Interviews From Mark Hartley's Documentary Not Quite Hollywood Featuring Jamie Lee Curtis, Stacy Keach, Director Richard Franklin, Stunt Coordinator Grant Page, Screenwriter Everett De Roche, Cinematographer Vincent Monton, And Assistant Director Tom Burstall
Lecture On The Making Of Road Games With Richard Franklin, Co-producer Barbi Taylor, And Composer Brian May, Introduced By Critic Tom Ryan
Profile On Richard Franklin (1981)
Audio Interview With Richard Franklin (2001)
Audio Interview With Actor Stacy Keach (2016)
Audio Interview With Stunt Coordinator And Actor Grant Page (2016)
Gallery Of Stills, Production Shots, Storyboards, Newspaper Reviews, Promotional And Artwork Materials
Theatrical Trailer
By: Marc Ferman