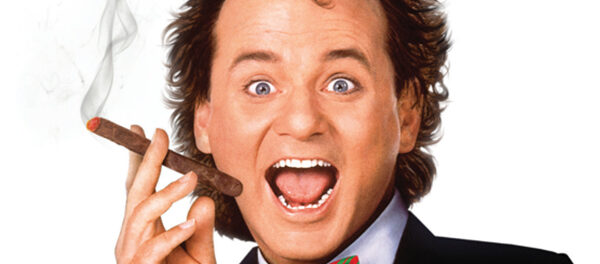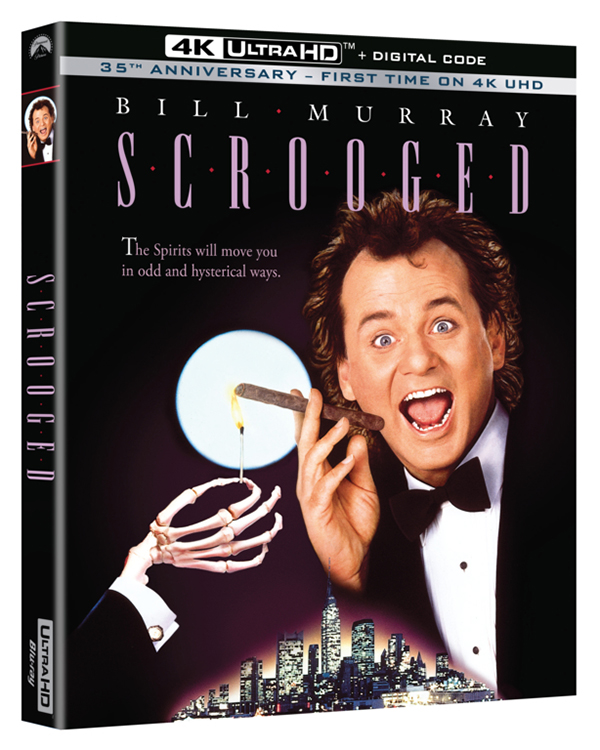 Just in time for the film's 35th anniversary, Paramount releases Richard Donner's Scrooged on 4K UHD for the very first time. Released only a year apart, the late 80's brought us two major Christmas comedies that both starred SNL alums and would both become traditional holiday viewings for so many families. While Christmas Vacation starring Chevy Chase might be celebrated more, the darker tone of Scrooged, starring Bill Murray just feels way sharper.
There have been countless retellings of Charles Dickens' A Christmas Carol. The story of Ebenezer Scrooge has been told so many times that it might be hard to find someone who isn't familiar with it. While the gist of Scrooged is basically the same as A Christmas Carol, this time we get a new central character named Frank Cross (Bill Murray). Frank is a television network executive that thinks there is nothing more important than money and ratings. His way of celebrating the holidays is to make everyone work on Christmas Eve so that the network can put on a live version of A Christmas Carol. If anyone disagrees with the way he operates, they will find themselves out of a job, much like Eliot Loudermilk (Bobcat Goldthwait).
On the eve of Frank's big event, he is visited by the ghost of his former boss, who informs him that he will be visited by three ghosts. Those familiar with the story, know that these ghosts will show Frank his past, present and future and show him that if he doesn't change his ways, he will die alone. David Johansen and Carol Kane bring quite a bit of fun energy to the past and present ghosts, while the future ghost is basically a massive Grim Reaper puppet.
The main people that Frank has had a big effect on in his life, are his secretary Grace (Alfre Woodard) and his ex, Claire (Karen Allen). Will Frank come to realize the pain he had caused to not only others, but to himself? Yes, he will. We know that even before the movie starts. What's important here, is the journey satisfying? For the most part, the answer is yes. That is because Murray was perfectly cast, and he can excel at playing a truly despicable person. What works for me is the darkly-comedic tone. It wasn't until the late 80's/early 90's when I truly started to appreciate a more sinister sense of humor. While Scrooged is in no way sinister, it feels like it at times is right on that line.
Paramount's new 4K presentation with Dolby Vision/ HDR10 is a big improvement over the Blu-ray release. The details are sharp and detailed. The make-up used to create the zombified look of Frank's dead mentor, Lew Hayward has never looked better. Skin tones and environments look perfect, especially during close up shots. The 5.1 DTS HD Master Audio is perfectly fine. No issues with dialogue and Danny Elfman's score sounds wonderful. While the presentation alone is worth a purchase for fans, one of the biggest additions is the over 50 minutes of never-before-released bonus content.  While these features aren't new, they are newly released.
Bonus Features:
Commentary by director Richard Donner
A Christmas to Remember
Updating Ebenezer
Bringing the Ghosts to Life
The Look of Scrooged
On the Set with Bill Murray
ShoWest Clips with Bill Murray
By: Marc Ferman