Secret Headquarters: Blu-Ray Review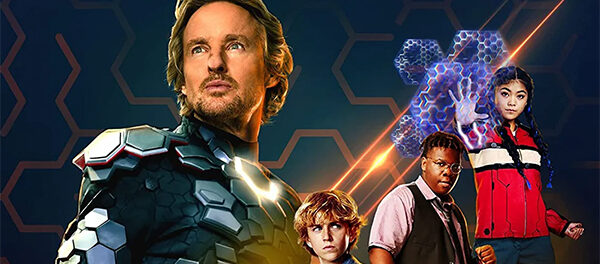 The directing team of Henry Joost and Ariel Schulman got their big break in Hollywood with Paranormal Activity 3 & 4. They dabbled in the superhero pool with 2020's Project Power and they continue that run with the family friendly Paramount+ feature, Secret Headquarters which arrives on Blu-ray this week. While the target demographic of pre-teens will most likely find entertainment here, there is very little to be offered to us have developed a more sophisticated pallet when it comes to our superhero films. Secret Headquarters is pretty much a less inventive Spy Kids knock-off.
Charlie Kincaid (Walker Scobell) always feels let down by his father Jack (Owen Wilson), who doesn't seem to be able to make time for him. Jack is always traveling for work (so Charlie thinks). What Charlie doesn't know is that his dad leads a double-life and is the superhero known as The Guard.  When Charlie goes to his father's remote cabin so they can spend the weekend together for his birthday, he gets let down once again when Jack gets called in for an emergency trip. This leaves Charlie home alone with his small group of friends. It doesn't take long for them to discover Jack's secret underground headquarters located beneath the cabin. This is where Charlie also discovers that his dad is The Guard.
When Charlie and his friends start using The Guard's alien tech (which come from the alien source that turned Jack into a hero), a weapons manufacturer Ansel Argon (Michael Peña) tracks down the power source along with Sean Irons (Jesse Williams) who is the only other person that is aware of The Guard's true identity. Ansel wants the power source for himself, and he has no problem killing a group of kids to get it.
Secret Headquarters isn't terrible. The kids are likable and so is Wilson. Peña seems to be having a little fun with the villain role as well. While I can't actually recommend the film, I think It's pretty harmless entertainment for the kids.
Bonus Features:
BFFLs—Join the cast of Secret Headquarters as they reflect on their characters and how they developed unshakeable bonds as Best Friends For Life.
The Secret Headquarters—Go behind the scenes and discover how the crew brought the set of Secret Headquarters to life.
Panic! At the Moon Dance—The production team discusses how the set, stunts and special effects came together to create the most important sequence of the film.
Who is the Guard?—Owen Wilson explains who The Guard is and how the guardian came to be.
Gag Reel—Outtakes and bloopers from Secret Headquarters.
Deleted & Extended Scenes
By: Marc Ferman