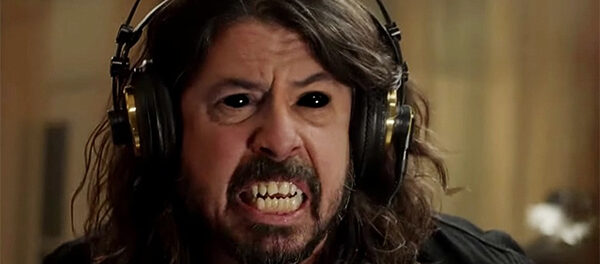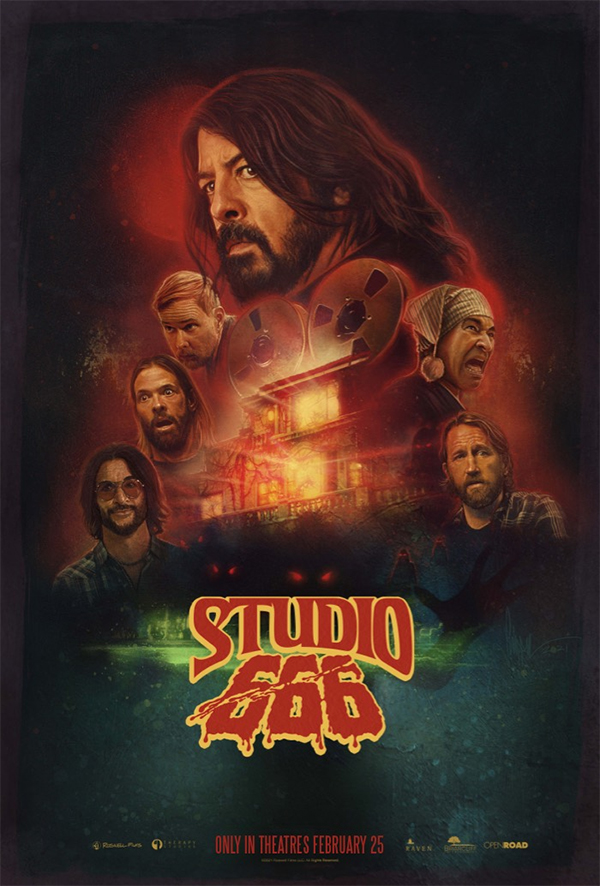 The Foo Fighters are back, but this time it is not with a new album. Dave Grohl, Taylor Hawkins, Nate Mendel, Pat Smear, Chris Shiflett and Rami Jaffee are playing themselves in a new the new horror-comedy, Studio 666, directed by B.J. McDonnell. While I didn't find it to be scary or all-that funny, I will say the band looks like they were having a ball making this thing and I feel fans of the Foo Fighters will have a good time watching Studio 666.
The time has come for the Foo Fighters to release their tenth album, which the head of their label (Jeff Garlin) is demanding.  Rather than recording in a studio, the Foo Fighters takeover an Encino mansion that just so happens to be inhabited by supernatural forces. Another band was slaughtered in that home back in the 90's.
Dave and the rest of the band struggle to come up with new material, but when their front man becomes possessed by a demonic spirit, they begin to pick up where the deceased band left off three decades ago.  This involved creating what feels like a never-ending rock song.  As the song becomes closer to being finalized, the possessed Foo Fighter begins picking off his bandmates, in truly gory fashion. Speaking-of-which, there is a chainsaw kill here that is more grotesquely impressive than anything that Leatherface dished out in last week's Texas Chainsaw Massacre. It could be my favorite chainsaw movie moment of all-time.
The gore in Studio 666 is one of the film's best assets. It shouldn't come as a surprise since not only was the film directed by the man behind Hatchet III, but also Tony Gardner (Freaky, Chucky) was the makeup effects artist. For the most part, the gore is played for laughs and it does work. That chainsaw moment made me cheer, but there are various other cool moments as well.  Sadly, the movie goes on for way too long. Studio 666 has a 106-minute runtime, but if it was cut down to 85-90 minutes, it might have worked better.
By: Marc Ferman