The Blob (Collector's Edition): Blu-Ray Review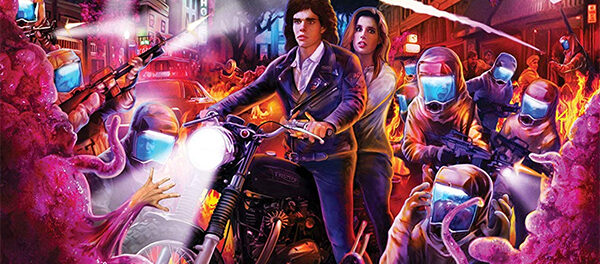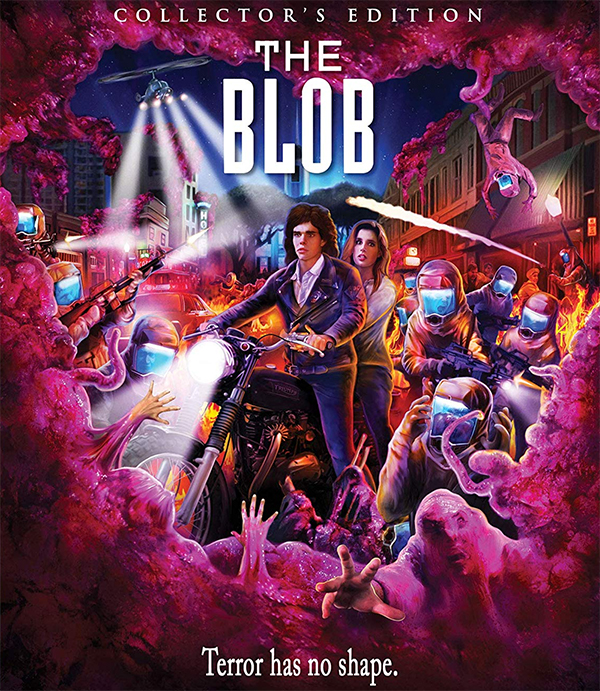 The 1980's were my favorite time for horror films. Not only did the decade give us some of the best horror franchises, but it also gave us three of my favorite remakes. Clearly the folks at Scream Factory feel the same way because they released a collector's editions for John Carpenter's "The Thing" in the past, they will be bringing us Cronenberg's "The Fly" in part of a collection in December and this week will see their release of Chuck Russell's "The Blob". This is one of my all-time favorites and Scream Factory has included a whole lot of new content for the fans.
For those unfamiliar with the story, an object crashes into the forest just outside of a small town, unfortunately it was carrying a shapeless organism that consumes any living thing in its path (mainly humans). With each person it devours, it multiplies in size.  A government organization shows up to contain the blob, but they have secrets of their own and the people of the town are expendable to them. It is up to teenagers Brian (Kevin Dillon) and Meg (Shawnee Smith) to save their home from not only the blob but the shady organization with their own agenda.
Scream Factory has packed this release to the brim with new features including interviews with Chuck Russell, effects artist Tony Gardner, cinematographer Mark Irwin, actors Shawnee Smith, Jeffrey DeMunn, Candy Clark, Donovan Leitch Jr., Bill Moseley and more. The transfer looks terrific as well. I do own the 2014 Twilight Time release of "The Blob" but haven't done a transfer comparison between the two. However, for fans of the film, Scream Factory's Collector's Edition is vastly superior based on content alone.  If your love for "The Blob" ooze's out of you, don't hesitate to pick up a copy of this release.
Bonus Features
NEW Audio Commentary With Director Chuck Russell, Special Effects Artist Tony Gardner, And Cinematographer Mark Irwin, Moderated By Filmmaker Joe Lynch
NEW Audio Commentary With Actress Shawnee Smith
NEW It Fell From The Sky! – An Interview With Director Chuck Russell
NEW We Have Work To Do – An Interview With Actor Jeffrey DeMunn
NEW Minding The Diner – An Interview With Actress Candy Clark
NEW They Call Me Mellow Purple – An Interview With Actor Donovan Leitch Jr.
NEW Try To Scream! – An Interview With Actor Bill Moseley
NEW Shot Him! – An Interview With Cinematographer Mark Irwin
NEW The Incredible Melting Man – An Interview With Special Effects Artist Tony Gardner
NEW Monster Math – An Interview With Special Effects Supervisor Christopher Gilman
NEW Haddonfield To Arborville – An Interview With Production Designer Craig Stearns
NEW The Secret Of The Ooze – An Interview With Mechanical Designer Mark Setrakian
NEW I Want That Organism Alive! – An Interview With Blob Mechanic Peter Abrahamson
NEW Gardner's Grue Crew – Behind-The-Scenes Footage Of Tony Gardner And His Team
Audio Commentary With Director Chuck Russell, Moderated By Film Producer Ryan Turek
Theatrical Trailers
TV Spot
Still Gallery
By: Marc Ferman