The Critters Collection: Blu-Ray Review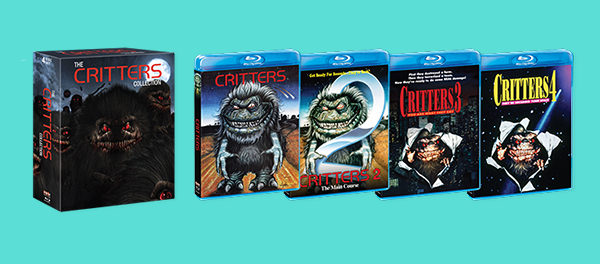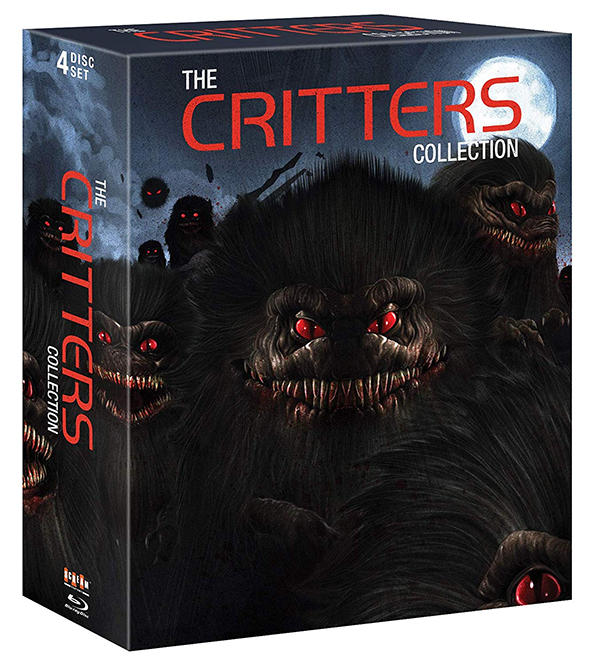 KILL CRITES! As a huge fan of the first two films in the franchise, I have been waiting years for someone to release "Critters" on Blu-ray. Sure the 3rd and 4th films aren't very good, but I am thrilled that Shout! Factory decided to release a complete collection set. The completist in me needed all four.  You might be wondering if "The Critters Collection" was worth the wait? The answer is a most definite, YES!
If I am not mistaken, I believe that 1986's "Critters" was the follow up franchise starter from New Line Cinema after they gave us A Nightmare on Elm Street and its' first sequel. I remember seeing the first "Critters" film at my local theater a handful of times. I just couldn't get enough.  Mick Garris' sequel, "Critters 2: The Main Course" was a bit campier than the original film, but I loved how it expended on the town of Grover's Bend and its' residents.
"The Critters Collection" gives us nearly everything we would want in a set like this. Brand new 2K scans of the first two films as well as tons of interviews. This includes the Chiodo Brothers who were responsible for designing the title creatures. Being a fan of the brother's work, it is great to have them featured in this set. Don Opper (who plays Charlie) and his brother Don (who is the franchise producer) are also on hand.  Mick Garris and much of the cast also have interviews on the "Critters 2" disk.  If there is one thing I am a bit bummed out about is that Scott Grimes aka Brad Brown didn't make it into any of the bonus features.
The transfers for "Critters" 1 & 2 look terrific. Missing is the blueish tint from the "Critters" DVD which is a good thing.  The new 2K scans show us more detail of the creatures themselves and the Chiodo's creations have never looked better. "Critters" 3 & 4 also look quite crisp, however, the shoddy visual f/x in the fourth film look much worse in HD. Admittedly after revisiting all four films, I wound up enjoying "Critters 4" more now than I did years ago. Sure, it looks cheap but the inclusion of Angela Bassett and Brad Dourif amp up the entertainment factor. Let's also not forget Leonardo DiCaprio in "Critters 3".
If you are a fan of the killer fur balls, then "The Critters Collection" is for you. Thankfully, it arrived just in time for the holiday season. Hopefully you will wind it under your Christmas tree this year.
Bonus Features
Disc One: Critters (1986)
NEW 2K Scan From The Original Film Elements
NEW Audio Commentary With Producer Barry Opper And Star Don Opper
NEW Audio Commentary With Critter Designers Charles Chiodo, Edward Chiodo, And Stephen Chiodo
NEW They Bite!: The Making Of Critters Featuring Interviews With Actors Dee Wallace, Don Opper, Terrence Mann, And Lin Shaye, Producer Barry Opper, Writer Brian Muir, Critters Designers Charles Chiodo, Edward Chiodo, And Stephen Chiodo, Make-Up Artist R. Christopher Biggs, Special Prop Supervisor Anthony Doublin, Composer David Newman, Second Unit Director Mark Helfrich, Critter Voice Actor Corey Burton, And Miniature Effects Supervisor Gene Warren Jr.
NEW For Brian: A Tribute To Screenwriter Brian Domonic Muir
Behind-The-Scenes Footage
Alternate Ending
Theatrical Trailer
TV Spots
Still Gallery
Disc Two: Critters 2: The Main Course (1988)
NEW 2K Scan From The Original Film Elements
NEW Audio Commentary With Director Mick Garris
NEW Audio Commentary With Critters Designers Charles Chiodo, Edward Chiodo, And Stephen Chiodo
NEW The Main Course: The Making Of Critters 2 Featuring Interviews With Director Mick Garris, Actors Liane Curtis, Don Opper, Terrence Mann, And Lin Shaye, Producer Barry Opper, Critter Designers Charles Chiodo, Edward Chiodo, And Stephen Chiodo, And Make-Up Artist R. Christopher Biggs
Behind-The-Scenes Footage
Additional TV Scenes
Theatrical Trailer
TV Spots
Still Gallery
Disc Three: Critters 3 (1991)
NEW Audio Commentary With Producer Barry Opper And Star Don Opper
NEW You Are What They Eat: The Making Of Critters 3 Featuring Interviews With Producer Barry Opper, Screenwriter David J. Schow, Stars Don Opper And Terrence Mann, Director Of Photography Thomas J. Callaway, And Critters Designers Charles Chiodo, Edward Chiodo, And Stephen Chiodo
Trailer
Still Gallery
Disc Four: Critters 4 (1992)
NEW Audio Commentary With Producer/Director Rupert Harvey
NEW Space Madness: The Making Of Critters 4 Featuring Interviews With Producer Barry Opper, Screenwriter David J. Schow, Stars Don Opper And Terrence Mann, Director Of Photography Thomas J. Callaway, And Critters Designers Charles Chiodo, Edward Chiodo, And Stephen Chiodo
Trailer
Still Gallery
By: Marc Ferman