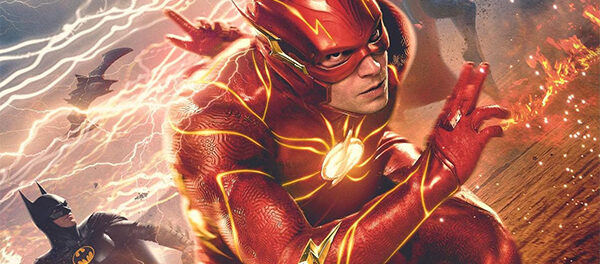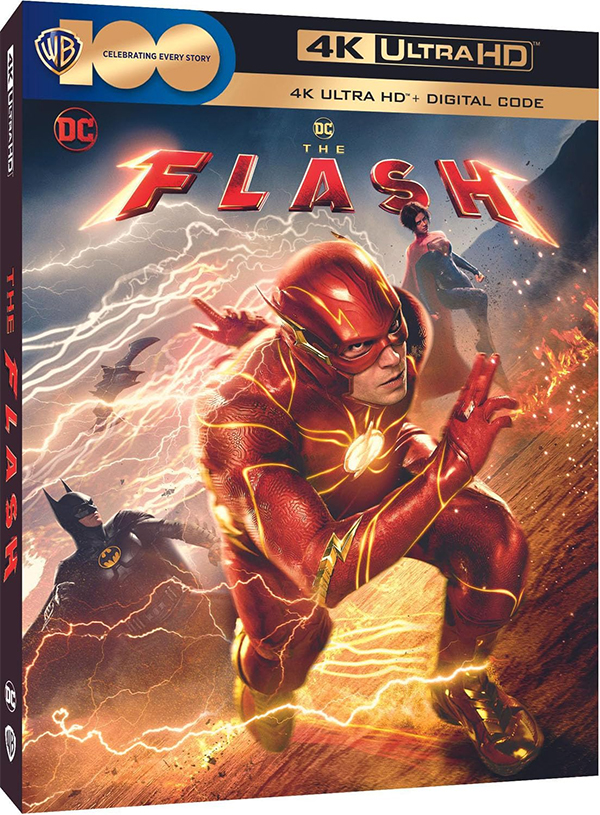 Now available on 4K UHD is Andy Muschietti's The Flash. The director made a name for himself with the horror films, Mama and IT before going into the world of comic book characters. This isn't the first time a filmmaker known primarily for horror has jumped into a DC comics feature. In fact, Wes Craven brought Swamp Thing to the big screen decades before James Wan did it for Aquaman. Even Sam Raimi some of Marvel's most successful big screen adaptations. I guess the two worlds mesh very well.
The Flash should have been a major box office triumph for the studio, as it was going to introduce us to the DC multiverse and also bring back Michael Keaton's beloved Batman. However, the star, Ezra Miller's personal life became a serious issue and it would have been impossible to recast the main role after the film had already been shot. The studio had two choices. They could release the film or bury it like they did with Batgirl (which also had Keaton playing Batman). Unfortunately, the DC Cinematic Universe has been in trouble for quite sometime and sadly, The Flash wasn't able to help things from the poor reception received for Black Adam and Shazam! Fury of the Gods. Does this mean The Flash was a bad movie?  Absolutely not. I would go so far and say it is one of the better films that came out of the world Zack Snyder helped create. Still, between the issues with the star and the bad buzz revolving around the questionable visual effects, it's' no surprise that this film had a hard time finding an audience.
Clark Kent, Bruce Wayne and Barry Allen all have something in common other than being superheroes. Each of them experienced a tragic loss when it came to their parents. Bruce's mom and dad were killed right in front of him. Clark/Kal El was placed in a ship and sent to Earth before his planet exploded with his parents still on it. Barry's mom was murdered, and his father is in prison for the crime, even though he is innocent. When Barry discovers he can use the speed force to travel back in time, he decided to fix it so his mother is never killed. Bruce (Ben Affleck) warns Barry that changing the past could have some serious ramifications. However, Barry proceeds to try and fix his family.
While Barry's plan does work, a mysterious figure knocks Barry out of the speed force and traps him in the past. Barry's mom Nora (Maribel Verdu) is alive and she is living happily with Henry (Ron Livingston), but there is also another, younger Barry living in that time. Realizing that this is the day Barry actually gets his powers, he brings his younger self to the exact location it happens. However something goes wrong and Barry's powers are transferred to his younger self, leaving him powerless and unable to get to his original timeline. To make matters worse, General Zod (Michael Shannon) arrives on Earth looking for a Kryptonian. When both Barry's go in search of Bruce Wayne for help, they find Michael Keaton's Batman instead of Affleck's. The three head to a blacksite where they think Superman is being held, but they discover it is his cousin, Kara Zor-El (Sasha Calle), who they rescue to help fight Zod. We eventually get to the final act in which Barry gets his powers back and he and his younger self fight Zod, alongside Supergirl and Batman.
The Flash is a fun comic book flick that suffers from a few glaring issues. The first one being how annoying Miller is as the younger Barry.  The inclusion of Iris West (Kiersey Clemons) feels like an afterthought and Sasha Calle should have been given a stronger storyline, as her Supergirl showed some great potential. The less said about some of those visual effects, the better. Despite these issues, I quite enjoyed The Flash.
It should come as no surprise that the 4K UHD of The Flash looks incredible, especially with Dolby Vision. A perfect example is Batman's robbery pursuit through Gotham in the opening act. The city looks incredible and detailed. Unfortunately, the vivid clarity doesn't quite help those terrible looing CGI babies falling from the hospital window during the same opening moments.   The Flash's red suite with glowing streaks simply pops. If you are assuming the Dolby Atmos track included is just as strong as the video, you would be correct. From the sounds coming out of Barry's use of speed to the return of Danny Elfman's original Batman score, there is a lot to be pleased with when it comes to the audio.
While its' a shame we will most likely never seen some of these characters again, most notably, Keaton's Batman and Calle's Supergirl, this is a great disk to ad to your collection if you are a fan of The Flash or just solid comic book movies all around.
Bonus Features:
"The Flash: Escape the Midnight Circus" podcast – Six-part original scripted audio series featuring Max Greenfield as The Flash
The Flash: Escape the Midnight Circus Behind the Scenes
Deleted Scenes
Saving Supergirl – featurette
The Bat Chase – featurette
Battling Zod – featurette
Fighting Dark Flash – featurette
The Flash: The Saga of the Scarlett Speedster – featurette
Making the Flash: Worlds Collide – featurette
Let's Get Nuts: Batman Returns, Again – featurette
Supergirl: Last Daughter of Krypton – featurette
Flashpoint: Introducing the Multiverse – featurette
By: Marc Ferman