The Princess Bride (Criterion Collection): 4K UHD Review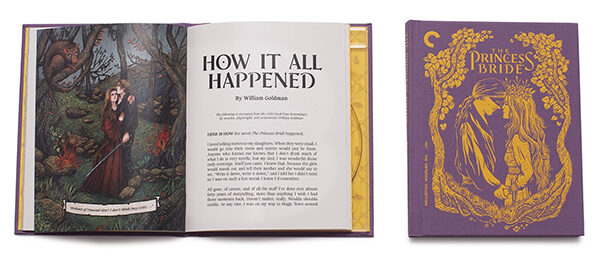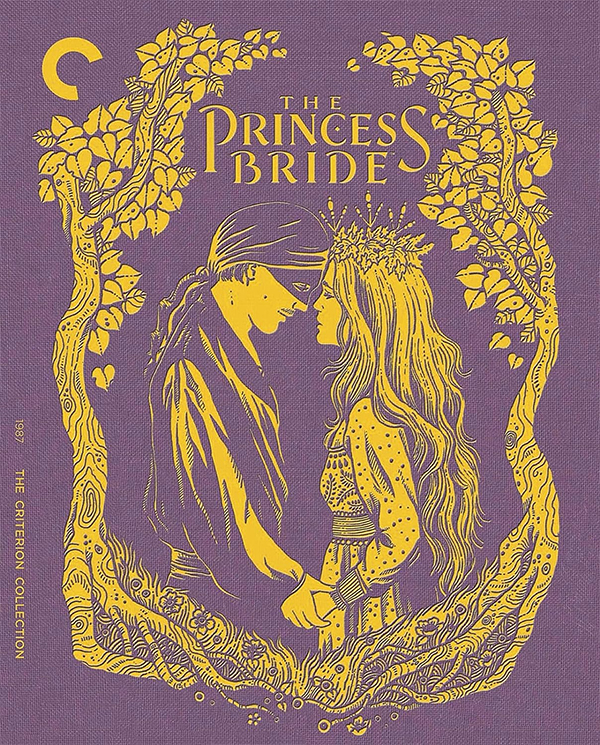 Now available on 4K UHD courtesy of Criterion is Rob Reiner's beloved 1987 fairytale-comedy, The Princess Bride, which stars Cary Elwes, Robin Wright and Chris Sarandon. What's fascinating about Reiner's work as a filmmaker, is that in the 80's/90's, he would deliver a new film almost annually and they couldn't be more different from each other. Most of them would go on to become timeless classics, like This is Spinal Tap, Stand by Me, When Harry Met Sally, Misery and of course The Princess Bride. The latter would go on to be watched by families for decades to come. The Princess Bride would go on to become a date-night at home staple and deservingly so. Willaim Goldman isn't the first name that comes to mind when is comes to writing comedy. This is the guy who was behind The Stepford Wives, All the President's Men and Marathon Man. Still, along with the direction by Reiner, they delivered one hell of a charming and hilarious film.
When a grandfather (Peter Falk) visits his grandson (Fred Savage) who is stuck at home while feeling sick, he brings along a book that was passed down from his father and grandfather. While the kid would rather play his video game, he agrees to let his grandfather read him the book (as-long-as there isn't too much kissing stuff going on in it). This is when we get into the actual story.  Buttercup (Wright) lives on a farm in the kingdom of Florin. Her farmhand Westley (Elwes) never denies any of her requests. He simply says, "As you wish". Eventually, Buttercup falls in love with Westley. However, the farmhand wants to seek out a fortune before the two marry.  Unfortunately, Buttercup learns that her love died when a pirates attacked his ship.
Five years later, Buttercup is set to marry Florin's Prince Humperdinck (Sarandon), even though she does not love him. Little-does-she-know, that the man disguised as Dread Pirate Roberts is actually her thought-to-be dead love, Wesley. When three outlaws, Vizzini (Wallace Shawn), Fezzik (Andre the Giant) and Inigo Montoya (Mandy Patinkin) kidnap the soon-to-be princess, it is Wesley who rescues her. Unfortunately, that reunion doesn't last long once the prince catches up with them. Humperdinck gets his Buttercup back, and even though he promised her that he would set Wesley free, he locks him in a dungeon and tortures him instead. Of course, things don't stay dyer for long, after all, this is a comedy and a love story.
Elwes is absolutely charming here and this is probably the role he will always be remembered most for. The supporting cast help deliver some of the biggest laughs, like Peter Cook, Billy Crystal, Carol Kane and Christopher Guest. The Princess Bride truly has something for everyone.
This new 4K restoration is presented in Dolby Vision and it looks spectacular. With its' mostly natural settings, the forest looks sharp and detailed. The greens in the trees and the browns of the leaves covering the ground really pop.  Even the details in the opening within the kid's bedroom. As the setting is very different from the rest of the film, it definitely stands out, especially the skin tone and lines on Falk's face. Adrian Biddle's cinematography has never looked better. The 5.1 surround DTS-HD audio master delivers as well, especially with Mark Knopfler's score.
I am a big fan of the clothbound book illustrated by Angela Rizza that the disks come packaged in. Within the book, we also get an essay by author Sloane Crosley and Goldman's introduction to his Princess Bride script from his collection Four Screenplays. If you are a fan of The Princess Bride, this release is a must have.
Bonus Features:
4K digital restoration, with 5.1 surround DTS-HD Master Audio soundtrack
One 4K UHD disc of the film presented in Dolby Vision HDR and one Blu-ray with the film and special features
Audio commentary featuring director Rob Reiner, screenwriter William Goldman, producer Andrew Scheinman, and actors Billy Crystal and Peter Falk
Edited audiobook reading of Goldman's novel The Princess Bride by Reiner
Program about Goldman's screenplay
Program about Goldman's tapestry based on his novel
Interviews with Reiner, Goldman, and actors Crystal, Cary Elwes, Christopher Guest, Mandy Patinkin, Chris Sarandon, Fred Savage, and Robin Wright
Interview with art director Richard Holland
Programs about makeup, fencing, and fairy tales
On-set video diary filmed and narrated by Elwes
Five behind-the-scenes videos with commentaries by Reiner, Scheinman, and Crystal
Trailer
English subtitles for the deaf and hard of hearing
PLUS: An essay by author Sloane Crosley and Goldman's introduction to his Princess Bride script from his collection Four Screenplays, in a lavishly illustrated, clothbound book
By: Marc Ferman