The House by the Cemetery (Limited Edition): Blu-Ray Review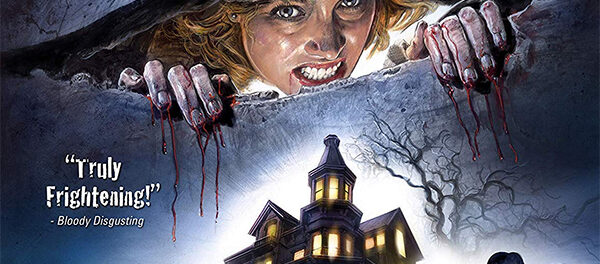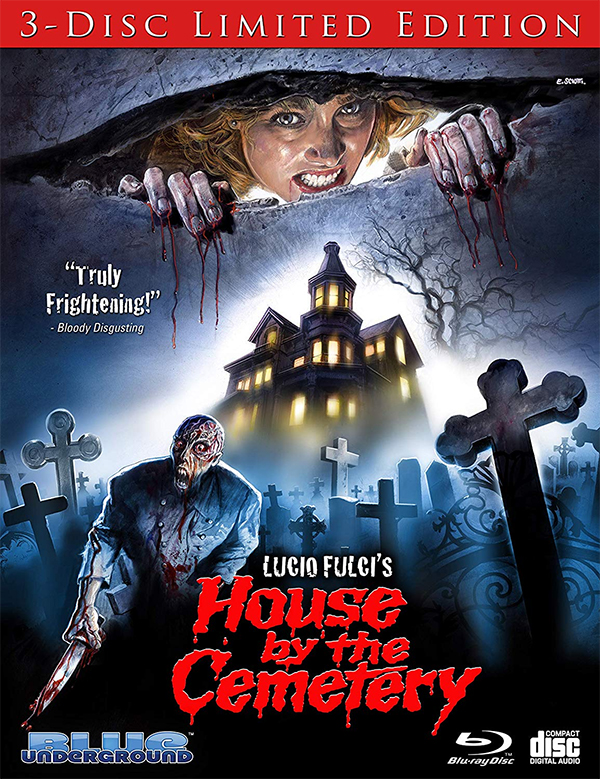 Arriving on Limited Edition Blu-ray this week is Lucio Fulci's Italian horror film, "The House by the Cemetery".  Blue Underground released this title on Blu-ray back in 2011 but the brand new 4K transfer is a huge improvement in almost every way.  Granted, out of the numerous Fulci films I have seen, "The House by the Cemetery" is not one of my favorites. However, much like with last year's 4K remaster of "The New York Ripper", Blue Underground has put forth much effort in making sure this release would please fans.
For those unfamiliar with "The House by the Cemetery", the story centers on the Boyle family, who move into a a small town, New England home with a terrifying secret. The previous owner was a deranged doctor that supposedly committed suicide. That didn't stop his former colleague, Dr. Norman Boyle (Paolo Malco) and his wife Lucy (Catriona MacColl) from moving in with their son Bob (Giovanni Frezza). Of course, it didn't help that their real estate agent did her best to keep as many details as she cool away from her clients. Yep, there is something evil living in the house and pick's off a few of its visitors.
"The House by the Cemetery" includes an English 5.1 and 1.0 DTS-HD, as well as Italian 1.0 DTS-HD. Despite the poor dubbing, my preference remains the English track. As I mentioned before, the new 4K restoration, which was taken from an uncut 35mm negative looks fantastic. There is a new audio commentary with "Splintered Visions" author Troy Howarth, as-well-as a new interview with co-writer Giorgio Mariuzzo and more. The 3-disk set also includes the original motion picture soundtrack by Walter Rizzati. One of my favorite inclusions in almost any special release would be the collector's book and "The House by the Cemetery" includes one that features an essay by Michael Gringold (Rue Morgue). If you are a fan of the film or the filmmaker, you may want to ad this release to your collection.
Disc 1 (Blu-ray) Feature Film + Extras:
NEW! Audio Commentary with Troy Howarth, Author of Splintered Visions: Lucio Fulci and His Films
Deleted Scene
Theatrical Trailers
TV Spot
Poster & Still Galleries
Disc 2 (Blu-ray) Extras:
Meet the Boyles – Interviews with Stars Catriona MacColl and Paolo Malco
Children of the Night – Interviews with Stars Giovanni Frezza and Silvia Collatina
Tales of Laura Gittleson – Interview with Star Dagmar Lassander
My Time With Terror – Interview with Star Carlo De Mejo
A Haunted House Story – Interviews with Co-Writers Dardano Sacchetti and Elisa Briganti
To Build a Better Death Trap – Interviews with Cinematographer Sergio Salvati, Special Make-Up Effects Artist Maurizio Trani, Special Effects Artist Gino De Rossi, and Actor Giovanni De Nava
NEW! House Quake – Interview with Co-Writer Giorgio Mariuzzo
NEW! Catriona MacColl Q&A
NEW! Calling Dr. Freudstein – Interview with Stephen Thrower, Author of Beyond Terror: The Films of Lucio Fulci
Disc 3 (CD):
THE HOUSE BY THE CEMETERY Original Motion Picture Soundtrack by Walter Rizzati
BONUS! Collectable Booklet with new essay by Michael Gingold
By: Marc Ferman