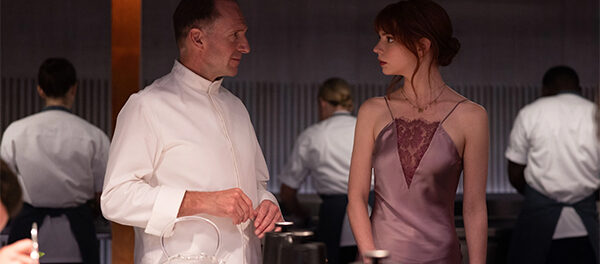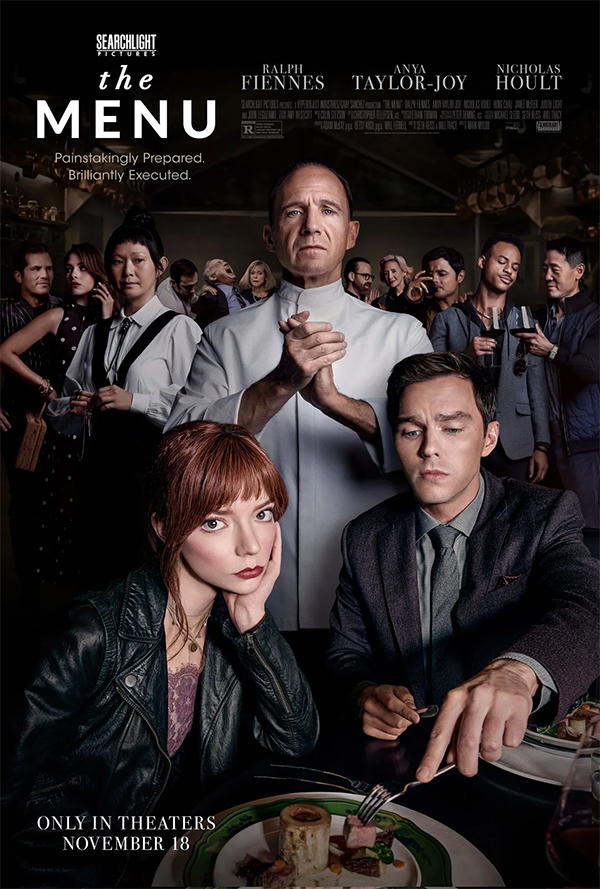 Mark Mylod is best known for his work on hit series like Succession, Shameless and Game of Thrones. The director makes his feature film debut with the black-comedy, The Menu, which was written by Seth Reiss (The Onion, Late Night with Seth Myers) and Will Tracey (Last Week Tonight with John Oliver). While I have never watched any of the shows that the writers and director have worked on, I am fully aware that they have huge fanbases and are known for their quality. After watching The Menu, I can totally see why. This is a smart, well-paced and darkly comic tale with some serious bite.
As The Menu begins, Tyler (Nicholas Hault) and his date Margot (Anya Taylor-Joy) board a ferry along with various other guests, that will take them to a private island to dine at a $1200 per plate restaurant called Hawthorn. The other guests include a past-his-prime movie star (John Leguizamo) and his assistant Felicity (Aimee Carrero), a food critic (Janet McTeer), an older gentleman and his wife (Reed Birney and Judith Light) and a group of young money guys (Rob Yang, Arturo Castro and Mark St. Cyr). The restaurant is run by the renowned Chef Slowik (Ralph Fiennes) who lives on the island with his entire staff, including his right-hand Elsa (Hong Chau).
While we know going into the film that the guests are in for much more than a fancy dinner, Mylod, Reiss and Tracy do a great job letting the story marinate before serving us the main dish. When the chef reveals the true menu for the evening, we begin to learn more about each-and-every guest in attendance. There is a problem though. You see, Chef Slowick painstakingly prepared everything for the night. He made sure each person arriving at Hawthorn would be someone that would be getting their "Just Desserts". However, Margot was not supposed to be there. She went in place of Tyler's initial guest and Slowik wants to know if his surprised guest is on the side of the staff or the patrons?
The Menu is a fun time for those who have a wicked sense of humor. It is the cast that completely sells the absurdity of the events transpiring on screen. Most notably, Fiennes whose character is slowly unraveling before us without becoming completely undone.  Everyone is great here, including Hoult, Joy and Leguizamo. If you are looking for a film to sink your teeth into this weekend, go check out The Menu.
By: Marc Ferman