Toy Story 4: Movie Review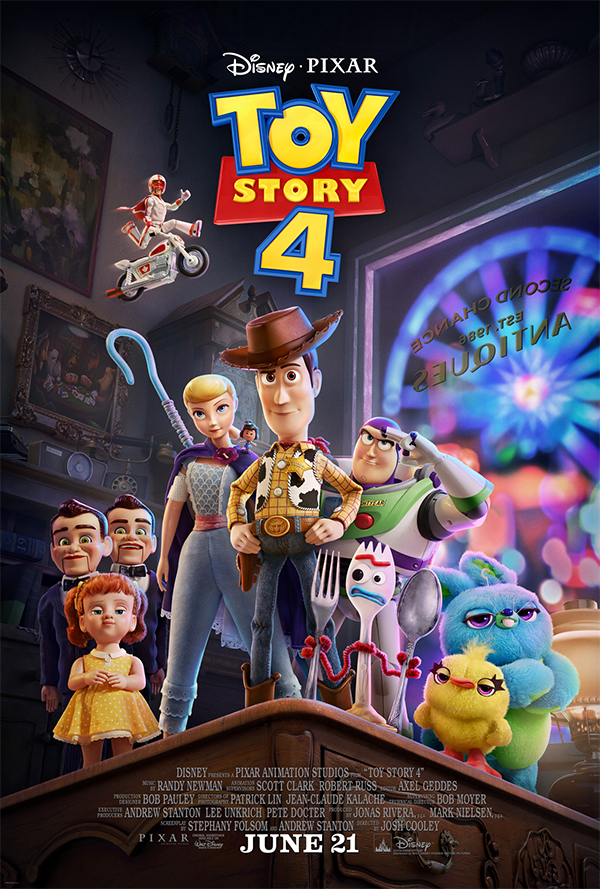 2010's "Toy Story 3" was not only in my eyes a franchise best, but it ended the series on the perfect note. I absolutely love the third film and felt it was totally unnecessary for Pixar/Disney to try and cash in on another sequel. Yes, they are running a business, but the studio has proved it can make huge profits on original stories.  Now, after seeing the latest chapter, I am oh-so grateful that "Toy Story 4" exists. I don't think it tops the previous film, but it sure does come close. I would also say it's one of the best animated films in recent years.
Set years later, Andy is all grown up and the toys have a new home and a new child named Bonnie (Madeleine McGraw) that plays with them. Woody (Tom Hanks), Buzz (Tim Allen), Jessie (Joan Cusack), Dolly (Bonnie Hunt) and the rest of the gang are all back. There are a few great new additions, but the most important one would be Forky (Tony Hale), Bonnie's new favorite toy, which she made from a spork.  The problem is that Forky doesn't understand that he is Bonnie's toy. He believes he is meant for the trash and will try to throw himself in a trash bin any chance he gets.  This is exhausting for Woody, who will stop at nothing to make sure Bonnie doesn't loose the toy that makes her most happy.
When Bonnie's family goes on a road-trip, Forky figures out a way to escape and Woody takes it upon himself to bring the spork back to the young girl.  This leads all the toys on a great adventure, through not only a carnival, but an antique store filled with vintage toys that have their own plans for Woody.
Some of the wonderful new additions are Keegan-Michael Key and Jordan Peele as the plush carnival prizes. Bunny and Ducky. There is also Keanu Reeves' stunt-bike toy Duke Caboom (a character that needs his own spin-off film). Plus, Woody's great love, Bo Peep (Annie Potts) makes her return to help out her old friends. For me though, it is Forky that makes "Toy Story 4" stand out over some of the other sequels.  He is truly a fantastic creation and a laugh riot.
One of the reason's this series has been able to stay strong for nearly 25 years is because so much care goes into the writing and growth of these beloved character. We say we don't need another sequel but then Pixar delivers one and it's almost always near-perfect.  Interestingly-enough, the first film is the one I like the least and it's still great. If you are looking for a film to take in with the family this summer or you just like a good animated movie no matter what your age is, I highly recommend you hop into this toybox of wonder.
By: Marc Ferman